In today's Arena we can't imagine our lives without Internet as we are highly used to of it. If we consider our life style just for only 2 min we found that face to face communication is swapped by e-communication. Every Where from Works place to home we found the usage of email clients like IBM Notes, Outlook, G-mail, Mozilla Thunderbird etc.
Lotus Notes comes under the category of Preeminent Email Clients use for the purpose of e-communication. Lotus Notes is a branded product well known for security feature. NSF or Notes Storage Facility is the default document oriented database file created for storing Notes database. For every profile in Lotus Notes, two NSF files are created- username.nsf and names.nsf. Attributes like emails, calendars, tasks, etc. get stored in the username.nsf file and only Notes contacts get stored in a separate names.nsf file. These NSF files contain both the application design and the data associated with the application.
When you open your Lotus Notes account a window will prompt up to ask your password for the verification. Although Lotus Notes provides the strong Security feature in the email client Arena as compare to others. Password plays an important role to protect our database so it needs to be update periodically. Password should be like easy to remember for yourself and hard to guess for others. In this article you will learn how to reset your password.
In the very begging initiate your Lotus Notes and go to
File Menu
then choose
Security
and then
User Security.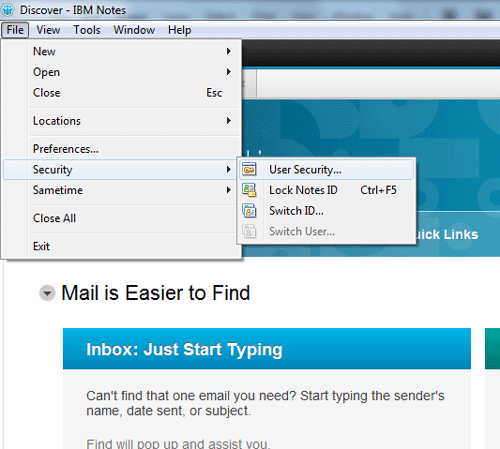 Now an alert box will be open in which you have to fill the
password for the Verification
and then login

A window named
User Security
will be open and then click on
Change Password
to continue.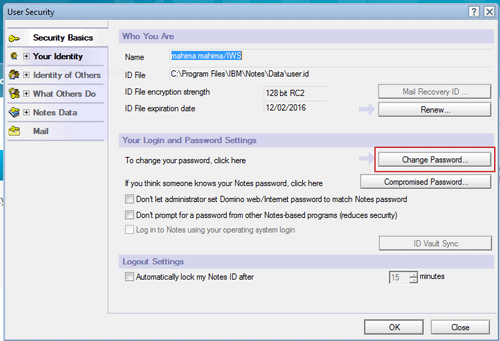 Now an alert box will be open in which you have to
re-enter the password
which is going to be changed and then click on
login
button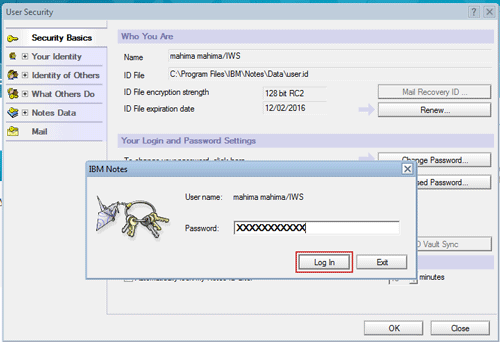 Now a dialog box of
Change Password
will appear in which you can
enter new password
and then click on
Ok
. Your password is changed now.