Hello to you all,
If you are seeking to become certified in the leading Public Cloud provider -- AWS (Amazon Web Services) -- then you must be ready for what lies ahead with your preparation and study. This article has been written following the methods I used when studying for my certification of the AWS Solutions Architect.
Why Certify?
By obtaining the certification it demonstrates your ability and knowledge within the field of AWS. Achieving certification will improve your profile and recognise you as an IT Professional to not only your colleagues, but perhaps more importantly to your customers, which is clearly a valuable asset and distinction to have.
Choosing the right Certification
There are a number of certifications for AWS, and more are still being developed as time goes by. It is important to choose the right certification as the scope and direction varies, so choose one that will help you in your current role or any future career opportunities you aim to seek.
For the current list of AWS certifications please click
here
. Review each of these certification paths to determine which certification suits your needs best.
What Study Materials are available?
Your first point of call for study preparation should be the AWS website itself; it has a whole host of resources available to help you prepare for the exams.
AWS Study Resources
Certification Specific Resources
:
Click
here
to take you to the AWS Certification page. Select the certification you require on the left and on the right hand side you will see a "Prepare for your Exam" heading.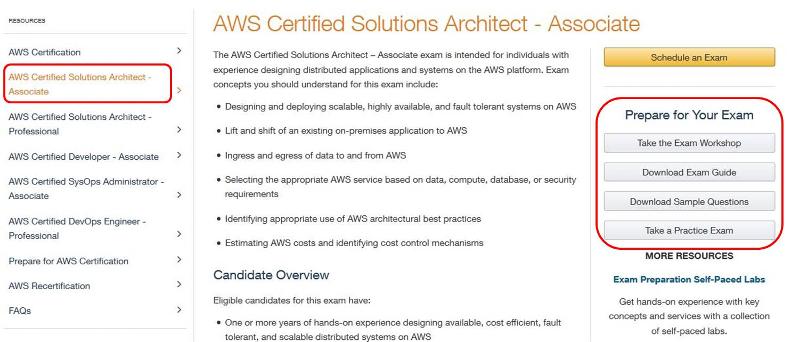 Under here you will notice the following resources:
Take the Exam Workshop
Download Exam Guide
Download Sample Questions
Take a Practise Exam
Take the Exam Workshop
- These workshops are typically 1/2 - 1 day workshop training days located all over the globe on set dates in a number of different languages. They are designed to help you review what is required and expected of the exam, how the exam is structured and how to interpret some of the questions. Please note that these workshops are not free! - I personally did not attend one of these workshops; instead I used the following resources.
Download Exam Guide
- I highly recommend you doing this as it acts as a blueprint of all the topics and subjects covered within the exam. It enables you to study for the correct areas and guides you to ensure you put your efforts and preperation into the right areas.
Download Sample Questions
- Again I recommend you doing this as it gives you a good understanding on the structure of the questions in the real exam. It can be a good idea to try and answer these questions to the best of your ability prior to any studying to ascertain where your strengths and weaknesses may lie. On completion of your study you should then review these questions again and hopefully you will feel a lot more confident in your answers and can put good reason behind your decisions
Take a practise exam
- Although it's not free (cost $20) I found this beneficial as it gave a like for like environment of the real exam. You have 30 minutes to answer 20 questions and the format is exactly the same in the real exam. On completion of the exam it will notify you if you have passed or failed; however it does not tell you which questions you got right or wrong!
Whitepapers:
AWS also provides a vast array of
Whitepapers
which are a very useful resource to all the areas of certification. Within the Exam Guide it will often give you a suggestion of a number of Whitepapers to read to help with your study preparation. To visit the AWS Whitepaper site please click
here
where you can view and download them as PDF files to read off line in your own time.
Create a 'free' AWS account:
If you are new to AWS then it is essential you sign up to AWS using their Free Tier account for some crucial hands on experience. This allows you to use many of the services offered by AWS (EC2, S3, IAM, DynamoDB, Lambada and AWS Key Management Service) for free for a year. This Free Tier has certain restriction which can be found
here
.
Using the free account you can spin up test EC2 (Elastic Cloud Compute) Instances with a VPC (Virtual Private Cloud) to create your own environments. Having hands on experience is an excellent method of learning and gaining essential familiarity of the AWS Console, where most management is handled via a graphical user interface.
External AWS Study Resources
A quick search on the internet for
AWS Training
will provide a host of websites where you can pay for training, whether it is classroom based or video tutorial based. As I was self-funding my study, I chose to use the video tutorials as they provided greater flexibility and were a great deal cheaper! I found a great site,
www.udemy.com
where I managed to buy a video tutorial package on the Solution Architect (and since the AWS SysOps too) for $10 instead of $200. These tutorials had over 15 hours worth of excellent information which certainly helped me achieve my certification. An added benefit of using Video tutorials was that there was no restriction on the number of times I could view them.
YouTube
is also a fantastic resource for 'free' hints and tips, AWS publishes its 'deep dive' sessions and seminars that it holds all over the world. These videos, depending on which one you view, can give you a great overview of an AWS service or a deep insight into the design aspects of a service and how it works at a deep granular level. You can find the AWS Channel on YouTube
here
. I found watching the deep dive videos often provided more information that I needed for the exam, but it really helped me to understand the service and meant I retained a better understanding of how it worked.
Am I ready to take the exam?
Only you will know if you feel you are ready and prepared enough to take the exam. If you feel you have exhausted all of your options for studying and you have reviewed the AWS Exam Guide and are confident with the topics then you should be ready to take the exam. However, before you book your exam it's always a good idea to re-read the whitepapers, re-watch any training videos time and time again, practise with your 'free' account until many of the AWS tasks become second nature to you and you are familiar with certain screens and options within the AWS Console. You should have a sound understanding of the AWS services listed in the exam guide and be confident in explaining the differences to people. Perhaps even take the Practise test mentioned earlier, but most importantly, be confident!

How much do the Exams Cost?
Depending on which exam level you are taking, the costs for them are different. The first levels of certification are the
Associate
Certifications, and then the advanced certification level are listed as
Professional.
The costs for the different exams are as follows:
Practise Exams = $20
Associate Exams = $150
Professional Exams = $300
Recertification Exams = $75

Booking the Exam
To book the exam you must visit the
AWS Certification page
, select your chosen certification and click 'Schedule an Exam'.

You will then be directed to create a Web Assessor account powered by Kryterion. Once you have set up your account you will be able to schedule a test at a testing that best suits your location.
I passed, what happens now?
Congratulations you are now an AWS Certified Professional! Once successful in passing your certification you will be rewarded with a certificate via e-mail and the associated logos and logo guidelines relating to the certification you took. These logos are then available for you to use on your own literature, LinkedIn, Business Cards, E-mail signatures etc, that allows you to promote your new recognised skill-set, increasing your visibility. Your Certificate will be issued with a number; this number shows how many people have this certification
globally
!
Now you are ready to perform all that studying again for the next AWS certification, why stop at one!!! :-)
Thank you for taking the time to read my article, if you have any feedback please do leave a comment below.
If you liked this article or found it helpful please click the 'Good Article' button at the bottom of this article, it would be very much appreciated.
I look forward to your comments and suggstions.
Stuart Scott
-
(LinkedIn)

-AWS Certified Solutions Architect
-AWS Accredited Technical Professional
-AWS Accredited Business Professional
-AWS Accredited TCO and Cloud Economics