As part of the hype surrounding the Windows 7 release last Thursday, one of the lesser promoted aspects of the new Operating System is the improved support for netbooks. These machines are becoming increasingly popular on the market, in particular for their size, relatively low weight and general convenience.
I own a black Samsung NC10 netbook, a model which reviewers frequently rank at the top of its class. The system wouldn't run Vista for a variety of reasons; Windows 7 is meant to address these issues. Windows 7 is specifically designed to be less resource hungry, particularly in terms of its RAM requirements; it has better driver support for a wider range of hardware devices; and various fixes and tweaks have made its general performance, particularly during the boot and shut down stages, significantly better. During my testing, my experience has been very positive with the Operating System, and I'd happily continue using it.
Which Version?
Choosing the version of Windows 7 to use proved difficult. I didn't want to install more than I would ever use, but wanted my netbook to be left in a reasonably usable state which wouldn't hinder my use of it.
Announcements from a number of manufacturers seem to show a general trend that their Windows 7 netbook releases will run the Starter Edition of the operating system. The main reason? The licenses are cheap. Starter is specifically designed for emerging markets, but is also intended to offer a "richer small notebook PC experience". It doesn't allow you to change your wallpaper or hook the system up to a second monitor, but for a netbook, you generally wouldn't need to; if you can run a word processor and a browser, 99% of netbook users will be happy.
Other Windows 7 versions are very similar to the editions of Vista - Home Basic, Home Premium, Professional, Enterprise and Ultimate. The latter two are the identical Operating Systems, the differences only prevailing in how they are licensed and where they are used. Professional is the equivalent to Windows Vista Business (it is the lowest Windows 7 version with domain-join support).
For the purposes of this test, I'm using the Home Premium version, which should be more than adequate for home use. I don't need any of the advanced features of Professional or Ultimate edition on a portable notebook computer, but don't want to be restricted by the limitations of Starter. If you happen to purchase a netbook running Windows 7 Starter, an upgrade license to Home Basic or Home Premium should not cost a vast amount of money -- and can be purchased over the Internet via Windows Anytime Upgrade.
Preparing the system and installing the OS
Disclaimer: The machine I'm testing with isn't my main machine and doesn't have any data on it I'm particularly worried about. Your circumstances may be different. Please ensure you have suitable backups of all data and ensure you have the original manufacturer installation disks, should you need to recover the original OS for any reason.
I started by downloading the 2.4GB ISO file for Windows 7 Home Premium and burning it to DVD. Using an external USB optical drive, I booted the Windows 7 system and allowed the setup utility to load from the DVD. The installation process was simple and straightforward; I was asked for a little information, such as my location and how to partition my hard disk, and then it got on with the job.
A note about partitioning:
No matter how hard you try, in particular circumstances you may find the setup utility decides to create a small 100MB partition during the install procedure. This is perfectly normal. The partition contains the Windows Recovery Environment (WinRE), an essential tool used to boot the system to a minimal recovery state, should it become corrupted or otherwise unable to boot. In previous versions, this tool would not have been installed; instead, it would only have been available from the original OS installation media.
The installation is much quicker than an XP install; it took no less than about 20 minutes to complete, at which point I was greeted with a "Welcome to Windows 7" screen and an unobtrusive wizard, which walks you through configuring your system.
I provided information about myself and the name for my computer on the network. The vastly improved driver support then came into play spectacularly, as without any warning or prior driver installation, Windows 7 had automatically found my wireless adapter, scanned for wireless networks and asked me for my encryption key. This was rather impressive, both from a driver standpoint and a user interface standpoint. No drivers to install and no wireless adapters to configure after I've installed my OS, but I've got an Internet Connection straight out of the box.
Driver Support
Despite the improved driver support, there are still some official drivers and software applications which should be installed. Samsung have officially added Windows 7 driver support for the NC10.
The following drivers and software applications are those I would consider minimally required for your system to be in a usable state with most of its features. They can all be obtained from the driver download page at
http://tinyurl.com/win7-nc10
.
Chipset: Installing the Intel Chipset driver is really a given, considering it installs the proper drivers for the Serial ATA (SATA) bus, the graphics card and a host of other hardware components.
Samsung Display Manager: This adds support for controlling the display brightness using the Function keys on the keyboard, but interestingly it also activates all the other keyboard hotkeys, too.
Samsung Battery Manager: This utility installs a new power plan - Samsung Optimized - and allows you some more granular control over power use on the system. However, I've never touched the utility, and would suggest you instead use the default Windows plans. Of particular note, the Power Saver plan switches off the Windows Aero theme to conserve battery life when running without mains power.
Touchpad:
The Synaptics touchpad driver installs support for the scroll region to the right of the touchpad, as well as the software which allows you to enable momentum, tap zones and the other advanced Synaptics features you may use. You can obtain this driver from Samsung, but I usually download it directly from Synaptics:
http://www.synaptics.com/support/drivers
.
Camera: The camera drivers make the built-in webcam available again.
Performance
During my testing, I've been very impressed with the performance improvements made in Windows 7. I haven't had to tone down any of the graphics in the Windows Aero theme. I was initially using the original 1GB RAM, although I swapped this out for a 2GB stick to see if there was any noticable performance improvement. When idle, Home Premium does run high at about 600MB RAM, but the only improvement I actually noticed was when running multiple, intensive applications side-by-side. I'm sure more RAM could be recovered by switching off some of the eye candy.
While using the system - both on power and battery - there was constant Hard Disk activity, which was unusual, particularly considering the system was idle. A little investigating using Resource Monitor (in Task Manager) and I discovered the Windows Search function had been configured to automatically index my hard disk. To conserve battery, I switched this off by stopping and disabling the
Windows Search
service.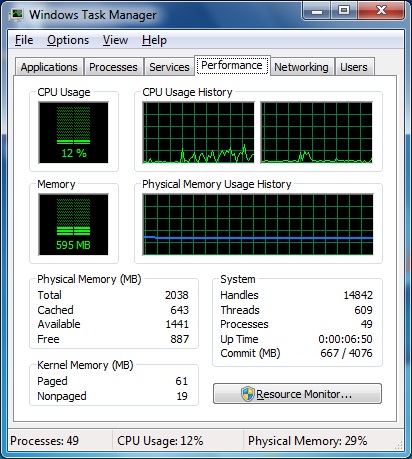 Anti-virus software is still catching up with the Windows 7 release. I use AVG, who have just launched their new version 9, with specific support for Windows 7 added in this release. Again, the anti-virus has integrated smoothly with the Operating System and doesn't seem to cause any significant performance issues.
Boot times are also particularly impressive. From initially switching the machine on to having a working desktop takes approximately 30 seconds. Shut down is under 15, and resuming from sleep is no more than about 2 seconds.
Summary
On a whole, in the short time I've been testing it, Windows 7 has proven itself to be an Operating System worth considering -- particularly for a netbook system. I've ignored Vista and despise of it vehemently. However, Windows 7 is the most user friendly system to date. With a suitable graphics card in your netbook, the vista (no pun intended) of the improved Windows Aero skin looks spectacular.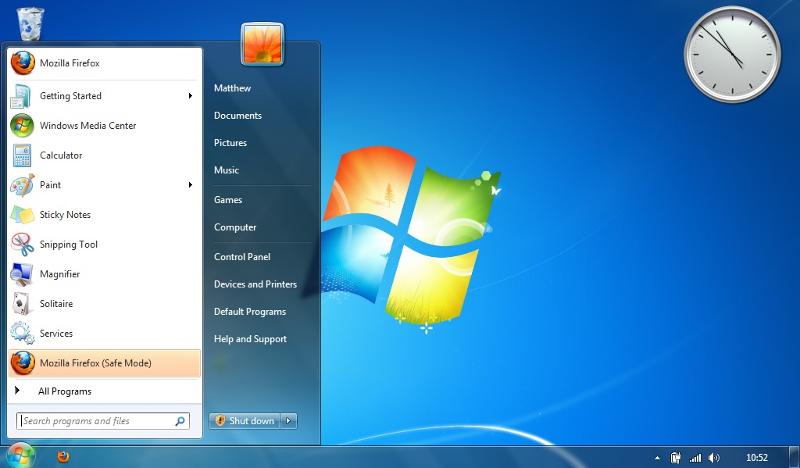 ==========================
=================================
If you liked this and want to see more from this Author,
please be sure to press the Yes button below.
Thanks!
===========================================================