Note: You must have administrative privileges in order to create/edit Sharing Rules.
Salesforce.com
(SFDC) is a cloud-based customer relationship management (CRM) system. It is a database most commonly used by sales and marketing professionals to track potential prospects, customers and sales opportunities.
Sharing rules are useful in conjunction with User Roles (
explained in my article here
) to grant or deny basic access to all objects and records. Sharing rules are broken down into a few different categories: Organization-Wide Defaults, Account Sharing, Contact Sharing, and Campaign Sharing. In the organization-wide defaults, you create the lowest level of blanketed access for your users. You can use account, contact and campaign sharing rules to be more granular, and it will over-ride the defaults you have set.
At the Organization-wide level, you can give access to all users to read/write different objects. There are a few different levels of access you can give:
Private:
Records are visible to record owners, and those above them in the role hierarchy. Records are not visible to other roles on the same hierarchy level or below.
Public Read Only:
Records are visible to all roles, but only the record owner and those above them in the hierarchy can edit.
Public Read/Write:
Records are visible and editable for all users.
Public Read/Write/Transfer:
Records are visible, editable and transferable for all users. For example, one user can re-assign an account to themselves from another user.
---
Here are the steps to set up and configure sharing rules:
1.
To update these rules, go to Setup > Security Controls > Sharing Settings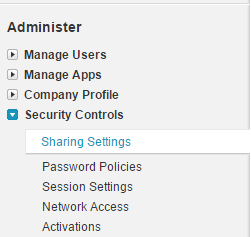 2.
From this screen, you can select the default access for each object. Use the definitions I outlined above to help you make your decision.
3.
If you want to be more granular with your sharing settings, scroll to the bottom of the page to find "Contact Sharing Rules", "Account Sharing Rules", and "Campaign Sharing Rules". Here you can edit or create a new rule to define sharing of contacts/accounts/campaign
s based on public groups, roles or roles and subordinates. There you can set rules to Read only or Read/Write. These rules are used to expand and grant wider access to roles, groups or roles and their subordinates. *These rules over-ride Organization-Wide Defaults.*

For example, above (at the organization level), we restricted Contact Access to Public Read Only, but perhaps there is a group of sales engineers that need access to every contact in the High Tech industry. Since Sales and Sales Engineers normally would not have read/write access over each other's contacts, we can create this rule so that they can edit the contacts in that given industry.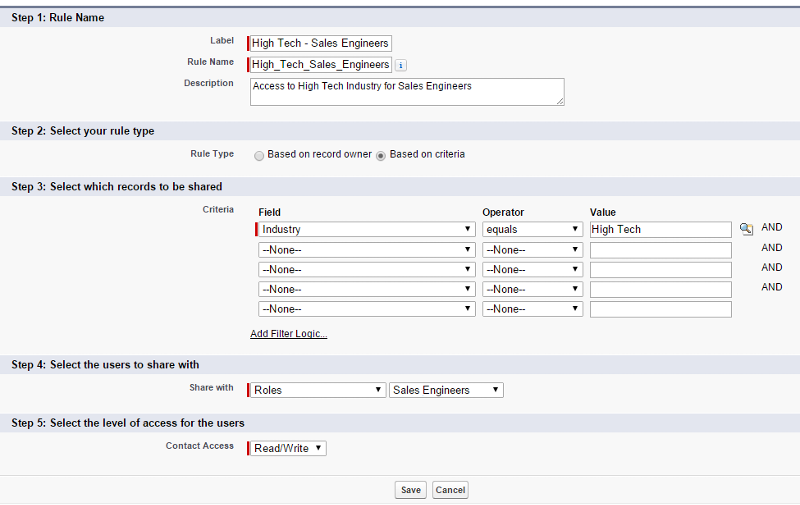 ---
Feel free to create as many rules as you wish. However, it is important to remember that each time you update organization-wide sharing rules, all records need to be re-calculated, which will slow down SFDC and hog resources until the update is finished. Therefore, it's best to wait until after work hours, and to make updates all at once.

Sharing Rules help prevent data-loss and reduce "poaching" that sometimes occurs in the sales world. By giving read access, users are able to still view information about a record, without having the ability to alter or change information. You can also grant greater access to certain individuals in a given role, when needed, without giving that same access to everyone in that role. Use sharing rules in conjunction with User Roles to best segregate your data to allow for blanketed visibility without the ability to damage or lose any of your data.

Thank you for reading my article, please feel free to leave feedback regarding this content or to recommend future work. Visit my profile to read additional Salesforce.com content.