You can use your Windows 7 installation DVD to repair your computer, just as you can do the same in Windows Vista and even Windows XP. Both Vista and Windows 7 allow you to go to a Command Prompt window that is MUCH less restrictive than the Windows Recovery Console was in Windows XP (which didn't allow you to access any folders on your hard drive except the root directory and the Windows directory and its subdirectories, and which allowed you to copy files from a floppy disk, CD, or other removable or non-removable media to those restricted areas on your hard drive, but not vice versa.) The environment in both Vista and Windows 7 that allows this has been renamed to the Windows Recovery Environment. In the Recovery Environment of both Vista and Windows 7 you can also access what is called Startup Repair, which will in many cases repair a nonbooting system.
But what if your pc came with Windows 7 preinstalled on it, but didn't provide an installation DVD? In this case, you can at least use the Backup and Recovery applet of Control Panel to create what is called a "system repair disk". The system repair disk doesn't permit reinstallation of Windows, but it does allow you access to the Recovery Environment.
In the Backup and Restore window, you next click on the link in the left pane for Create a system repair disk.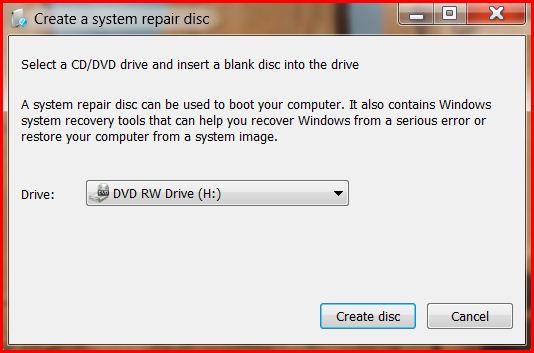 Then, in the next window, you select the CD/DVD drive on your computer where you have mounted a blank CD/DVD (the files for the Recovery Environment need only the space on a CD to hold them), and click on the button for Create Disk.
You then wait for a few minutes as the CD or DVD repair disk is burned.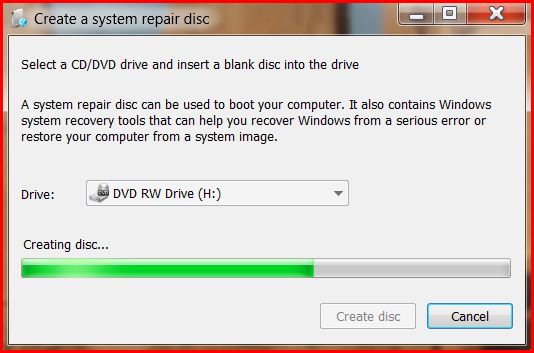 When the burning is complete, you will be presented with a window summarizing how you use the new disk, and you then click on the Close button.