Pegasus Mail
is a donation ware that is a collaboration of David Harris along with his team members. It is a desktop mail client that offers the option of configuring more than one mail account with single set up. It supports POP3, IMAP, and SMTP protocols for sending and receiving the emails. The best part about this application is it does not make any changes to the Windows registry and thus it is considered as a portable application for the USB drives.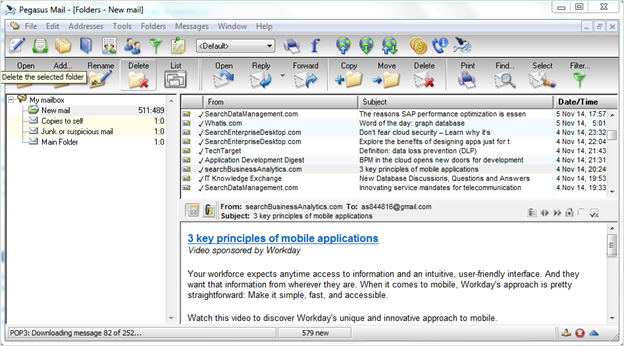 Every new mail that arrives in the "New Mail" folder of Pegasus gets saved into CNM file. For every message, this text file with .cnm extension is created under "
C:\Program File\PMAIL\Admin
". The CNM filename is unique and thus it is considered as the message ID.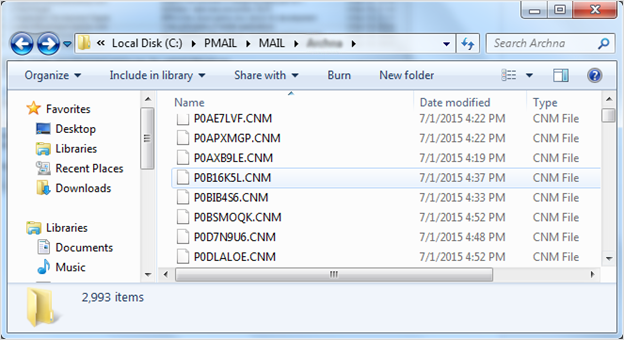 The normal messages (local or by Mercury Mail Transport Server) gets saved with initial letter Y but if the profile is having pop3 access of an account, the message will be saved with initial letter P.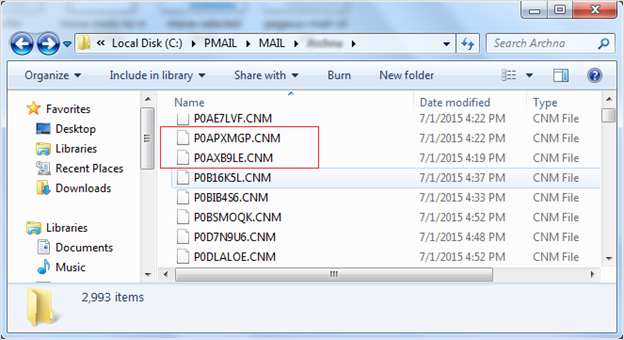 The data of other system defined folders gets saved into .PMM files along with their indexes in .PMI file format. For example: copyself.pmi, main.pmi etc.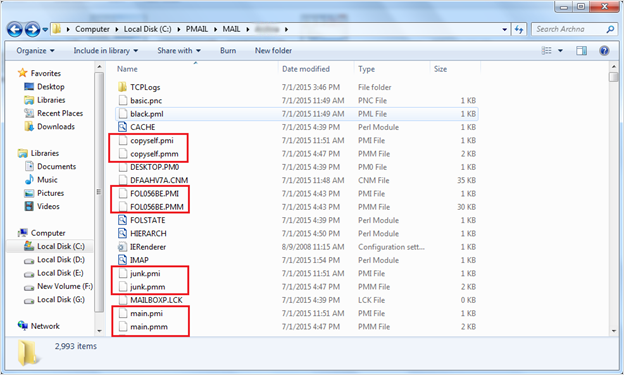 Exporting Emails into Text Data Files
The messages in Pegasus Mail account can be saved on disk into a text file. Either all mails from the folder or single mail in the folder can be exported into
MBOX file
. For this, select the messages, right click on it, and choose "Save Messages to Disk…"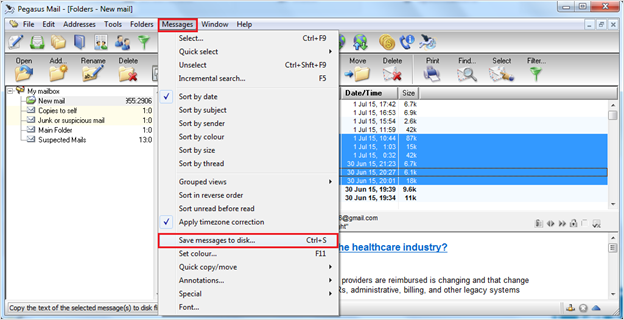 Define if you want to save all messages into MBOX file or for every mail, an individual MBOX file to be created. Give a name to the file and click "Open". Your messages will be saved on disk at desired location.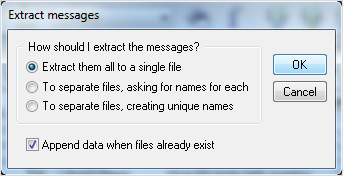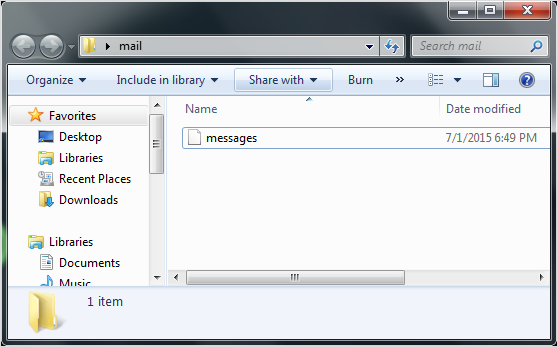 Check Out CNM File Corresponding to Email
File located in New-Mail Directory (CNM file)
, is saved with a unique name and it is not possible to determine which message it holds because the application names it through GUID. So, to know CNM file unique name for any mail, select it, right click on it, go to "Message Properties".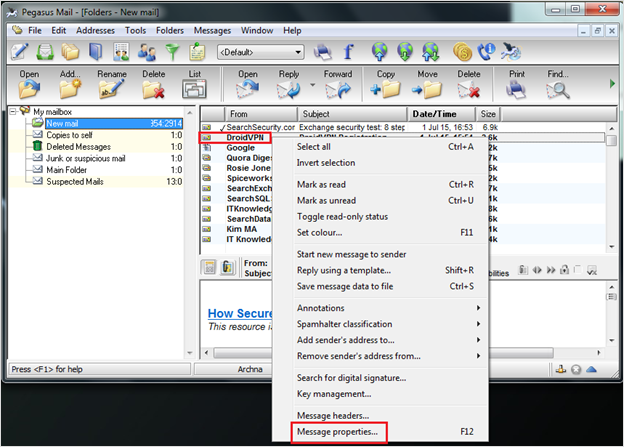 In the textbox for "Filename", you can find out the CNM name for the mail.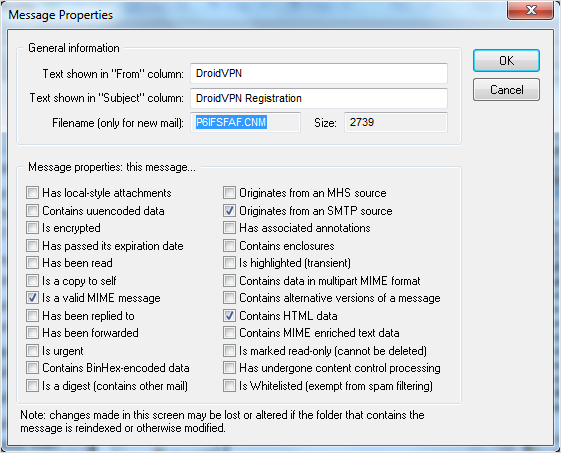 Move Mails to Sub-Folder:
Until now, we discussed the default message saving systems and location. Now, if a customized (or user defined) subfolder is created under any folder, then there is option to save it in MBX file format (which is a variant of MBOX file). To create a new folder, click on the "Add" button.

Give a name to the new folder under "Name and type for new folder" text box and select the folder type as "Unix Mailbox Format".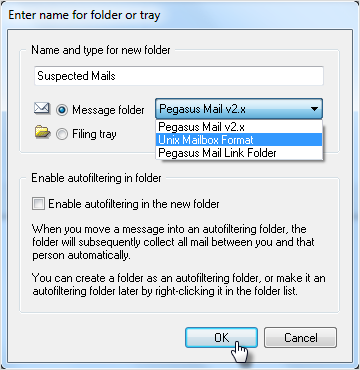 Now select the mails that you wish to move to the sub-folder and in the menu bar, click on "Move" button.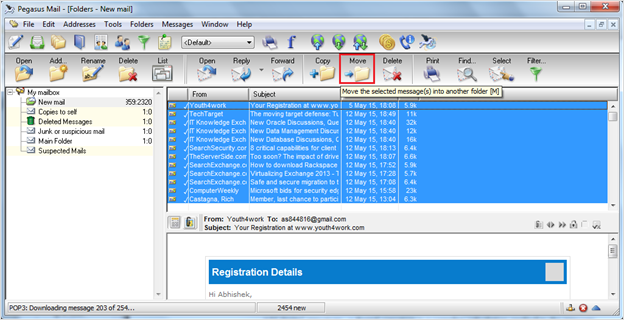 Select the Folder and click on "Open" button.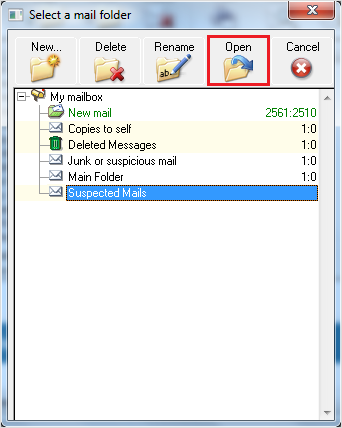 The MBX file would be saved with UNX (Unix) with a string.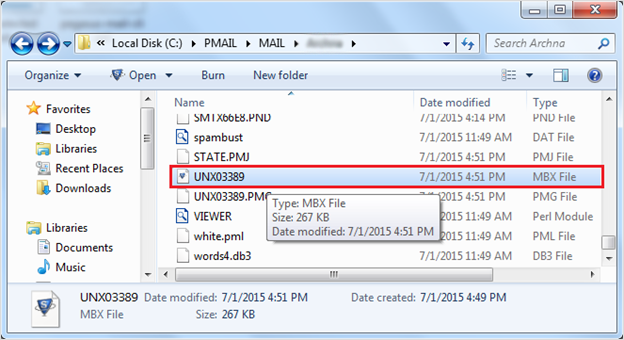 Configuration File:
The configuration details of Pegasus gets saved into an ID file which is also a form of text file. It is located at "C:\PMAIL\MAIL\Admin" and can be simply opened in Notepad.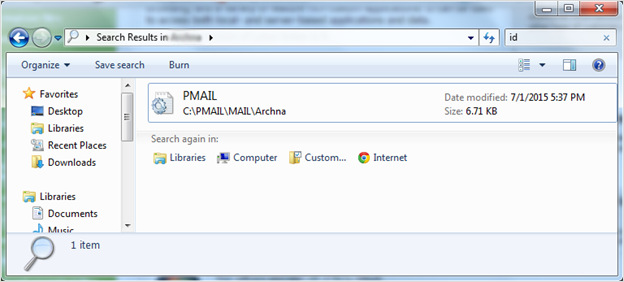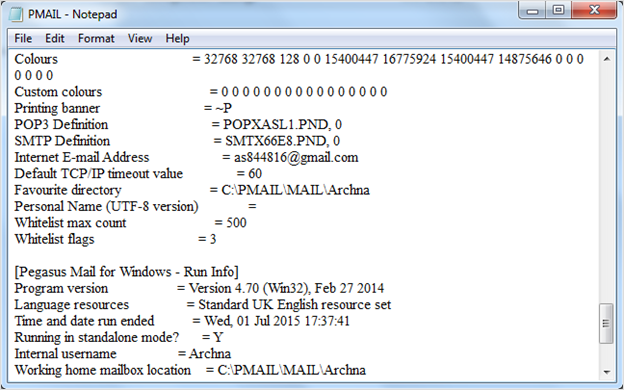 Message Header:
The internet header of every message in Pegasus stores its routing information. To check that out, select the message, right click on it, and choose "Message Headers". A pop up will get opened where entire email information will be saved.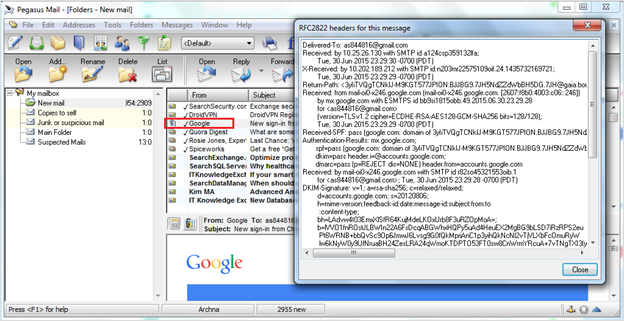 Rule Filtering For Emails Management
On regular basis, a lot of emails get collected in the mailbox and thus managing them becomes a troublesome job. But fortunately, PMail have message filtering options offered that allows the users to download mails into separate folders and customize it accordingly. Here is how the rules for downloading emails into the mailbox can be set.
To set rules for emails, go to
Tools
. Drop down to
Mail Filtering Rules
>>
Edit new mail filtering rules
>>
Rules applied when folder is opened…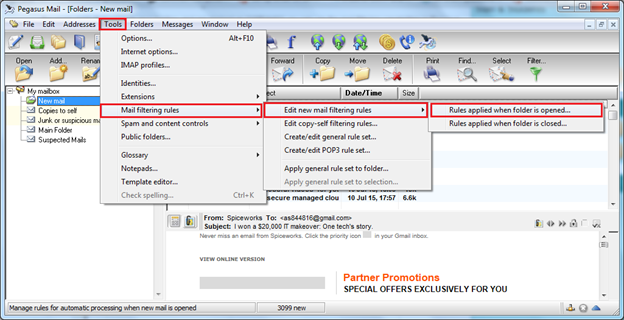 A window named
New mail filtering rules
will get opened. Select
Add rule
.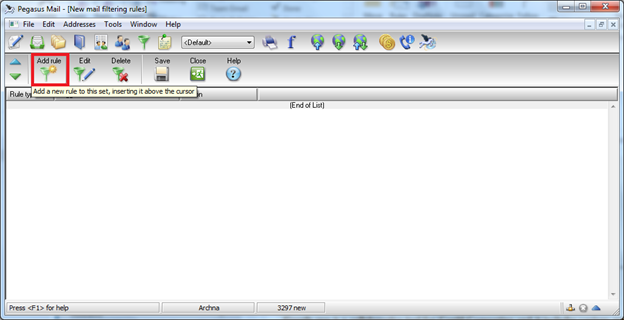 Multiple rules can be set by the users for the emails and for managing their availability in different folders. Click on the relevant option and add a rule in relevance to the requirement.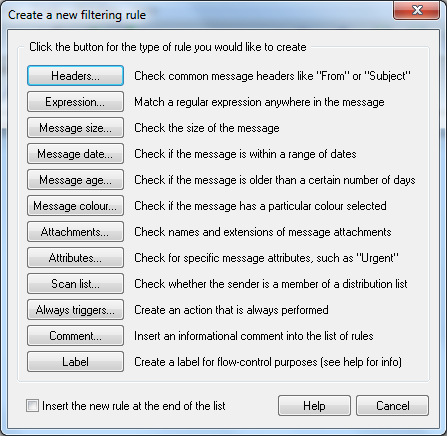 Header:
Here, the application will check out the header of email. Use the check boxes to instruct the application what it has to check in the header and take relevant action.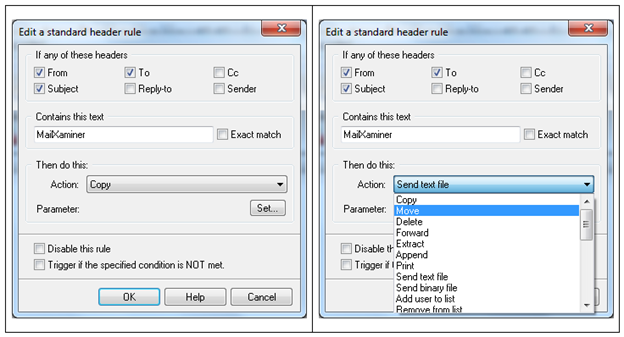 On the Settings button, you have the option to define the folder where the mail should be moved or copied.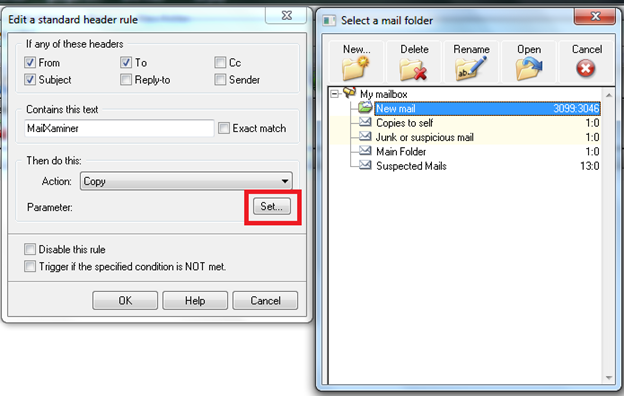 Expression: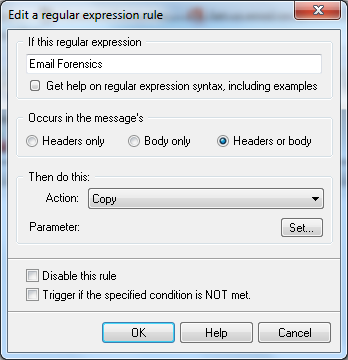 Message Size:
Relevant action on an email can be taken according to size of the email that is downloaded from the server.
Message Date
:
Messages received between a defined time interval can be moved or copied to separate folder. The time range can be provided in terms of days, months, or year gaps.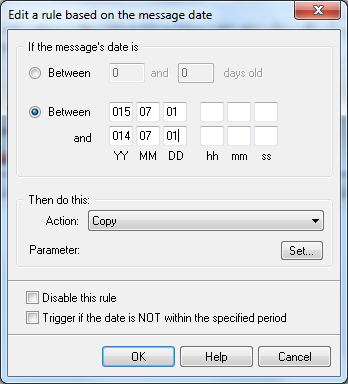 Message Age:
If a message is older than a certain time period, an action can be defined for it. This helps in archiving or mailbox space manageability.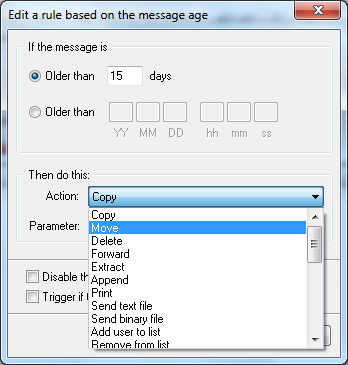 Message Color:
If a message contains a particular color, it can be filtered on this basis.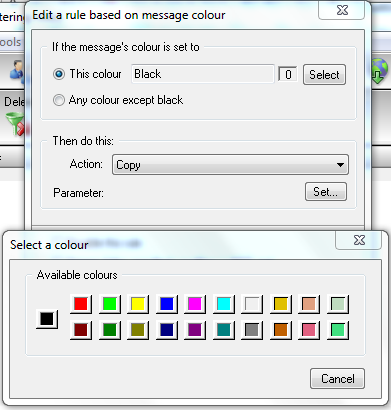 Attachments:
This will check for certain words in the attachment name, the attached file, or will check out for file extension. And if it is found, the defined action can be taken for the mail.
Message Attributes:
The application will check out for following attributes in the mail and if found the defined action for the message will be processed.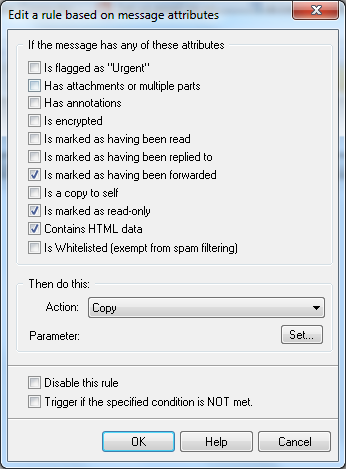 List Membership:
If the message is received from someone in the distribution list, then it can be moved, copied, or selected action for it will be taken.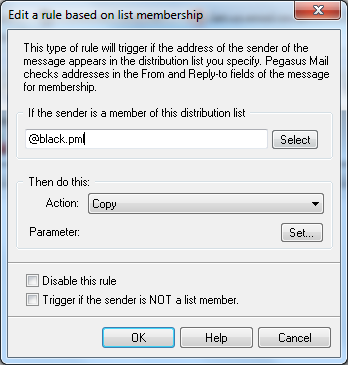 Filtering Against Spam:
The emails downloaded is a mix of regular messages, subscribed mails, social, promotional, or spam. Amongst the various mails, it is hard for an application to examine which one is the spam message and could lead the user into trouble. Pegasus includes Spam and Content Control system that can help to remove suspicious mails from the list. Here are the options that can be customized accordingly.
In the
Tools
menu, move down to
Spam and Content Controls
and choose
Global Whitelist
.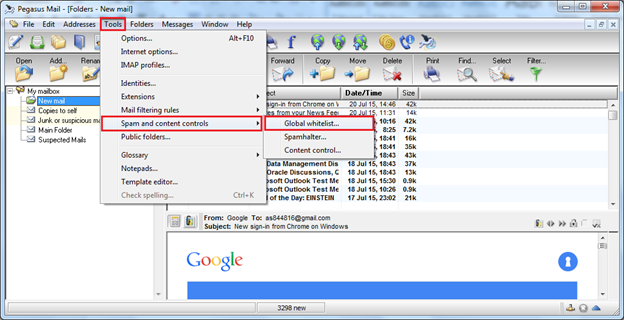 Here, you can add the list of whitelist address. Also, there is option of adding recipients to the whitelist if an email is sent to them through the account.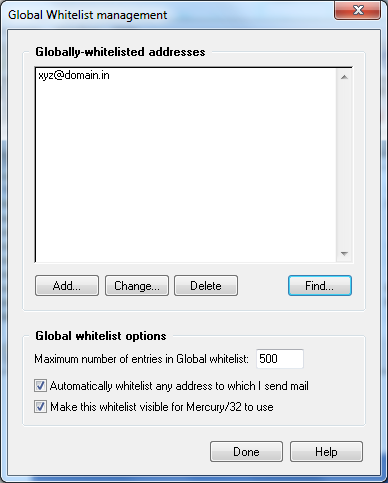 Spamhalter is basically a Bayesian filter that checks out the behavior of emails through links, contents, domains etc. It analyzes the emails and find something unexpected is found, the mail might be considered as spam and will be moved according to the action defined in the rule. To instruct the application to do this, enable the Spamhalter.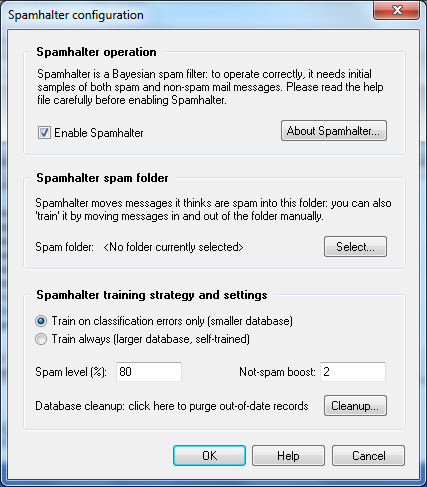 Another spam filter settings is for the content. There are options provided that can be chosen accordingly to make it easy for the application to check out the content and act accordingly if a spam is received.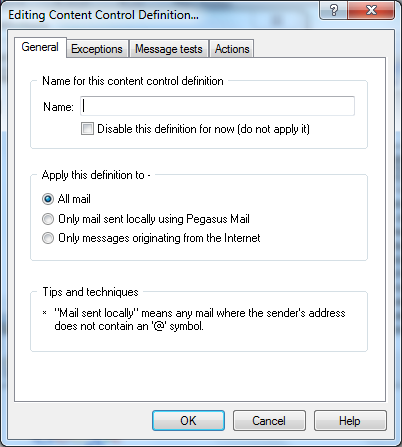 Pegasus offers an efficient emailing experience to the users and with excellent phishing protection and spam filtering through built-in Bayesian technique, it ensures that a secure shield for emails is provided to the users. Also, the way data is stored in Pegasus and can be brought to disk proves quite helpful in forensic analysis of email database.