Last month, Google released a new update for Google Sheets. This new update offers new ways to visualize and analyze data. Use this article to learn how to take advantage of the new tools now available for charts, cells and collaboration with Google Sheets.
Change the Shape of Data Points
In a line or scatter graph, you can change the shape of your points with the new update.
Create a graph with data points.
Go into edit mode.
Click on any point on the graph and a toolbar will appear.
From here you can choose a shape from the dropdown menu.
Add Data Labels to your Graph
You can now show the precise value of bars or points.
Create a bar or line graph.
Go into edit mode.
Click on any point on the graph and a toolbar will appear.
Select the data label icon.
Choose Value from the dropdown menu.
Your points will now be labeled on your graph with the exact value.
Preview Formula Results
You can now use a feature to help catch formula errors quickly. This new tool allows you to preview formula results as you type.
Once you add a formula into a cell, the preview will be down right above it before you even click enter.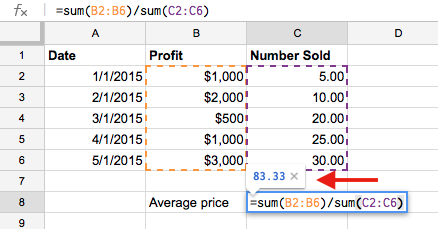 Filter by Conditions
With the new update, you now have conditions that you can filter your rows and columns by.
Select the column you would like and select Filter from the toolbar above.
After you select the dropdown menu from the column, choose Filter by condition.
From here, you can choose a condition that will make your sheet only show you the data you want to see.
Protect Cells
You can make sure that certain people can not edit specific cells or sheets.
Select a sheet, row or column.
You can then choose who can edit certain ranges of cells or sheets from the panel on the right.
Hopefully these new tools help your experience with analyzing and visualizing your data on Google Sheets.