As the title indicates, I have done this before. It chills me everytime I
update the OS on my phone,
because one time I did this and I essentially had a
bricked phone
. Such is the price for being on the bleeding edge. Anyway, the morning of July 8, 2015, I received a push update of the OS on my Verizon Samsung Galaxy S5. It indicated that I needed a total of 800mb to do the update. I figured why not and went ahead with it. It was only after it had started, that I got nervous.
When I saw this screen...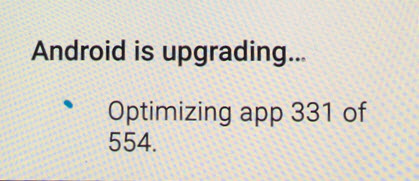 ... there was a similar screen when my device imploded, so I started to worry. It didn't help that according to one of my apps, I have 661 apps; I was hoping that this meant it wasn't optimizing built-in apps. Last time it counted all the way up to the second number and then reset and had a different number (fewer). But this time everything SEEMED to go smoothly. The system finished optimizing and rebooted. I was able to access most of my apps although some insisted that they didn't exist. I wasn't able to investigate any further, because at that time the device decided to reset. It hadn't warned me that it would take a long time on the Verizon screen after boot up, so I was a little worried when it had been booting on that screen for between 5 and 10 minutes. Afterward everything checked out. The apps that previously had been having problems now appeared to be working fine.
And, to my surprise, the update seems to have freed up almost 600mb worth of space. That is 600mb beyond the 800 it needed to download and install. I started with 1.15gb free (of 10.2gb), the download was supposed to take up 800mb and when it was finished (after the 2nd reboot), I had over 1.75gb free.
The takeaway:
So what does this all mean to you? If you have Lollipop (android 5.x) on your phone, this upgrade looks promising, so I would suggest going for it. One of my main caveats/precautions,
ALWAYS
make a backup first. If you don't make backups - this is a good time to start.