Problem
"Can you help me recover my changes? I double-clicked the attachment, made changes, and then hit Save before closing it. But when I try to re-open it, my changes are missing!"
Solution
This solution opens the Outlook Secure Temp Folder (a.k.a the OLK folder) without having to open the registry. This is where the changes will have been saved.
1. Find a
PDF
in your Inbox that you received as an e-mail attchment and open it directly from the e-mail into
Adobe Reader
(or Acrobat).
2. In the Adobe software, go to
File | Properties
3. Click the HYPERLINKED
Location
path of the file to open the secure temp folder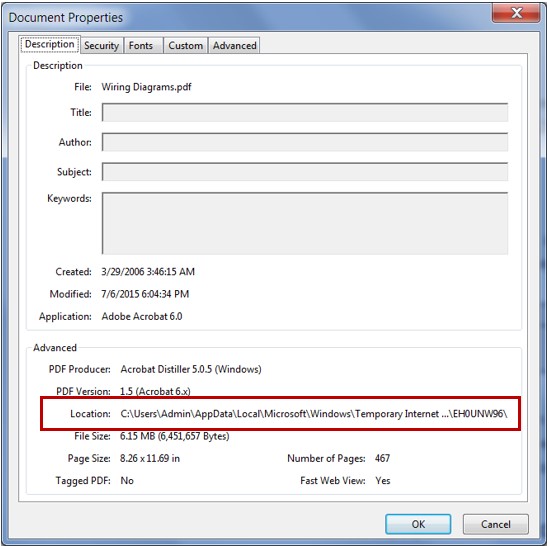 Discussion
Whenever Outlook is asked to open a file in its client program (Word, Excel, PowerPoint, Adobe Reader, etc.) the attachement is first copied to the Outlook Secure Temp folder, which may begin with "OLK...", or is found in a
super-hidden subfolder
of Temporary Internet Files. This design is intended to preserve the message and its original attachment, while allowing you to interact with the file locally.
Many
articles
can be found that direct you into the registry (HKCU\Software\Microsoft\O
ffice\12.0 \Outlook\S ecurity\Ou tlookSecur eTempFolde r, or similar) to find the folder path. But this can be cumbersome, and frankly intimidating to many. The purpose of this article is to provide a quicker, easier, and safer way to get at these attachments which does not require access to the registry.

Preventative Actions
Due to the secure temp folder's hidden and temporary properties, take care that you do not regularly save files here. Use Save As to put the attachment in a location you can easily find it later, like a document library, network drive, cloud storage, or on your Desktop. This preserves both the original copy sent to you and the one that contains your changes.

Alternatively, if you really want to make changes to the copy of the document attached to the message in your Inbox, first open the e-mail message, then use Message tab | Actions ("Other Actions", in 2007) | Edit message. Now, when you hit the Save button in the document, Outlook will apply your changes to the original attachment that was sent to you. Keep in mind, however, that if you need to revert back to the original, you may need to reply to the sender to ask for another copy.