Tired of waiting for your show or movie to load? Are buffering issues a constant problem with your internet connection? Check this article out to see if these simple adjustments are the solution for you.
The objective of this article is to address three common issues that cause poor streaming performance and very high data usage. These suggestions may be even more beneficial for folks who live in rural areas and depend on satellite or antenna relayed internet. For people who do not have to worry about limited speeds and data plans, it still may be beneficial to at least be aware of what are natural causes of slow streaming. These are the top 3 common occurrences:
Streaming over a wireless connection typically does not work as well being hard wired directly to your home router. For example, I have an Apple TV and Airport Extreme router. I have noticed vast improvement between the devices by connecting them with a Cat5 Cable while watching Netflix, Hulu, HBO Now, HBO Go and Showtime.
Streaming will not work well while doing any other heavy bandwidth tasks. For example, if you're watching a show on Netflix and browsing Facebook and watching videos there too this can cause a split of your incoming speed. You will most likely see delays on both devices too.
Streaming in high definition (HD) will be cumbersome to the performance of devices and chew up your limited data plans. High definition files are extremely large, compared to lower quality video. For example, I found that streaming one HD movie on Netflix consumed up to 4 gigabytes (GB) of my data plan! I also noticed increased buffering time. Leaving a device set in an auto-suggested streaming resolution can also be a culprit of poor streaming performance.
---
The best way to fix your streaming and reduce data consumption is to manually adjust your device(s) to stream in standard definition. Depending on your setup, you can go into the device's settings or through the website that provides streaming services like Netflix. Simply put, you will need to stream at lower resolutions and make your devices do so as well. Here are some examples of how to adjust your device(s) to stream in standard definition.
Netflix
Go to https://www.netflix.com/
Log in to your account.
Select your profile. (If you have multiple profiles know that you have to do this for each profile too.)
At the top right look at your profile icon. Click Your Account.
Under My Profile click Playback settings.
Select Medium (standard video quality) or Low (basic video quality).
Click Save.
For more internet connect speed recommendations see
here
.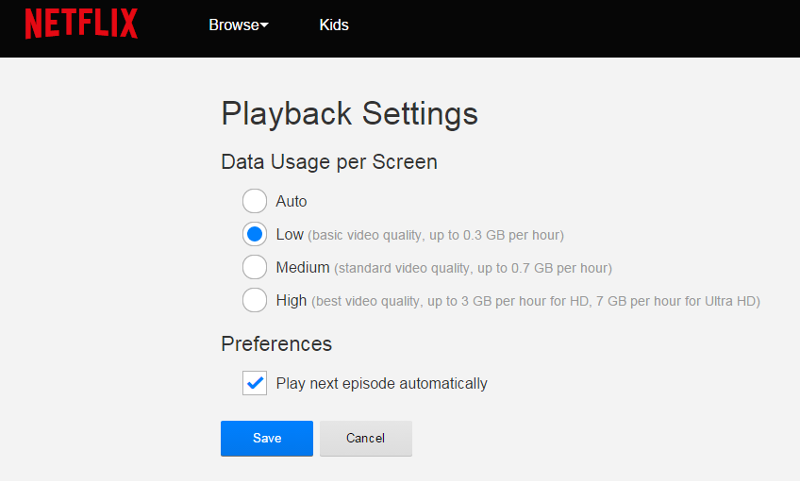 Apple TV
Go to Settings.
iTunes Store
Video Resolution.
Select Standard Definition or adjust as necessary.
For more information on mac and iOS devices see
here
.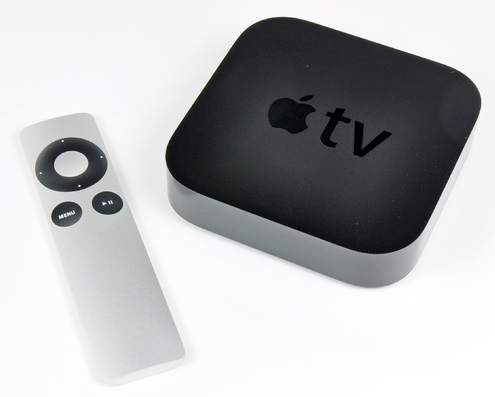 Roku
On the Roku remote enter:
Press Home button 5 times.
Press Rewind 3 times.
Press Forward 2 times.
The screen should appear to show you settings you can choose besides the default 3.5 Mbps.
For more information see
here
.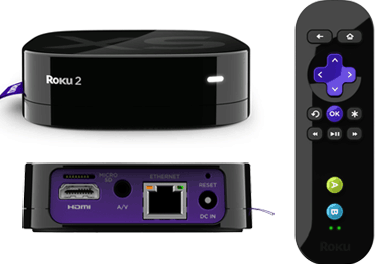 Amazon Prime Video
There are no settings to control the data or resolution, but you are able to choose standard definition versions of videos by hovering your mouse over the screen and on the bottom right hand side there is a set HD to off.


YouTube
Login to your account and click the icon in the upper right of the browser.
Choose Accounts Settings.
Under Playback choose the I have a slow connection; never play higher quality videos.
Save your changes.
Each YouTube account, if you have friends, family using YouTube on their own accounts, should do this as well.
---
In the end, you should notice better performing streaming of media and a decreased usage of data. Thank you for reading my article, feel free to leave me some feedback regarding the content or to recommend future work.