PaperPort
is among the most important applications that I run on my Windows computers. I use it every day, for nearly all of my document and photo scanning, as well as most of my document and photo imaging, including OCR via its built-in
OmniPage
capabilities.
Disclaimer before going further:
I have no affiliation with
Nuance
and no financial interest in it whatsoever. I am simply a happy user/customer.
Article Update on 18-Apr-2020:
Last year, Kofax acquired the Document Imaging Division of Nuance, which included PaperPort. I discuss this in an EE article and video:
Free in-place upgrade of Nuance PaperPort Professional 14.5 to Kofax PaperPort Professional 14.7
Free upgrade of Nuance PaperPort Professional 14.5 to Kofax PaperPort Professional 14.7
I've been using PaperPort for around 20 years on every version of Windows since Windows 95. With the
Windows 10
release date coming up in two days, I thought it would be worthwhile to document my experience with PaperPort on the
Windows 10 Technical Preview
, including some tips for successful deployment on W10.
First, my experience with the various builds along the way: I did not install PaperPort on the initial Windows 10 Technical Preview of Build 9841, released on 30-Sep-2014. But I installed on every build after that, from 9860 through the current 10240. The platform is physical hardware, not a virtual machine. It is a relatively old laptop with mediocre specs by today's standards:
Intel Core2 Duo T9300 2.50GHz
4GB RAM DDR2 PC5300
Samsung SSD 840 EVO 250GB (with the
read performance firmware upgrade
)
Intel GMA X3100 Video Memory 256MB
Screen resolution 1280x800
After updating from Build 9841 to Build 9860, I installed the Windows 8.1/64-bit scanning and printing drivers for the Brother MFC-9840CDW and the W8.1/64-bit scanning drivers for the Kodak ScanMate i920. Both installs went fine.
Tip #1
Install the latest scanning drivers (ISIS, TWAIN, WIA, WIA 2.0) from your scanner manufacturer's website, preferably Windows 8.1 drivers until they have W10 drivers, making sure you use the right bit level for the version of W10 that you plan to install, i.e., 32-bit or 64-bit.
I then installed PaperPort 14.5 Professional, as described in this Experts Exchange article:
PaperPort 14 - Free Upgrade to Version 14.5
Tip #2
Run only PP14.5 on Windows 10. It's possible that earlier versions will work, but my advice is not to run any version of PP before 14.5. That said, if any readers try earlier versions of PP14, or even earlier major releases, such as PaperPort 11 and PaperPort 12, please post your results here (yes, Nuance was superstitious and skipped 13).
On all of the builds except one, PP14.5 installed and worked well. The one problematic build was 9926. PP14.5 would not even install on that build. Fortunately, Microsoft fixed the problem in the next build (10041) and it has been fine ever since. If you were unlucky enough to try PaperPort on Build 9926 and gave up on it, don't worry — it works fine on the latest Build 10240, which is the basis of the upcoming official release.
Everything I've tried has worked, including scanning from both a network-connected, all-in-one/multi-function device and a USB-connected scanner. I tested simplex, duplex, ISIS, TWAIN, WIA, WIA2, JPG, PDF Image, and PDF Searchable Image, although not in all combinations. Even the
Duplex ADF option
came up in the scanning profiles without having to use the Hint Editor.
However, after the first few builds, they started killing the scanning drivers, which I had to reinstall. It became so prevalent, that I made it a part of my standard operating procedure for a new build.
Tip #3
Keep all of your scanning drivers handy — reinstall all of them on Windows 10.
Furthermore, I recommend installing the free PP14 Scanner Connection Tool. Although Nuance pitches this as a fix specifically for Windows 8, users have reported that it fixes scanning problems in earlier versions of Windows, so I decided to try it in Windows 10, and I've had no problems scanning with it.
Tip #4
Install the PaperPort 14 Scanner Connection Tool, as described in Section VIII of the EE article, PaperPort 14 - Free Upgrade to Version 14.5.
PaperPort picked up on the Office 2010 Professional installation, creating
Send To Bar
icons for Excel, Outlook, PowerPoint, and Word. I tested the Excel and Word ones — both worked perfectly. Indeed, the Send To Bar contains all icons that it should have:

PaperPort also picked up on all of my ISIS, TWAIN, WIA, and WIA 2.0 drivers, as shown in this
Select Scanner
dialog: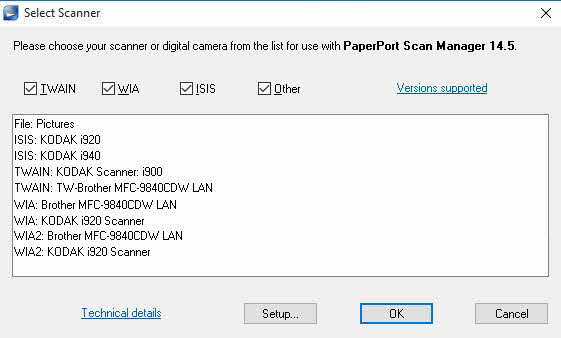 Other successful tests were scanning into a network share and retrieving the scanned files from my production Windows 7 system, printing to the PaperPort Image Printer, doing a
Save As
to a PDF Searchable Image file, duplicating items, stacking/unstacking items, running
FormTyper
via drag-and-drop on the Send To Bar (which invoked PDF Viewer Plus), doing copy/paste to the desktop, and many other operations.
In summary, three quarters of a year of testing has given me confidence that PaperPort will work well on Windows 10. If any readers would like me to test a specific piece of PaperPort functionality in Windows 10, post a comment here — I'll be happy to do it.
Article Update:
Nuance has issued a statement with respect to product support for Windows 10:
http://nuance.custhelp.com/app/answers/detail/a_id/17901/kw/windows%2010
Note in this Knowledge Base article that it says, "PaperPort 14.5 with Patch 1" is "Windows 10-compliant".
Tip #5
Install Patch 1 for PP14.5, as described in the EE article, How to install the Patch 1 update for PaperPort 14.5.
If you find this article to be helpful, please click the
thumbs-up
icon below. This lets me know what is valuable for EE members and provides direction for future articles. Thanks very much! Regards, Joe