In a
recent article here at Experts Exchange
, I discussed my nine-month sandbox testing of the Windows 10 Technical Preview, specifically with respect to running Nuance's
PaperPort 14.5
. I received a private message from a fellow PaperPort user who read the article asking me if I'm aware that Windows 10 is
using my computer to help distribute itself
. I was not aware of it!
Perhaps I missed this during my nine-month experimentation with the W10 Technical Preview, or maybe Microsoft added that feature only in the official release (Build 10240), but when I checked it out, it is true. I was very surprised to find that W10 is, in essence, using my PC as a peer-to-peer server in distributing updates and apps, and I figured that other Experts Exchange members may also not be aware of it. So I decided to write this article, which also shows how to disable it.
Sidebar:
During the article review process, an EE Page Editor (
MASQ
) pointed out that this feature was introduced in March with Build 10036 — I did, indeed, miss it! My thanks to MASQ for this information, and for providing a link to
Leaked Windows 10 build hints at peer-to-peer patching
, an interesting article about it in
The Register
.
First, I'll explain how to find the feature (the screenshots in this article are from Version 10.0, Build 10240, created via an automatic update from the Technical Preview version of the
Windows Insider Program
):
Start menu
Settings
Update & security
Windows Update
Advanced options
Choose how updates are delivered
After those steps, you will get this dialog: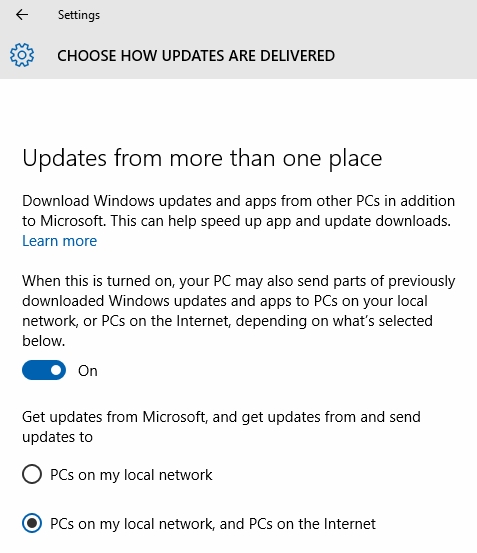 As you can see, the default is
On
for downloading Windows updates and apps from other computers, and for
using your computer to send Windows updates and apps to other computers
— and there's an option for those other computers to be only on your local network or, believe it or not, on the Internet!
Note the
Learn More
link in the screenshot above. It takes you to a page with the clever title of
Windows Update Delivery Optimization: FAQ
. So Microsoft is telling us that

Windows Update Delivery Optimization lets you get Windows updates and Windows Store apps from sources in addition to Microsoft. This can help you get updates and apps more quickly if you have a limited or unreliable Internet connection. And if you own more than one PC, it can reduce the amount of Internet bandwidth needed to keep all of your PCs up-to-date. Delivery Optimization also sends updates and apps from your PC to other PCs on your local network or PCs on the Internet.
This also confirms what I observed above, namely, that the so-called
Delivery Optimization
setting defaults to
On
— and for
all
editions of W10! There is, however, one important difference in the various W10 editions, i.e., Enterprise and Education have only the local network option on by default, while
all other W10 editions
have your local network
and PCs on the Internet
on by default.
Disabling it is a simple matter of clicking the blue
On
button, which toggles it to
Off
: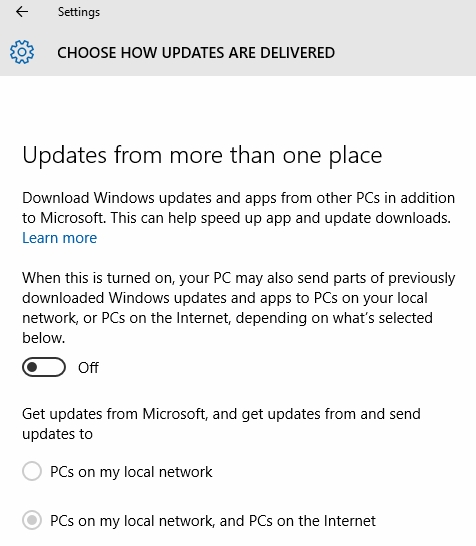 Or you may leave it on, but tick the
PCs on my local network
radio button rather than the
PCs on my local network, and PCs on the Internet
radio button.
I'm not going to weigh in on the merits of this feature. Since learning about it, I've read many opinions on the web, and perhaps this article will spur a lively discussion here at EE. Some folks are worried about getting malware on their PCs from this feature, other folks say that it is not possible to do so. Some folks like the idea that they are not totally dependent on the (possibly slow and bogged down) Microsoft servers for updates and apps, while others say that it is not worth the hit to their own network bandwidth. Interesting food for thought.
If you find this article to be helpful, please click the
thumbs-up
icon below. This lets me know what is valuable for EE members and provides direction for future articles. Thanks very much! Regards, Joe