Recently, I wrote an article for Experts Exchange that discussed inherent issues with installing a
64-bit version of Windows 7
on a system that was purchased with an OEM 32-bit version of a Microsoft OS. Here is an update and a pleasant surprise.
When upgrading a 32-bit Winddows 7 Ultimate RC to a 64-Bit Windows 7 Professional (on my laptop), I could not find the driver for an ACPI, from the Toshiba website. This was not a critical concern, but prompted me to write the previous article. After several additional "Windows Update" were completed, the driver was installed (no more yellow ? were displayed in Device Manager). However, if you want a more efficient process for troubleshooting this kind of issue, try this:
Hold the Windows key and press R, to bring up the run command.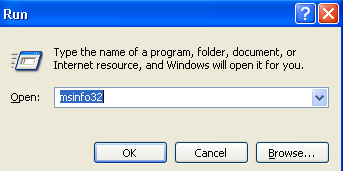 type msinfo32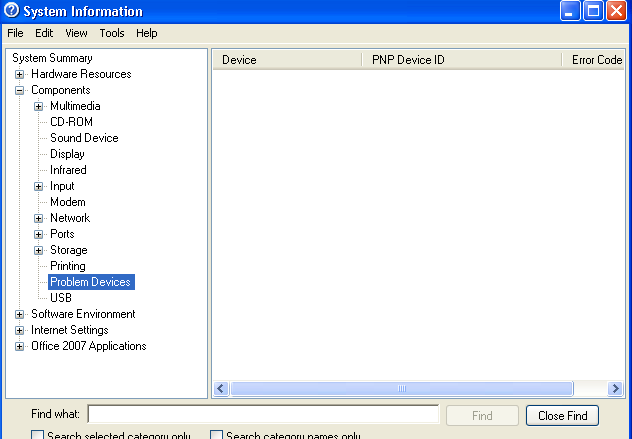 On the left in the System Information window, expand "Components" with the + sign. then scroll down to "Problem Devices" and click on that. Any devices with issues will be displayed on the right.
If a missing driver is a PCI related device. Google pcidatabase.com and further investigate.
When I tried to use the Windows backup utility to get all of the files needed on the new HDD. It ran through the night and did not work, Another attempt failed as well. When I tried the "Easy Transfer Wizard", it was quick and I was pleasantly surprised. Desktop icons were reproduced, public and user files were where they belonged. It was a perfect fit, so to speak onto my new OS.
With MS Deployment Toolkit 2010, it appears that OS, applications, drivers and more and be customized per deployment image. This could be worth a look if an entire company or department is migrating to Windows 7, but have different application or driver needs. Deployment Workbench wiil creat a working build for migration. The Windows automated installation kit is required; as highlighted in this image.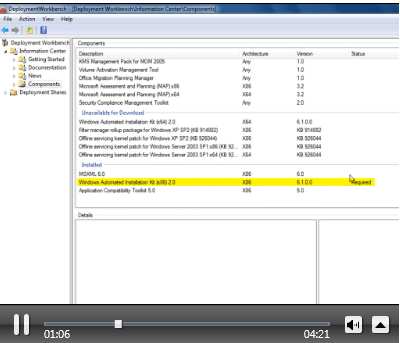 You will bundle applications together here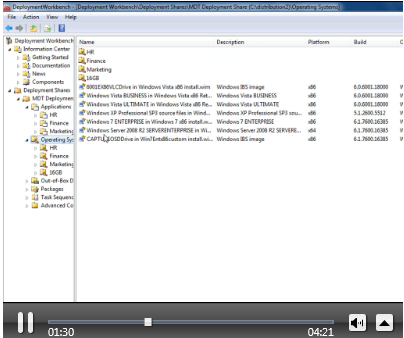 In my experience, the 64-bit version is noticeably quicker on startup. I have not had a reason to regret the upgrade from the 32-bit version. Windows 7 is here, so enjoy it. The experience, is like getting a new software update or patch that just makes everything work right, and the way it should; as compared to Vista (which I didn't mind too much). Don't miss out on the opportunity to run sysprep right from the OS. It is no longer a feature that must be accessed from a folder on the disk itself.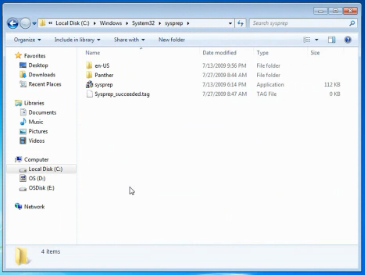 Select the Quit option for use with multiple computers.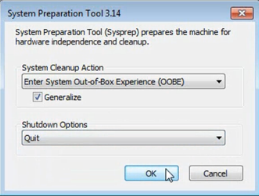 Oh and Windows Defender came to my rescue the other day; warning me that a website was unsafe (which it surely was). There is no antivirus on this laptop, nor has there been any since I installed the RC 6 months ago. Not a problem. Though this system has surfed the "darker side" of technical websites, I have felt no reason to worry. Thus far, the system is pretty tight security-wise, without the incessant UAC prompts that were set to high, by default in Vista. Wish I had a screen shot of that Windows Defender to show you!