Working settings for French ISP Orange "Prêt à Surfer" SIM cards for data connections only. Can't be found anywhere else !
If you bought a French SIM card for data connection only from Orange in France, there is a great chance that you got the "Prêt à Surfer" offering. It means "ready to surf".
Well, you may be quite disappointed when you insert your SIM card in any Android device or any other device.
The APN settings for it are just wrong.
It took me quite some reserach and a lot of test-try-fail cycles to figure out which are the correct settings.
They are nowhere on the Internet...
The symptom would be that you get a GSM/3G/4G signal but no data connection (no 3G, H, H+, LTE or 4G symbol for instance), like in this image (for Android 4.4) :

When you do have a data connexion over GSM/3G/4G networks, you should have something like this :

The difference is the letter(s). LTE or 4G for 4G, H for HSPA, H+ for HSPA+, 3G for 3G, E for Edge and G for GPRS
The SIM card comes with these default APN settings for "Orange World" APN (which is the one you must use in any Smartphone or 3G/4G tablet) :
APN: orange
Proxy: none
Port: none
Username:orange
Password:*******
MCC:208
MNC:01
Authentification tpe : CHAP
Type APN:default,supl
And this does not work at all, since the correct settings are :
APN: orange.fr
Proxy:192.168.10.100
Port: 8080
Username:orange
Password:orange
MCC:208
MNC:01
Authentification type: PAP
Type APN:default,supl
If you don't know how to change the APN settings for your device, google it, for instance "APN Settings for Samsung Galaxy S4" or "Change APN Settings for iPhone 5".
I include here some screen capture for the correct settings on a (French) ANdroid 4.4.4 device :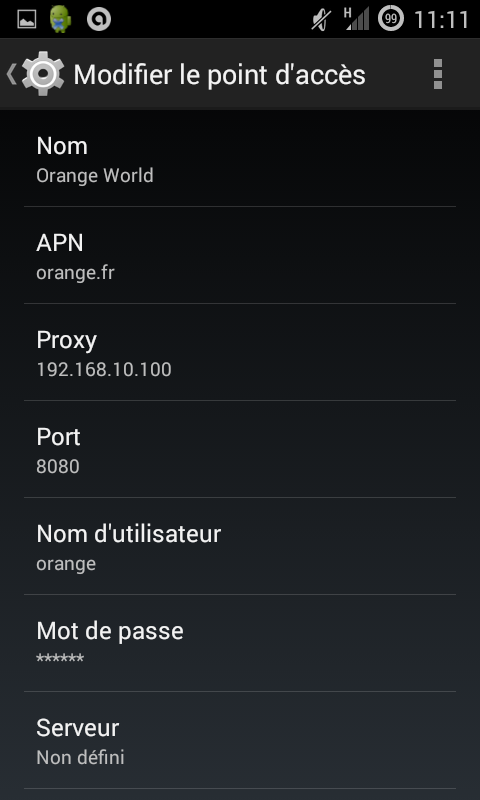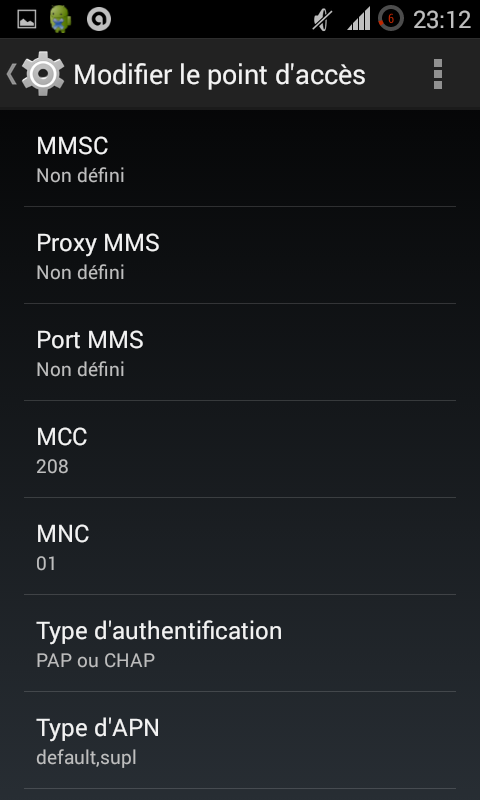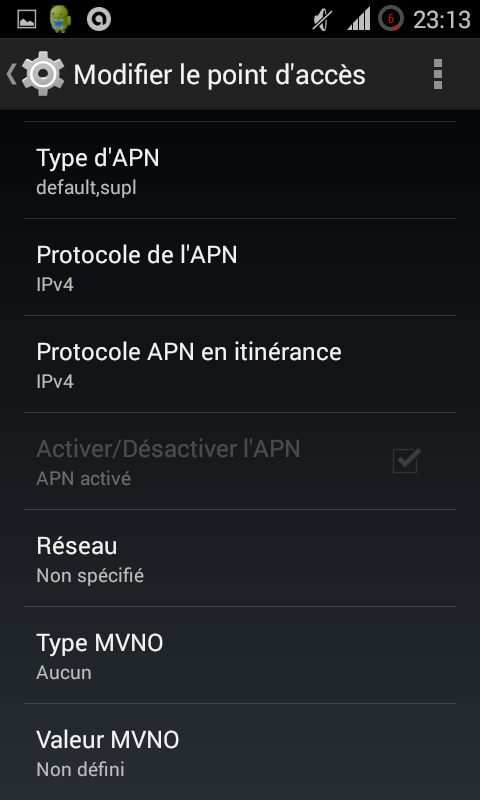 Now, the major problem might be for you to get an Internet connection to be able to read this article... Maybe a friend, a nice French person, or a web cafe, a free WiFi somewhere... This is what I had to do, and I lost half a day of vacation trying all the settings I could find on the web and mixing them up until I found the correct one.
And remember that your initial "Prêt à Surfer" SIM card comes with 2GB and lasts for only 1 month (mine expired before I could even use more than 5% of it, because it was not ready to surf at all and I used an SFR SIM card in a tablet sticked to a roof-window where the signal was almost OK).
For €15, Prêt-à-Surfer it is quite expansive but it is also convenient because you can find it in many retails, online, and Orange still has one of the best coverage in French remote places. Now, if you can anticipate a little more, you may consider a Free Mobile offer. For €20, you get 20GB. No engagement. But the purchase and unsubscribe process is a little more complex (everything has to be done online). And Free Mobile uses the Orange network (roaming) when it does not have its own coverage.
I hope this article will make it easier for anyone with the same issue(s).