Review of Cloudberry Explorer Pro - Linked with Amazon Web Services (AWS) S3
Being a Cloud technology fan and in particular services that are provided by AWS, I was interested to find a growing number of vendors writing software and applications that claim to blend and mesh with AWS services providing enhanced functionality and a better user experience.
One of these vendors within this industry are Cloudberry Lab, who are an Advanced Technology Partner with AWS. Looking into their products further I could see they heavily centred their solutions on Backup and Storage integration with a number of cloud providers. I was specifically interested in their products that aligned with the AWS S3 Service.
Following an overview of their range of products I decided to download
Cloudberry Explorer Pro for S3
. It claimed that
"Explorer for Amazon S3 provides a user interface to Amazon S3 accounts allowing to access, move and manage files across your local storage and S3 buckets"
. It also boasted a number of additional features, many of which are listed below: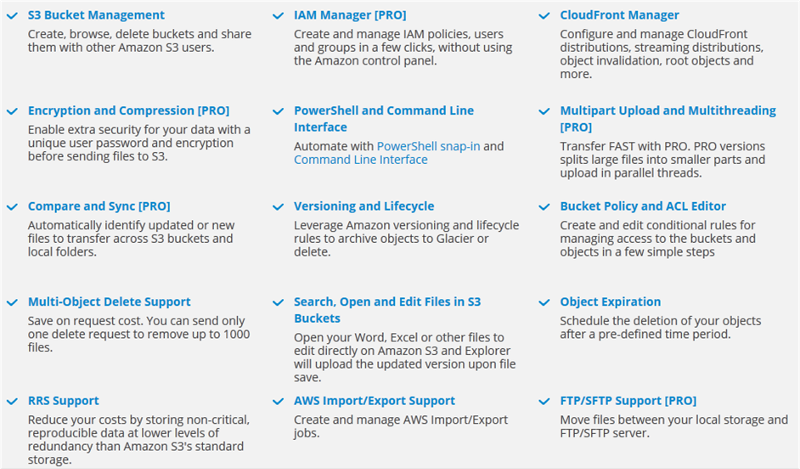 Some of these I would find more useful than others, but I ultimately wanted to see how this software would change my experience of using S3 from my local PC perspective when moving and transferring data into and out of S3. I was keen to use the features such as the Compare and Sync which caught my eye. The product also has integration with Glacier and CloudFront, however for this review it shall mainly focus on its S3 capabilities.
Installation
After downloading the product, I installed it onto my PC which was very quick and painless exercise using the common installation method of the '
Next, Next, Next, Finish'
approach. Upon installation of Explorer Pro I entered my e-mail address and License information when prompted and the product was activated and ready to go.
First Impressions
Upon opening Explorer Pro I was presented with the following screen: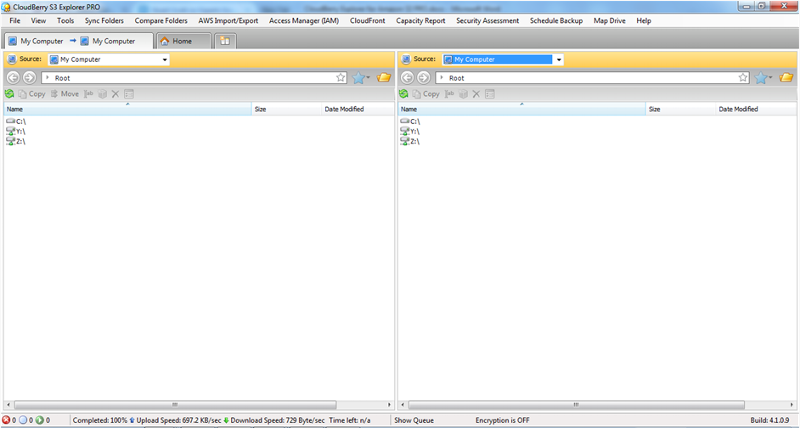 My first thought was.....'OK, what now?'.... The main bulk of the screen was split into 2 panes, both displaying my available Local and mapped drives, and there was the standard list of different menus and options across the top. I didn't really know what to do from here, but I thought how hard to can this be.... and it turned out, not very! With simple menu options and an uncomplicated GUI it didn't take long for me to understand how the application was designed to work.
Adding Accounts
As I started to navigate through the menus and select some drop down lists to familiarise myself with what this software could do, it soon became clear that before I could utilise many of the features I had to add my AWS S3 Account that I wanted to interface with.
I added my S3 Account via
File > 'New Amazon S3 Account'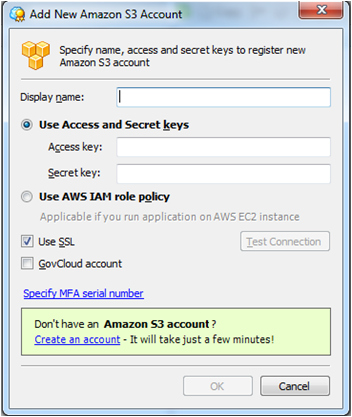 I was able to give the account a
Display Name
which I found useful, especially if I had more than one S3 account that I wished to manage. This feature would allow me to easily identify and differentiate between my S3 sources. Following the entry of my Access and Secret keys from my AWS account the account was added and incorporated into the application and all of my buckets appeared instantly.
Whilst in the midst of adding accounts I was pleased to be able to add my Amazon Cloud Drive account as well in a similar fashion.
I want to point out at this stage that additional accounts can be added for AWS Glacier and many other S3 Compatible accounts by 3
rd
parties.
Viewing my Accounts
Once I added my chosen accounts I was able to view them using a
Source
dropdown list above each of the 2 panes that I mentioned earlier. By selecting different sources on each pane I was able to view two separate accounts simultaneously which would prove to be very useful when I came to move/transfer data.

The
Source
displayed my 2 accounts that I had added previously (AWS S3 and CloudDrive) in addition to my local PC (My Computer).
Depending on my source selection the window pane then presented what I expected, my Buckets and files and S3 and my Photo directories and images in CloudDrive.
Using controls on the window pane itself you are able to carry out simple administrative tasks. From an S3 perspective I could create a new bucket, delete files and folders, set ACL access, view properties and of course move and copy data.


Moving/Copying files
To move and copy files from 2 different sources is extremely easy to do. I simply selected my 2 different sources, one in each window pane – in this example I used
My Computer (pane 1)
and
AWS-S3 (pane 2)
. I wanted to copy a number of images from my local PC to one of my Buckets. In pane 1 I navigated through My Computer to My Pictures, in pane 2 I navigated to the appropriate destination bucket. I selected my images from My Computer and simply 'dragged and dropped' them in the Bucket on Pane 2.... It was that simple and in a couple of seconds it was completed.
There are other ways to copy, again ensure your destination bucket is opened, selected your source files and then click
Copy
. To be honest, both options are just as easy.
To move files was exactly the same process (with the addition of holding down the Shift key when dragging and dropping to MOVE instead of COPY).
Referring back to one of its original claims of
"Explorer for Amazon S3 provides a user interface to Amazon S3 accounts allowing to access, move and manage files across your local storage and S3 buckets"
it certainly provided that function through a self intuitive platform with ease.

What else can Explorer Pro do?
To get a better understanding of what else Explorer Pro could do for me I went through every option in the menus. This review will not go into detail on every option and function that I found, but I shall pick out some of the more useful and interesting items that I came across.
Queue Pane
Turning on the queue pane brings up a window at the bottom of the screen that gives a transactional view of any tasks that you carry out. I have a screenshot below when I was copying files from My Computer to S3, as you can it identifies the task you are performing, the source and destination of the transaction, if there are any warnings or errors, filesize and percentage.

When working with large amounts of file transactions (move/copy/etc) I would imagine this queue to be useful to resolve any errors that may occur. It also allows you to see the progress of the job you are trying to perform, giving the additional flexibility of pausing or cancelling the transactions if required using the built in function buttons of the Queue Pane.
Counters & Cost savings
A useful screen to keep an eye on when using Explorer Pro is the Counters screen. This provides a high level overview of some of the costs incurred when transferring data out of your S3 accounts. Remember, AWS charges you for data transfer OUT of the AWS environment, so copy and moving files down to you local PC will incur a cost. The
Counters
page will provide this detail to you along with a number of other statistics that you may find useful in one way or another, but for me it was the cost factor display at the top of the image below.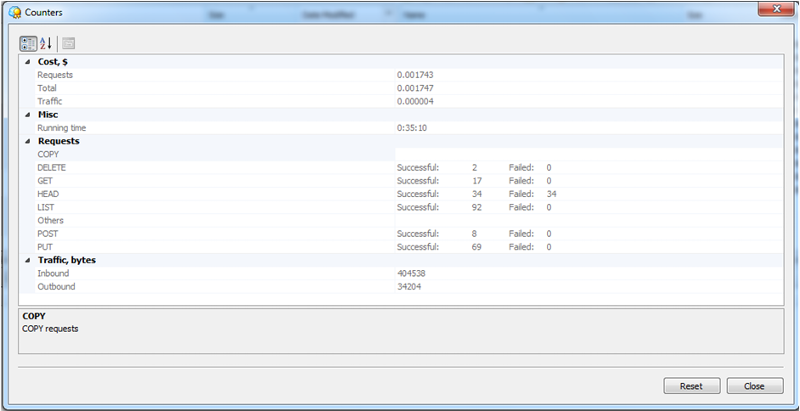 There is an option within the
Tools > Options > 'Amazon S3 Copy/Move'
that if worth checking. It would generally be a good idea to have the 'copy/move inside Amazon S3 (faster and free)' option selected, for that exact reason – It will be faster and FREE in same region!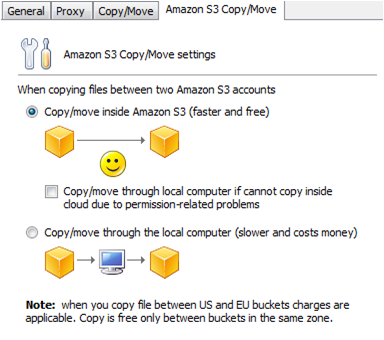 Additional cost savings could be made if you have a Glacier account added under
Tools > Options > 'Glacier Smart Restore'
. This allows for a flexible transfer rate of data with the predicted costs shown.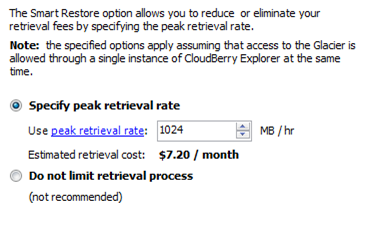 Secure Application Access
I was pleased to find an option that requires you to enter a password when the application opens as a layer of security. This prevents anyone else opening Explorer Pro and having access to your accounts that you have added and subsequent access to your S3 Buckets. This option can be found within the
Tools > Options > General section under 'Protect my sensitive data with master password'
. Once activated, upon opening Explorer Pro you will be prompted with the following: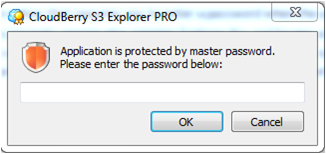 Interface with other AWS Services
Other than the main contenders of S3 and Glacier which is the applications main AWS service targets, it does have interactions with IAM (Identify Access Management) and AWS Import/Export services too. Although you are not able to use the service to its full capabilities (it's not trying to replace the AWS Console) it does allow you to carry out some functionality. For example from within Explorer Pro I am able to create new Users, Groups and Policies. I could also edit and delete policy information which is presented as below:
Included under the Identify and Access Management Menu, there is an option to use the New Policy Wizard which makes the whole process of setting up/editing users and polices even easier. Like I say, it's a restricted and cut down version of IAM but provides enough capabilities to manage users to work with your S3 account.
The AWS/Import menu allows to you create an Import or Export job, again through the use of a Wizard making the process easier to manage. I was also able to generate a list of all outstanding jobs created.
There is also support for CloudFront too allowing you to set up New/existing Distributions, modify policies and again a useful Wizard making the whole process simple and easy to setup/configure.
At home or in the office
I expect many users of this software would use it both within a corporate environment and at home. Thankfully it allows you to change your Proxy settings depending on if you are sitting behind a Proxy server (typical corporate connectivity) or without (typical home connectivity). This can be changed quickly and easily by going to
Tools > Options > General > 'Proxy'
.
S3 Rules Sets
A really nice feature was the 'Upload Rules' for S3 Buckets. This allows you to set certain conditions and rules when uploading to specific Buckets within your S3 Account such as:
Encryption
Compressions
HTTP Headers
You are able to set additional parameters based on your Target Bucket/CloudFront Distribution, include exceptions and specify file types too. This customisation allows you to implement a well defined rule set ensuring your uploads adhere to any specific Bucket conditions you wish to abide by. Below shows the main screen for configuring your Rule Sets and some of the customisation options available.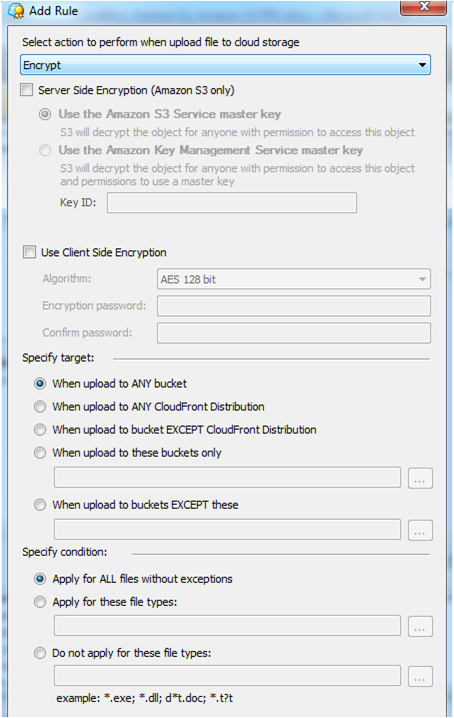 Capacity Report
The inclusion of a simple tool allowing you to see how much space you have utilised within each of your S3 Buckets is useful to know, especially when concerned about your AWS Costs. It quickly and easily allows you to see your highest utilised buckets. The Capacity Reports allow you to sort the Buckets by name or more importantly I feel, their size! These reports open up on a separate tab within the application and allow you to navigate through you buckets to see information on nested buckets. This information isn't currently easily and readily available from within the S3 Service of the AWS Console and so I feel this will be very useful to a lot of people.
Sync and Compare
One of the nicest features and one that I find one of the most useful to me is the Sync and Compare feature. This does exactly what you imagine it to do. You must first create your Sync 'report', to do so go to
Sync Folders > 'Add Sync Folders
. The following screen is displayed: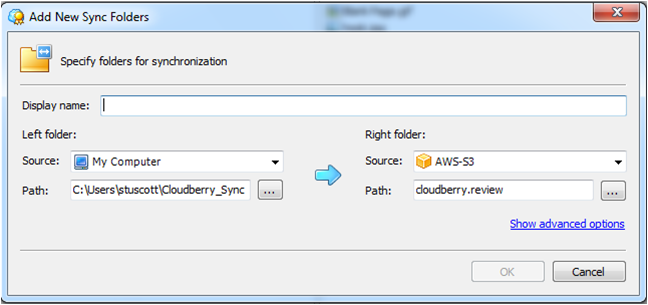 You must give your Sync report a Display name to allow you to refer to it later and ensure this is meaningful, especially if you intent to have a number of folders automatically sync. Select your 2 different source folders that you wish to sync, in the above example I have a 'Cloudberry_Sync' folder on My Computer going to an S3 Bucket.
The 'Show advanced options' displays the following and allows the additional setting of criteria and options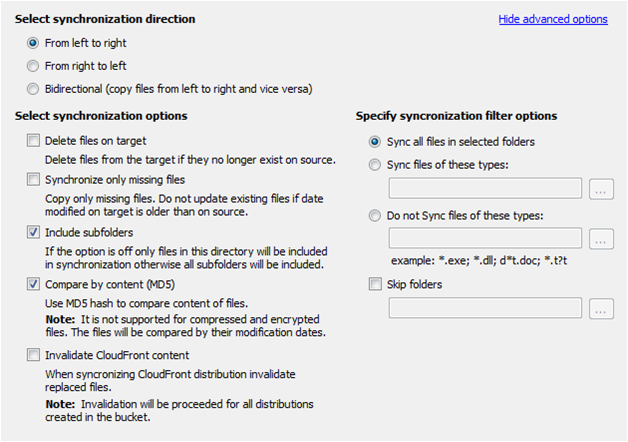 Once you have specified your options, click
OK
.
To run the Compare and Sync, go to Sync Folders and select the name you gave your report. From there you can then either compare the 2 folders or sync them as per the options you set. This is a very powerful tool and should you find it useful it could save you a lot of time. This would be especially useful when using S3 as a backup solution not forgetting a number of different use cases which you may have.

Conclusion
Following the review of Explorer Pro I did find it a useful front end to AWS S3 that I shall be using going forward when managing my S3 Buckets and Cloud Drive account. It offered an enhanced user interface from the AWS Console and I was able to access various features that I would not be able to do from the S3 Service within the Console.
It was fairly self intuitive in its approach, meaning as long as you are PC literate and have a basic understanding of S3/Glacier you will not find any confusing elements of its setup or features that required a deep understanding of configurable elements. It hasn't been made over complicated, it has been made with some very useful features that I am sure many people will find useful for a number of different reasons.
If you are someone who prefers a GUI over a command line interface and is involved with managing S3/Glacier and backups that reside on these AWS services, then this product is ideal to help you with your administrative tasks.
If you liked this article or found it helpful please click the 'Good Article' button at the bottom of this article, it would be very much appreciated.
I look forward to your comments and suggestions.
Stuart Scott