For beginners of Lotus Notes user this is important to know about the types of files and their location supported by IBM Notes. Mostly users are unaware about how many file types are created and what their usages are. This Article is fully dedicated to highlight the significance of types of files
IBM Notes, earlier it is known a Lotus Notes. It is a desktop based email clients used to manage sending & receiving of Emails, Address book to save contacts, Appointments, Task Reminders, and all other property that makes its exclusive application among others. Usually every email client carries unique file format where they stored the entire database. In case of Lotus Notes, it creates several files to save the data but with the same extension i.e. .nsf. To explore our basic knowledge about the requirements of these files, read the complete Article.
List of Important File Types in Lotus Notes
This *.nsf can be considered as the most important storage file at an emailing perspective. It comprises of the emails, calendars, and to-do lists. It will be available only if the user is having local replica of the Mail file. In order to migrate to another email client, this file is essential as this file can be converted to other file formats and then Lotus Notes emails can be accessed in other platforms.
File Location
: Notes\Data directory
Names.nsf refers to a default name for maintaining the Address Book of IBM Notes. This file holds the information of contacts entries, connections, locations, mailing groups, etc.
File Location
:
Notes\Data directory
Lotus Notes application keeps all the credentials of user names and allied passwords which are stored in this Notes ID file. Unavailability of this file can't let you open the IBM Notes.
File Location
: Notes\Data directory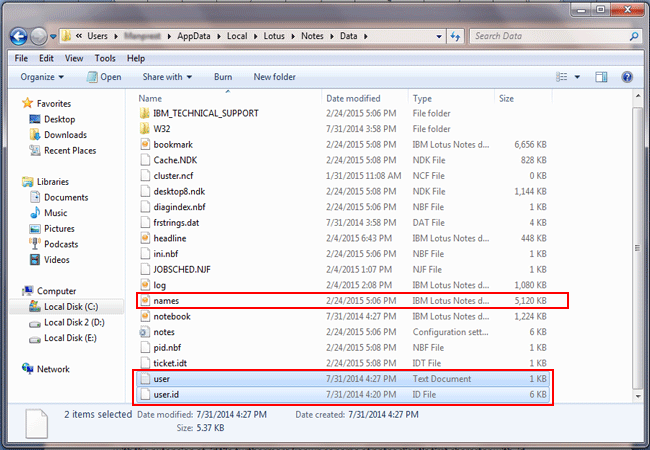 This bookmark.nsf file comprises of the bookmarks saved and the Home Page details. This file is used to save bookmarks while handling the case of examinations or forensics investigations.
File Location
:
Notes\Data directory
When the server is started, Schedule Manager generates a Free Time databases. For non-clustered mail servers, this busytime.nsf file is created with an entry for individual user who has completed the Calendar Profile details. This file comprises of the local free time details of user including the entries of particular user which can help to reciprocate for response about user availability for meeting inquiries.
File Location
:
Notes\Data directory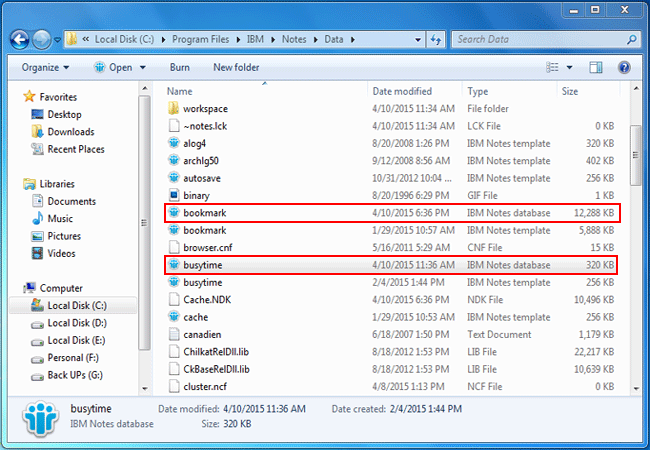 Install.log file holds the information of configuration while installing the IBM Notes application. This install.log file is essential while troubleshooting processes and upgrading Lotus Notes to higher version.
File Location
:
Notes program directory
Headline.nsf comprises of the Application Subscription information like subscription documents, default subscription, results retrieved, and the frameset according to which the subscriptions will be viewed. Information of Server access history, time and date is also stored in same file.
File Location
:
Notes\Data directory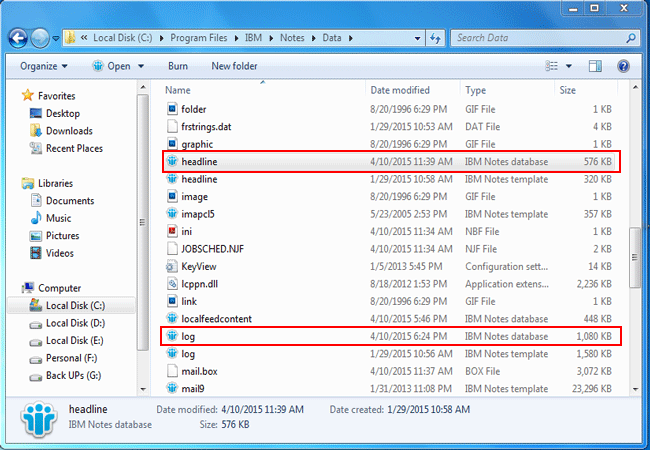 Desktop8.ndk (for Domino 8.5) is a cache database. This is user's Work-space which maps to the bookmarks. However it is not considered as crucial file as the information comprised by it (except Notes Work space layout) can be created from the Bookmark.nsf file.
File Location
:
Notes\Data directory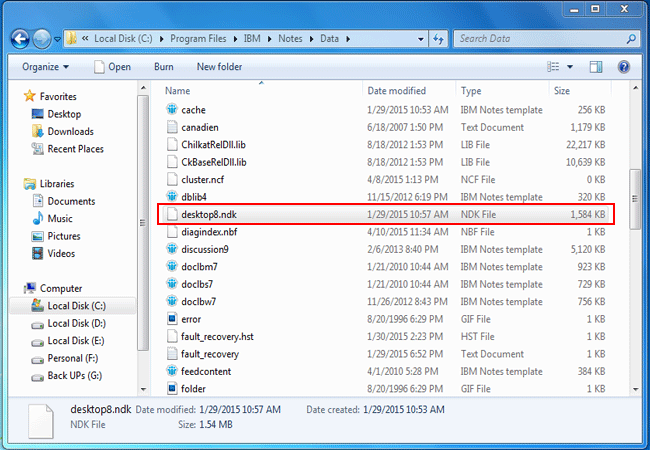 Above mentioned information is sufficient to know the basic Awareness about types of files created by Lotus Notes and their location.