It is well known that VMware Site Recovery Manager is a high availability solution for applications and data transfer in private cloud environments
It is well known that VMware Site Recovery Manager is a high availability solution for applications and data transfer in private cloud environments. This is accomplished using isolation and encapsulation of virtual machines, resulting in simplified automation of the processes involved in replication to remote sites. Thus, SRM reduces the costs associated with obtaining efficient Recovery Time Objectives (RTO), providing a robust and standardized solution for business continuity and dramatically reduce the risk of data loss in our VMware virtualized data centers.
Among the features offered by SRM is the ability to create and maintain disaster recovery plans more effective, which do not use written procedures and maintenance costs that this entails, as well as automated processes generate maintenance and testing, which allows our environment thoroughly tested before the event of a disaster.  
But these are general skills that we already know and VMware Site Recovery Manager, now is time to see that brought back the brand new version 6.1 of the product. We are going to analyze in further detail what is each of them.  
Storage Profile Based Protection
SRM 6.1 incorporates a new type of group policy-based protection. These groups use Storage Profiles provided by vSphere to identify and protect the datastores and virtual machines. This automates the process of adding or removing the protection of VMs and datastores fully integrated and allowing these tasks to monitor vRealize Automation, for example.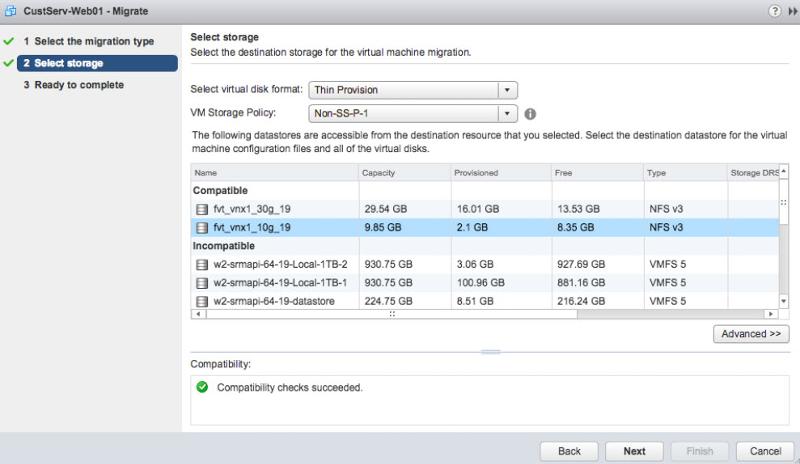 Protection groups based storage policies uses vSphere tags (ability to attach metadata inventory of vSphere) with policies, allowing vSphere administrator automate the provisioning of virtual machines meeting the requirements of performance, availability and protection.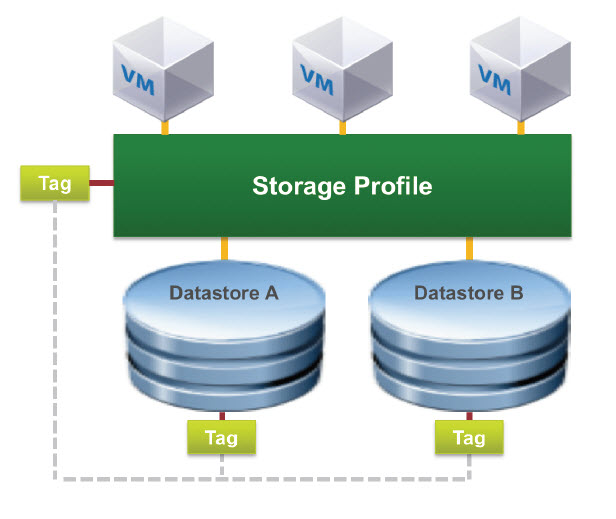 The way to do this is:  
• Create a tag and associate with datastores in each protection group
• Then, an associate for each protection group policy is created using this tag
• Finally, the protection group is created and associated with the storage policy created in the previous step  

Thus, when a virtual machine is associated with this policy it will automatically be protected by SRM. Just simple.  
Extended Storage and vMotion orchestration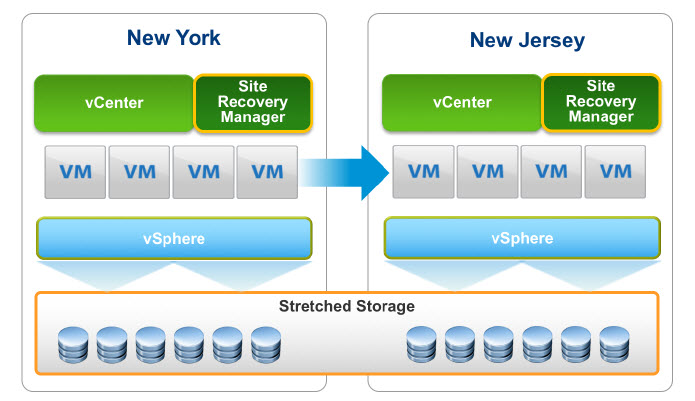 Site Recovery Manager 6.1 is now a complete solution optimized for both the multi-storage as well as to migrate from one place to another, and can also fulfill the function of disaster recovery. In previous versions this was not possible in one product simultaneously. SRM 6.1 supports vMotion between remote vCenters with stretched storage, with the benefits this brings.  
This integration allows you to integrate SRM with stretched storage, which could previously only be achieved using vSphere Metro Storage Clusters. The advantages of this new system are:  
• Maintenance downtime is eliminated. Recovery plans and orchestration between sites allow vMotion migration of workloads completely transparent to the end user and applications  
• Disaster downtime is eliminated. Hot migration of using vMotion between remote sites allows  Site Recovery Manager 6.1 eliminate downtime associated with recovery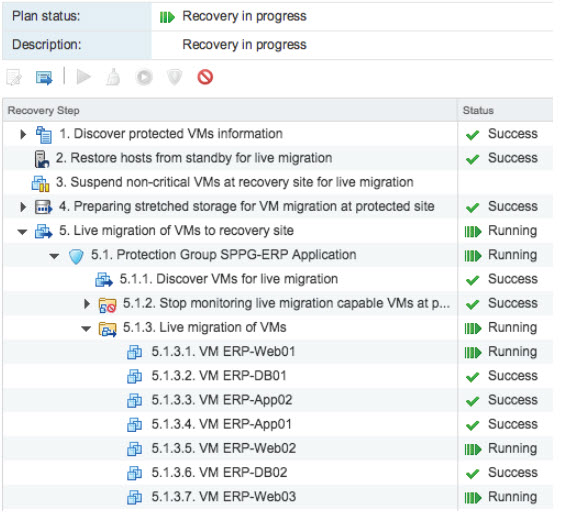 Having stretched storage added to the deployment of Site Recovery Manager exponentially reduces recovery time in the event of disasters, as workloads are migrated hot, uninterrupted by presenting the same storage architecture at both sites by using synchronous replication, allowing registered and lighted move VMs transparently.  
Improved integration with VMware NSX
It is no surprise that VMware leads the integration of network virtualization with NSX to all its products, and SRM is no exception. But let's see why.  
As in every event of disaster recovery it should be taken into account and fine-tuned the specifics of the network, such as maintaining consistency in IP addresses, firewalls and routing rules previously set, opening ports and other vital aspects. To this we must add that the use of vMotion between vCenters remote requires a Layer 2 network complexity increases significantly.  
Now with the availability of newly released NSX 6.2 and many new features were added, Site Recovery Manager is benefited greatly. Now you can use both products together quickly to maintain perfect consistency and efficient networking between sites and perform the migration automatically without worrying about specific aspects of the network, as it has resolved NSX.  
In NSX 6.2 can create Universal Logical Switches. Such switches can create Layer 2 networks that exceed the limits of vCenter, which means that when these switches are used with NSX will create a protected port groups connected to the same Layer 2 network.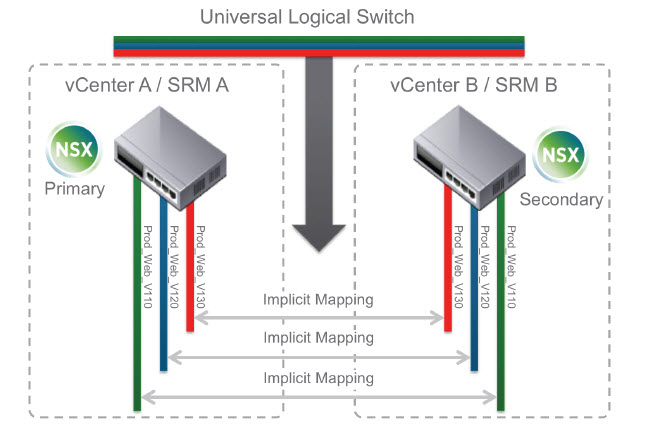 Thus, when virtual machines are connected to these port groups of a Universal Logical Switch, SRM 6.1 will automatically recognize and not the manual mapping of networks between protected sites will be required. Site Recovery Manager intelligently recognize that it is the same logical network connecting both sites maintain cohesion by creating a single network protected.  

This ability to create a Layer 2 network beyond the limits of vCenter eliminates the need to reconfigure IP addresses in case of failure reducing by more than 40% recovery time. In addition, security policies and security groups, firewall rules and edge configurations are preserved in the virtual machines recovered, gaining even more time after a recovery event.  
We now know that NSX 6.2 also supports synchronization rules firewalls as well as routing information. This makes it easy to ensure that the configurations in a production network and recovery are kept synchronized making it much easier to create a safe isolation between sites non-disruptively for testing recovery plans.  
The implicit network resources mapping, extended capabilities of layer 2 and the testing capacity provided by NSX in conjunction with Site Recovery Manager, added to protection groups based policies radically simplify the administration and operation, low costs associated operations, increased testing capabilities and dramatically reduces recovery times.  
Conclusion
As you can see, Site Recovery Manager 6.1 introduces fundamental characteristics that achieve levels of automation until now never seen on the platform, as well as a detailed and comprehensive policy-based control that seamlessly integrate with NSX offer really amazing capabilities face events and disaster recovery between them and turn everything can be done in half the time it took before. We must also not forget the support on extended storage vMotion, which also significantly reduces time and can achieve much lower RTO.  
Thanks for reading the article and if you wish you can collaborate sharing on your social networks.
http://www.rhpware.com/2015/09/vmware-site-recovery-manager-61.html