Here in this article I have explained some possible ways to open the PST file without Outlook environment. All mentioned solutions are free and easy to perform.
MS Outlook is one of the most used email client developed by Microsoft for the purpose of managing email accounts, tasks, contacts and meetings etc. It stores complete data including emails, contacts, tasks, journals etc. in PST (Personal Storage Table) file format. Sometime users require to open the PST file to some other computer where outlook is not installed i.e. he wants to open the PST file outside the Outlook Environment. Here in this article, I will explain some ways of opening multiple PST file without MS Outlook Application.
Converting the PST emails to MSG
One way to open the PST emails without Outlook is by converting it in MSG format and then viewing the MSG data using Editplus.
Steps to Convert PST emails to MSG
Just drag the emails from Outlook to desktop or some other location where you want to save it in MSG format.
Open the resultant MSG file by using Editplus with which users can easily view the content of MSG file.
Save PST Emails to HTML
Another interesting and easy option with which you can easily view the content of PST file by converting it in HTML format. For that first of all select mails that you want to save in HTML, then click on
File
, after that select
Save As
option and from there select the
save type
as
HTML.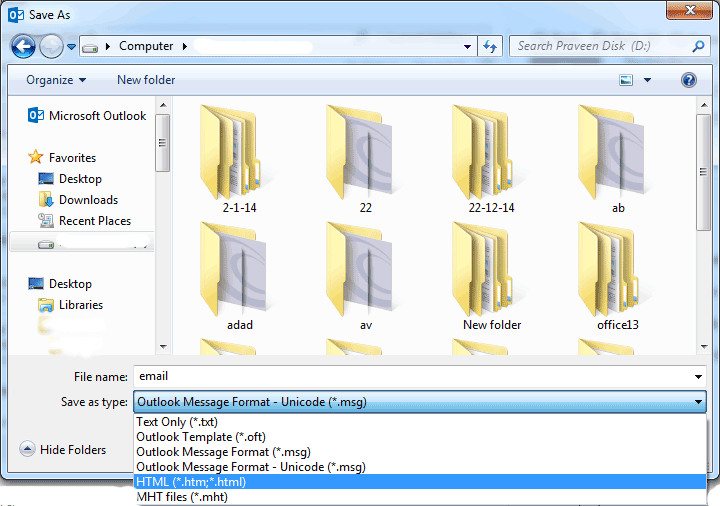 Importing the PST file in Gmail
One way of viewing the content of PST file is by importing it in Gmail account. The process of importing the PST file in Gmail is a little much hectic and requires some technical activities to be performed. Follow the steps mentioned below to view the content of PST file in Gmail.
Step 1:
At first search the multiple PST files that you want to Import in Gmail Account.
You can easily locate your PST file by following these steps
Open Outlook and Click on Home.
From there click on Account Setting and then click on the Tab Data file.
From here you can easily find out the location of your PST file.
But this process will only show the PST files that are in use. You will not be able to view the location of PST files that are not mounted on Outlook.
You can perform the complete system search to find out the multiple PST files at once. (Or use the easiest approach to search and view the content multiple PST files without Outlook).
Step 2:
After searching multiple PST folders, Download and Install Google App Migration Tool.
Launch the Google App Migration Tool, enter the Email address of Gmail account and follow the steps.
Conclusion:
Thank you for reading my article, feel free to leave the feedback regarding the content or to recommend future work. If you liked this article please click the blue and white "Good Article" button at the bottom of this article.