Some time ago introduced the EVO VMware platform: RAIL, which combines computing, networking, storage and management in a hyper converged appliance that offers a one-stop solution, saving costs and poised to grow on demand.
Now, VMware introduced EVO SDDC, which allows to go further and build a general purpose platform Infrastructure as a Service (IaaS) and / or a virtual desktop infrastructure (VDI) based private cloud data center architecture fully defined by (SDDC) software.
The advantage of this platform is that all software components are 100% compatible with the hardware provided by partners who market it, this way you get a package all in one ready to function as an integrated system. This mode is ideal for companies seeking to greatly simplify the management of the virtual environment, as well as reduce costs, improve security and reaching record implementation times.
Main benefits of EVO SDDC:
• First is an integrated suite of software that interacts smoothly and efficiently and can be sold by any qualified partners
• Provides fast and efficient configuration and server automation and physical switches, integrated management and non-disruptive management in the life cycle of the platform • Provides management capabilities and securitization network with network virtualization offered by
VMware NSX
• The total cost of ownership (TCO) is reduced with the associated benefits of
OpEx
and
CapEx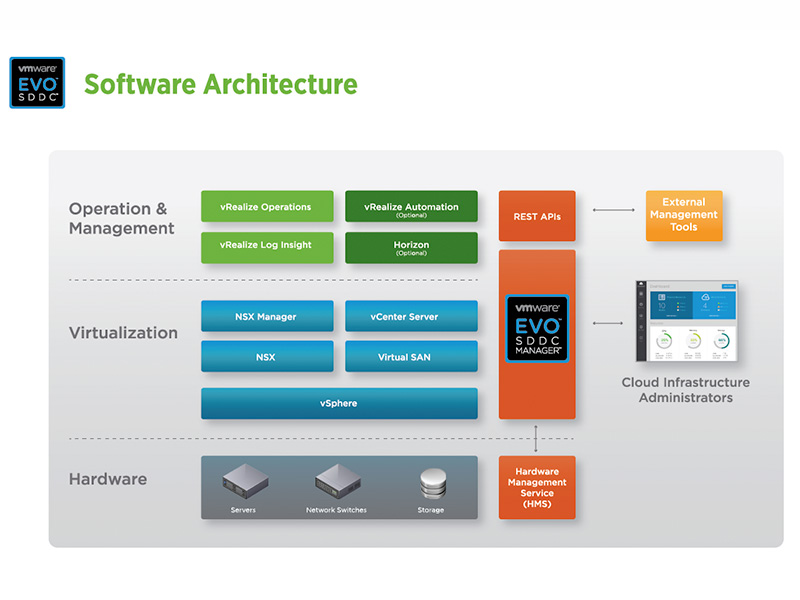 Come to the point ...
EVO SDDC is the simplest way to build a data center defined by the software to host and run a private cloud. This is achieved through its architecture, which is resilient, hyper convergent, distributed and scalable on all its resources, that is network, storage and computing. Moreover, as these resources are managed by the hypervisor and hardware they are all previously tested and certified by VMware and its partners, which gives a level of enterprise-grade reliability.
In terms of architecture, SDDC EVO consists of three basic layers: hardware, virtualization and operations and administration. Here lives the additional services that are unique to EVO SDDC
Hardware Management Services (HMS)
HMS includes capabilities such as:
Autodiscovery at physical hardware level
Configuration of servers and switches
Reporting and notifications of the environment
Validation of physical components to carry out proper integration with VMware
Low level patching and upgrades
Control integration between physical and virtual infrastructure
SDDC EVO Manager plays the role of primary portal to the centralized physical and virtual infrastructure access services. SDDC EVO Manager software automates the configuration and the physical hardware, including the top of the rack switches. This drastically simplify management of the environment, the performance, capabilities and maintain a continuous monitoring and non-disruptive.
The two flavors in which this solution is presented in the cases of Infrastructure as a Service and desktop virtualization. The support for each rack is 1000 or 3000 VMs virtual desktops, and each instance can be flexibly manage different workloads, even with different rules of availability, performance and security. This is accomplished using the Workload Domain Construct (WDC), which SDDC EVO can use to run both traditional or third-party applications on the same shared infrastructure.
Capabilities and features
As I mentioned earlier, SDDC EVO is based on a computer infrastructure, network storage and enterprise grade and fully supported by VMware, ready to provide high availability and performance, scalability and support for all applications, including Hadoop.
Configuration and automatic start
Thanks to the high level of integration of hardware and software, EVO SDDC can be operational within a few hours. It is as simple as plugging in the physical space where you want to stop running and turn it on. Then using HMS EVO SDDC Manager and proceed to the configuration, which includes:
Check of components
Complete revision of the hardware environment
DNS Server Configuration
Active Directory Configuration
NTP Server Configuration
And that's it. From that moment the environment is operating so that the user begins to deploy your virtual machines
Optimized resource management through Virtual Single
Building a rack EVO SDDC is to integrate the components in a rack, which then can grow to multiple racks, but all be managed from a single pool of resources, becoming a large virtual rack. Within this virtual rack resources are divided into groups that are assigned according to the attributes of performance, availability and security attributes. Such groups or domains of workload are defined by the number of clusters, their hosts and disk redundancy group that manages
Virtual SAN
.
Centralized management of logical and physical resources
SDDC EVO Manager provides a centralized view of infrastructure, both logical and physical, including details of the network topology, devices and other hardware, as well as virtual machines that are running in the environment, making that integrates with transparent and adding it as part of the VMware software suite.
Integrated physical network infrastructure
SDDC EVO is designed to integrate all participants' platform systems regarding network between all racks. For this to work harmoniously it is based on a topology of sheets that includes top-of-rack switches (ToR). SDDC EVO Manager integrates the management of physical network infrastructure to the logical network, in which each physical rack contains two switches Tor for traffic control and redundancy and a managed switch for connectivity out-of-band. Thus, when you begin to scale across multiple racks east-west traffic is completely self-contained. This connectivity between racks is achieved through two inter-rack switches which can connect to an existing infrastructure in a data center uplinks using L2 / L3 of the ToR switches.
To this must be added the improved security NSX offers EVO SDDC, intelligently automating operations and security services such as firewall, data security and VPN monitoring activity. This is achieved efficiently by grouping security policies and services.
Compatible with pre hardware validated by VMware
The integrated system powered by VMware EVO SDDC this requires that the hardware validated by VMware to be fully compatible. As it already comes standard, you can stop worrying of the possible compatibility problems that may arise, knowing that all available resources provided in a rack by a partner EVO SDDC are approved.
Buying and licensing
SDDC EVO is available for purchase only through OEMs and integrators certified and validated by VMware and way of licensing is perpetual license model per physical processor and for all those customers who have purchased components EVO SDDC can make use of the program Fair Value Conversion cost-saving updates.
Thanks for reading the article and if you wish you can collaborate sharing on your social networks.