Nowadays, Virtual Machines are used equally by small and large scale organizations. However the issue is that VMDK files are also prone to corruption. So, in this article we are looking at how to recover VMDK files from hard disk of host operating system.
A VMware virtual machine is a collection of files that stores all the crucial information of virtualized operating system. There are also many other types of VMware files for storing different types of information i.e. VMSD, VMX and etc. The VMDK file i.e. Virtual Disk Format, keeps the data of the VM. Each VMware VM can contain more than one virtual disks which mean that each VM can hold various VMDK files.

Some advantages of VMDK File:
Some advantages of VMware VMDK file format are:
Well-known and Wide–ranging platform: As if we compare with other platforms, it has higher consistency and also improved features for extraordinary functionality.
Extreme Availability of Program: It brings together strong accessibility and fault tolerance to support all application of virtual system in cheap and complex-free way.

Level of Problem Acceptance is high: Whenever the server does not able to work out, each virtual machine get restarted without further ado on different system without having a problem of data loss.
VMDK i.e. Virtual Machine Disk Format files, are the data files that VMware used to store the data. The data holds essential information for virtual machine like file system and actual data. But sometimes there could be a possibility of sudden failure which could result in data loss and when you try to access the data from the system, an error occur displaying "VMware vmdk file not found". Failure of system does not mean that you could never be able to restore the data, you can restore it but for that you require a perfect method.

But no need to worry, Windows include the feature that can help you in data storage and recovery processes and if this also not works then try to restore VMware vmdk files using third party recovery tool. If you are using Windows operating system you can make use of Backup and Restore Center by going in Control Panel to restore the data. But don't panic if "VMware vmdk file not found" error appears because it may perhaps not be able to detect the exact location but that does not mean that you cannot restore VMware vmdk files. There are many options available that can help you in restoring your lost data.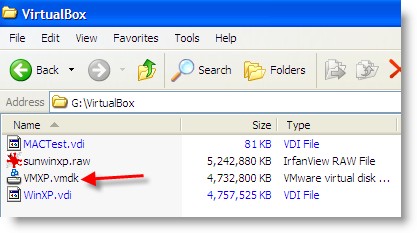 Manual steps to restore VMware vmdk file
Connect the device that contains the backup of the vmdk file to your computer.
Go to "Start" and select "Control Panel." Select "System and Maintenance" and choose "Backup and Restore." Then select "Restore My Files" button in the Backup and Restore Center window will display. --->> Select "Browse by Files" button and choose the files that you need to restore. Click on the file name of the VMDK file and click "Next."
Select "In the original location" or click "Browse" to choose a new destination for the file that you have restored.
Click "Restore" to start the process of restoring VMDK file. Next window of progress bar will open, displaying the details of the steps of the restore process.