Lack of Storage capacity is a common problem that exists in every field of life. Here we are taking the case of Lotus Notes Emails, as we all know that we are totally depend on e-communication i.e. Emails. This article is fully dedicated to resolving the problem of shortage of storage space.
Archiving is the method of stacking away old messages to manage storage space on your account. Even though the primary and most evident reason behind email archiving is management of storage space, whereas, in reality we are seeking management of our data overall and not just storage itself. A client-server environment like that of Notes Domino doesn't really have storage related issues in general. However, the growing number of emails since account configuration could make it a little difficult to manage them along with the repeatedly arriving new emails. Thus, regular or customized archiving can help you manage your account messages on a basis that suits your requirement. In this post we show you how to archive Lotus Notes mails.
How to Archive Lotus Notes Email Messages?
Getting rid of emails is not the only solution to tackle with overgrown storage, managing them at a different place or in a different form is. Thus, here is a guide on Lotus Notes email archiving, a method to stack away old data separately to make space for the new one.
NOTE
: Archiving not only helps you manage your data, but also make Lotus Notes application work faster and smoother than before.
Control Your Mail Storage
: Examine the size of your email repository by going to the Properties for Database from the File menu on Lotus Notes. Go to the tab that reads 'i' this is where your Lotus Notes data storage limit is defined. Many organizations have a restricted storage predefined to their employees for their email repositories. By checking your data storage size you can manage it regularly with alternative archiving of mailboxes.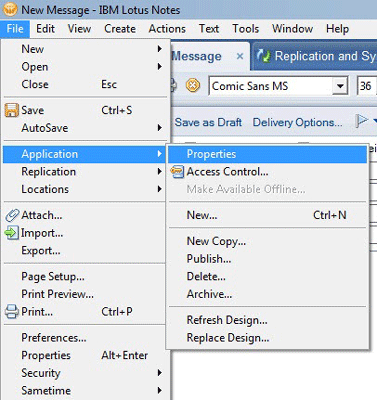 Learn Predefined Settings
: Most organizations already have Archiving settings assigned, check them in your mailbox. This way they are able to meet their predefined storage limit imposed on each mailbox without any exertion.

NOTE
: In case Archive Settings are already assigned, talk to the concerned staff to know the possibilities of making modifications to them.
Apply Custom Archive Settings
: You either can archive the entire mailbox every time or can choose what has to be archived. In addition, the settings allow you to define as to how many times should archiving be performed.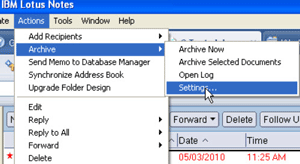 Open the application
From the Actions menu, click on Archive followed by Settings
In the Criteria tab select Default for Last Modified, if not selected
Click on Ok to implement the applied changes
Cross check whether the criteria has been enabled or not
Setup Auto Archiving
: Automatic archiving helps you save time and efforts required for both remembering to archive and executing it. Your mailbox is regularly archived at the defined duration without a bit of inconvenience surfaced.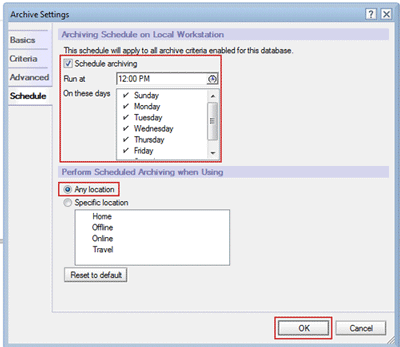 Run Lotus Notes
From the Actions menu again select Archive and then Settings
Under the tab Schedule, see if Schedule Archiving is selected. If not, select it
Now define the time and day at and on which you wish the auto archive to do its job
Manual Archiving Setup
: Even though you apply scheduled automatic archiving, manual archiving can still be performed as per your requirement.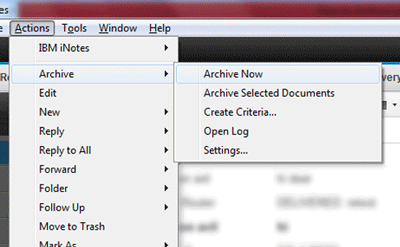 Begin Lotus Notes
Open the particular email or folder that has to be archived
From Actions menu click on Archive and then on Archive Now to begin
Click on Yes to begin archiving as per the settings applied earlier
Drag and Drop Archiving
: This is an amateur method of archiving adopted by users.

Run Notes application
Open the mail/folder for archiving
Select messages for archiving
Then drag the messages selected to the desired archive on your navigation pane
Check Archived Mails
: Once done with archiving, you can check the result, whether in countable numbers or bulk. The archive will replicate the existing mail folders in your Notes account and the rest will remain as organized.

Go to Archive folder
Choose the desired sub folder under archive, if any
Conclusion
: This was all about how to archive Lotus Notes mails in different ways. The images make things pretty much clear with illustration of the steps discussed right above. You can apply either manual or automatic archiving as per your requirement and convenience to manage not only mailbox storage size but also its performance.
Note-:
In case of emergency, you need to drop Lotus Notes Platform or want to switch on other email client, let's suppose to Outlook, then you can apply manual conversion of NSF files into PST, but remember one thing there is no such method by which you can convert Archive files to PST manually. In such cases the user may need help from third party utilities.