Microsoft Exchange server offers a trustworthy and simple to use messaging platform. Sometimes, issue ascends which hampers the working on it. This post illustrates the reasons for the occurrence of the issues at hand, which will help in preventing them in future with the right measures implemented.
Microsoft Exchange server is used by various organizations because of its collaborative communication providing facility. Right configuration and successful interaction of variables in Exchange create a stable environment for working on Exchange. The improper setup or maintenance of even a single aspect could result in a cascade, which will further adversely affect the entire ecosystem of the Exchange Server organization. Following is a guide for Exchange Server administrators to get well versed with the common issues in Exchange Server and their solution.
Occurrence of Several Issues in Exchange Server
A number of small and medium sized businesses aren't well equipped with systems and processes necessary for keeping the combined infrastructure of Exchange & Active Directory in place for monitoring. Therefore, the necessity of proper management is realized when a disruption or outage finally takes place. Fulfilling such requirements is considered as proportionately larger in comparison, which makes it less necessary for them thus leading to performance issues.
Most Common Issues in Exchange Server and Their Solution
1.
Backup and Recovery during Disaster
Organizations need to follow a disaster recovery plan for all their applications in order to maintain business continuity. By default, transaction is shared by all the storage groups of Exchange Server. Generally, these transactions are flushed as soon as the entire information is backed up. However, the trouble here is that storage groups of the server need to be backed up collectively. This may further extend the issue and have you encounter an added issue, which are - a large sized data when backed up pushes the backup as well as recovery time up to several degrees.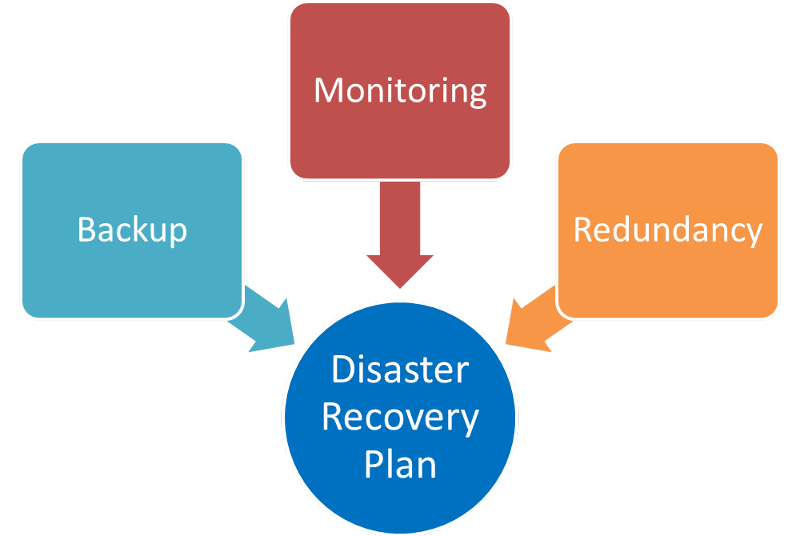 Solution:
Plan an organized Backup and Recovery for dealing with disaster efficiently. SLAs (Service Level Agreement) should always be adhered to whenever you are sizing the server storage. Besides SLA, one must also take note of the capacity and transfer rate of the backup media used for the purpose. External storage media having higher rates of transferring data can prove helpful during the backup, as the data will be transferred at a faster rate resulting in a quicker backup of the server mailboxes. This will further speed up the recovery procedure along with backup and help reduce the impact of this made on the end user too.
2.
Busy Folders & Offline Address Books
Whenever the first Exchange is moved out of an administrative group, this kind of issue is generally encountered on business front. The removal of an Exchange would immediately and directly affect the availability of OABs and free/busy folders. Reason behind this is that the server removed from the administrative group was responsible for hosting its site folders by default. Therefore, its removal ultimately affects all the OAB and free/busy folder along with cropping up issues for the end users.
Solution
: Moving the folder to another server would work. You can re-home the folder to a different server and overcome this problem. Move the folder to a server within the same administrative group. A few things need to be considered while performing this kind of migration, which includes the following:
a) Offline Address Book generating server
b) Server running Recipient Update Server
c) Creation of a suitable DNS record in the external DNS zone
3. Recipient Policy & Recipient Update Service Issues
The recipient policy has two major parts. The first one is responsible for generating email address along with Mailbox Manager Setting while the latter reports / eliminates mailbox items that adhere to defined conditions. The job is to remove items that have existed in a folder for more than certain time duration like for example the Deleted Items. SMTP and X.400 are the two default email addresses generated by Recipient Policy. The problem generally occur when an email address rule from the default policy is tried being deleted.
Solution
: Rule modification is more preferable than its deletion. You must try and make changes to the rules for accomplishing whatever needs there may be. A number of organizations have reported to facing entire outage of the server in just trying to get rid of these rules. Whereas, modification of these rules can easily create SMPT based email addresses hosted on a DNS domain either public or registered. The golden rule is to, never go for deletion of the recipient policy when you can modify it and get desired results, even though the GUI stops you from doing the same.
Conclusion
: A number of these and related issues are being faced regularly or alternatively by businesses having Exchange Server deployed. Therefore, some of the commonly yet majorly effecting errors of Exchange Server usage are discussed along with the corresponding solution. Get help and follow the suggested advice to work smoothly with the server and attain complete business continuity.