The community spoke and the WordPress core development team listened.
When the WordPress team convened to discuss upcoming media features for WordPress 2.9 last July, it polled the community to get a feel for what features should be considered a priority.
The WordPress.org
survey results
made it clear what its users were thirsting for -- drastic improvements to media albums, image editing and video/media embed functionality.
WordPress 2.9-- released this past weekend after six months of development and 500 ticket, bug and feature requests -- addresses all of the above and then some with numerous media features and enhancements that pave the way for the much-anticipated release of WordPress 3.0 this spring.
WordPress "2.9 provides the smoothest ride yet because of a number of improvements under the hood," WordPress founder Matt Mullenweg noted in his
release post
, "and more subtle improvements you'll begin to appreciate once you've been around the block a few times."
After spending the weekend getting under the hood of the 2.9 release, I have to agree those back-end tweaks have made for a faster, more efficient interface. And I know the general WordPress community has been impressed by the additions on the dashboard side of things. From the global trash can feature and video embedding improvements, to a new built-in image editor, WordPress becomes more user friendly with each and every release.
Before You Upgrade
Before getting into the specifics of WordPress 2.9, it's worth noting that while this is labeled a major release by the WP folks, it isn't an upgrade that needs to be made hastily between holiday meals without proper preparation.
In fact, unlike last month's release (WordPress 2.8.6 fixed two security issues), 2.9 doesn't have any high-profile security fixes and isn't a "drop everything and upgrade!" release.
So take your time with this one and be sure to back up all files, take screenshots of your main pages and disable your plug-ins before updating. While this release has been scrubbed over and over again by beta testers, I've already read a handful of comments from users with install issues because of funky mixtures of themes and plugins.
Upgrading to WordPress 2.9
When beta testing, for this and future releases, you can upgrade to the latest test installation by downloading it manually at WordPress.org or by using the
WordPress Beta Tester
plugin.
Now that 2.9 is public, Admins can download it the
old fashioned way
and install it manually, or use the auto-installer from the dashboard at Tools > Upgrade.
Image Editor
The most popular update to this version of WordPress is the new image editor, which is something some power users will likely second guess. After all, if you know how to use the new WordPress editor, it's probably because you already have photo editing software.
But the way I look at it, if it makes things easier on the general user and keeps them from having to open resource hogs like PhotoShop on their laptops and netbooks, than why the heck not?
That said, here's a screenshot of WordPress' first attempt at an image editor... showing what you can do with the WordPress logo if, say, you wanted to make it an M.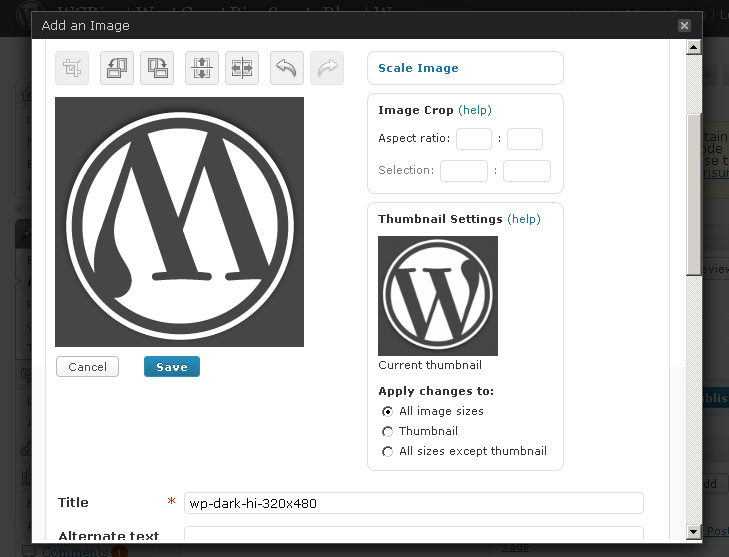 In previous versions you could change some of this stuff, like the aspect ratio, if you know HTML or worked extensively with the formatting of posts/pages, but this makes it a lot easier for those who are scared of code ... or are just lazy.
While we're on the topic of images, the developers also tweaked the custom galleries to use new include/exclude attributes that pull attachments from any post ... not just the current one.
Video Embed Made Easy
Another multimedia enhancement that makes life easier for lazy users is the new video embed functionality, which allows embeds of video by pasting a URL on its own line. That's it. So paste the URL of say this great surfing Santa video on YouTube (
http://www.youtube.com/watch?v=YhOHHLziMBc
) into a blog entry and WordPress will magically render the video (whether you're in the Visual or HTML tab while posting).
Thing is, you won't immediately see the video until you preview or publish the post, but it'll be there, trust me.
The easy-link embed functionality works with YouTube, Flickr, Hulu, Google Video, PollDaddy and a few other third-party sites with more to come in 3.0.
Take Out the Trash

Another feature that's receiving praise is the global undo/trash feature, which allows users to recover a post or comment that's been accidentally deleted.
It also wipes out the annoying popup that used to warn that you were deleting something ... so I guess that's a plus in my eyes (kind of like Windows 7 doing away with those annoying User Account Control messages).
Plugins Plugging Along
As noted above, it's best that you disable each of your plugins before upgrading to a new version of WordPress, but that might be changing after 2.9.
The latest version has made updating and checking the compatibility of plugins that much easier, allowing you to update plugins in batches of 10, using compatibility data from the plugin repository.
It's still relatively untested, being we're all using the latest version of WordPress now, but you can see the compatibility notes (according to plugin authors and votes from the community) on the new plugin upgrade page.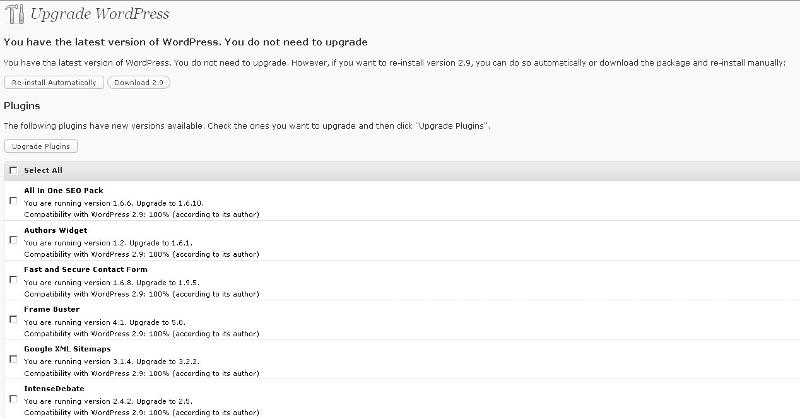 I can see some abuse happening here, authors of competitor plugins encouraging their buddies to vote down rival plugins and such, but for the most part this should help quality plugins rise to the top and weed out the plugins that haven't been updated in forever
Best of the Rest
Now for the rest of the stuff you probably won't notice upon your first WP 2.9 login:
- rel=canonical update, which essentially replaces the Canonical URLs plugin, for the SEOs out there;
- a new and improved Press This bookmarklet, which makes on-the-fly-posting more efficient;
- incorporation of WP.me, WordPress's URL shortener, accessible via the WordPress.com Stats plugin;
- the ability for themes to register post thumbnails;
- new comment meta tables and post type upgrades, to name a few.
I also appreciate the little things that make WP life easier such as 2.9 remembering your location and bringing you back to that line when saving in a theme or plugin editor.
In fact, I was hoping for more of those intuitive tweaks with this release, but with much of this update revolving around media features, it looks like we'll have to wait for future upgrades.
Eagerly Awaiting WordPress 3.0
While 2.9 has been a nice upgrade, I'm already looking forward to the spring release of WordPress 3.0, which is scheduled to merge the code bases of the standard WordPress install and WordPress MU.
WordPress MU is still the best option for mega content sites because it scales massively and changes can be made globally. At the same time, you can't upload individual themes and some plugins won't work with MU, so it'll be interesting to see what happens with the merger.
I'm told WordPress 3.0 will allow the user to select between one code base or the other, but either way I'm hoping it better integrates with BuddyPress -- which will currently only add that social networking layer to an installation of MU. WordPress 2.9 still doesn't play with BuddyPress, and it's only a matter of time before those two need to play nice with one another.
But all in all, WordPress 2.9 was a solid release, especially when you consider the developers closed more than 500 reports in that six-month window.
Let's hope WordPress 3.0 goes as smoothly, and that the WordPress community continues to have a major voice in its development.
WordPress 2.9 Bugs Being Addressed
12/23 UPDATE:
It appears the WordPress crew is fixing at least one of the bugs introduced with the initial rollout of WordPress 2.9.
The WP team has already posted version
2.9.1 Beta 1
on WordPress.org, which addresses the bug affecting certain versions of the PHP's curl extension. In other words, this is the bug that's messing with scheduled posts and pingbacks.
If you'd like to test 2.9.1, you can do so via the
WordPress Beta Tester
plugin. According to WordPress.org, 14 tickets have already been fixed in 2.9.1 Beta 1.
WordPress 2.9.1 released
1/4 UPDATE:
WordPress 2.9.1, fixing the above bug along with a few others, has been released and is now available for
download here
or via your WP admin dashboard by going to Tools > Upgrade. Be sure to back up your files before upgrading.
Here's a
list of the tickets
that made the 2.9.1 release.
WordPress 2.9.2 released
2/15 UPDATE:
Another upgrade to WordPress 2.9 was released today.
This fix, WordPress 2.9.2, addresses a bug where logged-in users were able to view trashed (deleted) posts written by another author. If you have a site with unknown authors and/or sensitive posts that you've trashed, you're going to want to upgrade.
You can upgrade automatically via the alert message header on your WP admin page, or by going to Tools -->Upgrade.
Be sure to back up your files before upgrading.
More WordPress Articles
This is part of a series of Articles on WordPress and its family of projects. You might also enjoy:
•
Top 5 Reasons to Use WordPress for Your Blog
•
Top 25 Wordpress Plugins for Your Site
•
WordPress Projects You Haven't Heard of – WordPress MU, BuddyPress, BBPress, BackPress