This article is essential to make secure Yahoo Mail connection without facing any issue. It is providing simple steps to configure your Yahoo Mailbox to Hard drive using Microsoft Outlook.
It is really a hectic task to take backup data from the cloud to the desktop. If the data is saved in the cloud, feels secure, and you do not think you need to take precautions to protect it, you never really know if that's the case. When talking about Yahoo Mail, a user friendly an Email provider interface, we do not know when cyber-terrorists attacks on your account may happen and delete all of your data.
Therefore, this article is suggesting simple steps to receive Yahoo mail to the Local Drive, which is not possible to directly copy emails from your Yahoo account to your computer's hard drive. The need of local Yahoo mail is due to many reasons, and most of the time, Yahoo becomes inaccessible. Another thing is that we should not totally depend on the online mail services because many times someone hacks your account and there are only a few possibilities to retrieve or get back whole data.
To perform the Yahoo data backup process, the manual method is available to download Yahoo mail data to the desktop. A more suitable method for backing up messages, conversation history, and contacts, is to configure the account with a desktop email client like Microsoft Outlook or Mozilla Thunderbird.
Method for Yahoo mail Using MS Outlook
MS Outlook is a desktop based email client, developed by Microsoft & installed with MS Office. It can be used to backup Yahoo account data. It will soon download whole data and safely will store in PST format. There are a few steps that are necessary to configure Yahoo Mail with Outlook-
1.
Open MS Outlook on your Machine
by following these steps
Go to Start >> App Program >> Microsoft Office >> Microsoft Office Outlook
2. Then from menu bar, click on Tools >>
Account Settings
.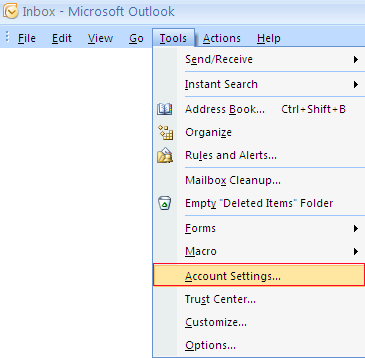 3. Click on
New Button
to Add new Yahoo account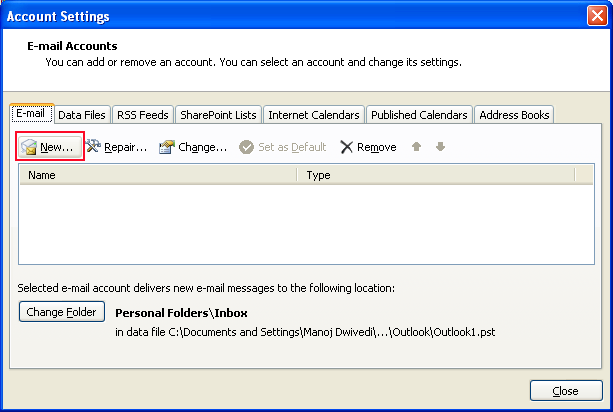 4. Select the radio button (
Microsoft Exchange, POP3, IMAP, or HTTP
), and click
NEXT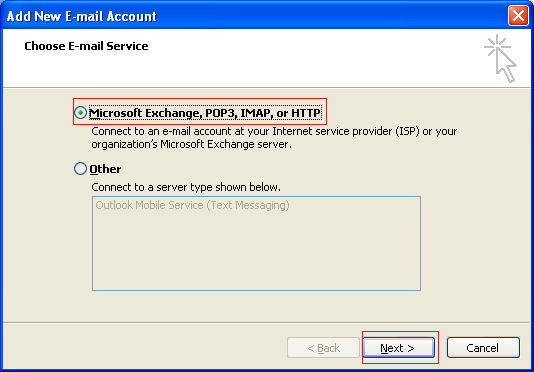 5. Check the check-box (mentioned – manually configure server settings or additional server types), given at bottom of Windows & click on
Next.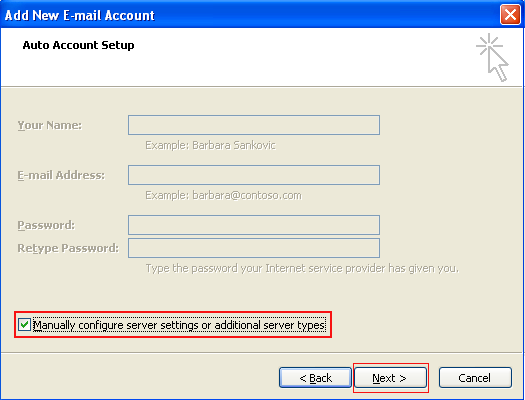 6. Select
Internet E-mail
, click Next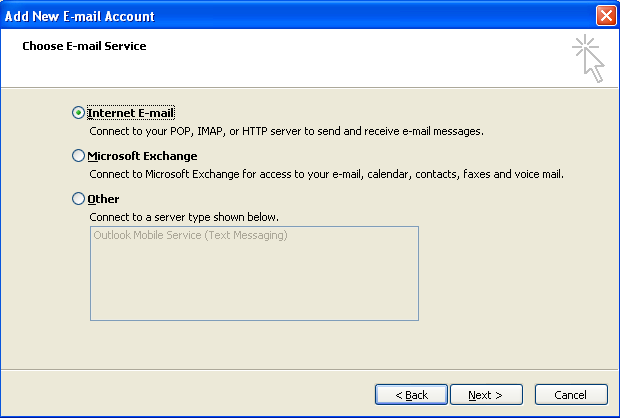 7. Now fill the account details (name, email-id and password)
Select POP3 account from account type
Incoming Mail server- pop.mail.yahoo.com
Outgoing Mail server- smtp.mail.yahoo.com
After filling the details, click on
More settings
button-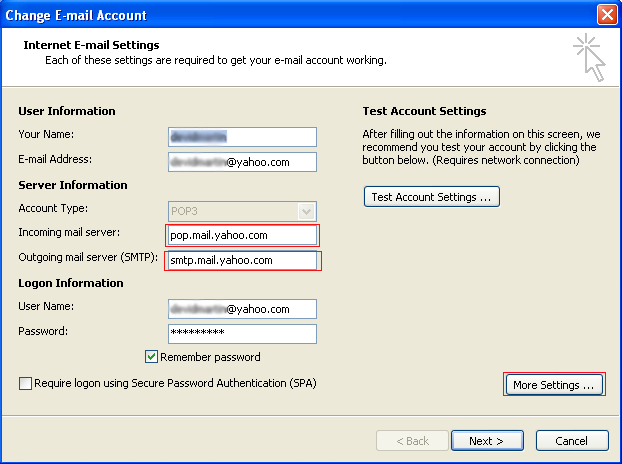 8. Go to
Advanced
tab and fill the server value-
Incoming Server POP3: 995
Check the box (Server requires an encrypted connection SSL)
Outgoing Server: 465
Select SSL from the drop down list for encrypted connections, press OK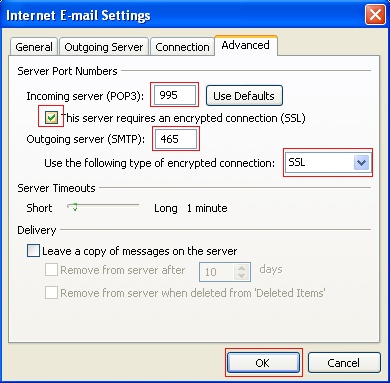 9. Now Move to
Outgoing server
tab:
Check the checkbox (My outgoing Server requires authentication)
Choose the radio button (Use same settings as my incoming mail server), press OK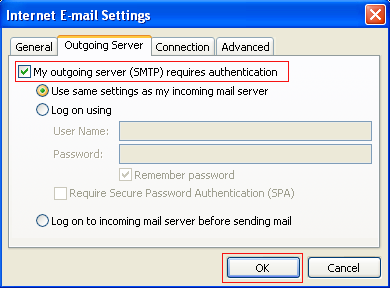 10. After providing all details, press
Next
button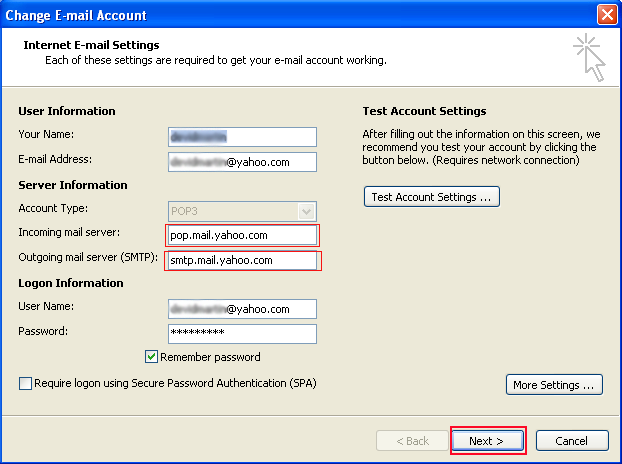 11. Now,
congratulations
message will display on window, your account configured successfully, click
OK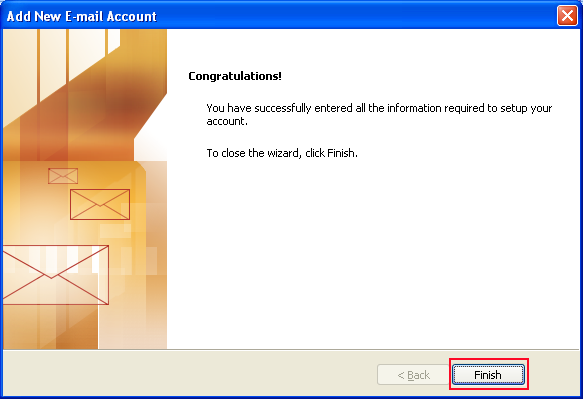 Note:
Now you have successfully configured your Yahoo account with MS Outlook, and now you can download your Yahoo mail data by click on
send receive
function.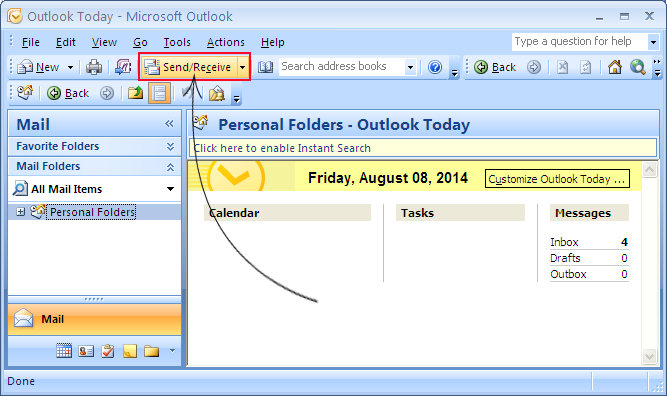 Thank you for reading my article, please leave valuable feedback on what you liked and disliked, and if you liked this article would like to see more please click the 'Good Article' button.