Does your iMac really need a hardware upgrade? Will upgrading RAM speed-up your computer? If yes, then how can you proceed?

Upgrading RAM in your iMac is not as simple as it may seem. This article will help you in getting and installing right RAM in your iMac
If you have clicked on this article, chances are your iMac is not working as desired. It might be taking a lot of time to start or getting frequented by
beach ball
or dropping too many frames when you play a graphic intensive game.
If you don't mind shelling out some money to get an amazing show, read ahead. (No, we won't suggest you to go find a new iMac from the word go.)
The Golden Rule:
There is a hardware upgrade often touted as panacea for all system-lag issues, upgrading RAM.
But before heading straight to market, consider knowing whether your iMac really need any hardware upgrades, as you may end up doubling the memory without getting a slightest hint of performance improvement if the existing RAM of your iMac never get utilized properly.
Is there a need of adding RAM?
To save you from spending some bucks, this is a small guide to knowing whether you really need RAM upgrade.
Follow these steps:
Know the total memory installed (by accessing About This Mac).
Click on More Info if you need to know how many memory slots are there.
Go to Applications > Utilities > Activity Monitor. Launch Activity monitor.
Select Memory tab.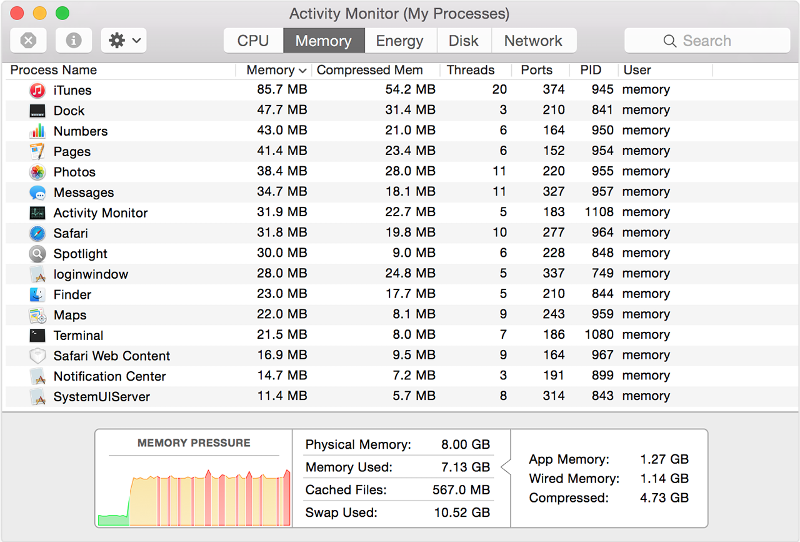 Note: The above screenshot shows Activity Monitor of OS X Yosemite. Activity Monitor's UI may differ in your case.
(List of running processes will appear.) Observe the
Memory Pressure
graph. The Red color on the graph tells about the instances when memory resources get depleted and OS X used
startup disk
for more memory. As disks are significantly slower than memory, system's performance takes a hit and beach ball appears more often than not.
Thus, Red color is an important indicator that your iMac needs more RAM.
In the above screenshot you can also observe the
Memory Used
, which is inching towards Physical Memory available; a clear indication that sooner or later it may leave your iMac wanting.
Note:
If you multitask frequently, I recommend you to open all apps that you tend to use, or you may also launch your favourite game and then see the pattern of Memory Pressure. If it is all yellow, it means memory resources are available and are tasked by memory management processes. If it is
more red
than you may want to see,
upgrade RAM
.
Purchasing new RAM
Now as you have decided to add more RAM, please check whether you have already maxed out the RAM limit of your iMac.
Find the serial number of your iMac's model. The number can be located on the base of the foot of the iMac.
You need to place your computer face down
(please take care of the computer's screen while doing that; put a soft cloth on the surface and then carefully place the screen on it)
and note the serial number etched just below the barcode.
If you are not comfortable putting your iMac face down, the serial number can also be found on the original packaging box.
Once you know the number, you can find your iMac's Model
here
. After noting down the model number you will get information about maximum supported RAM (Max. DRAM)
here
.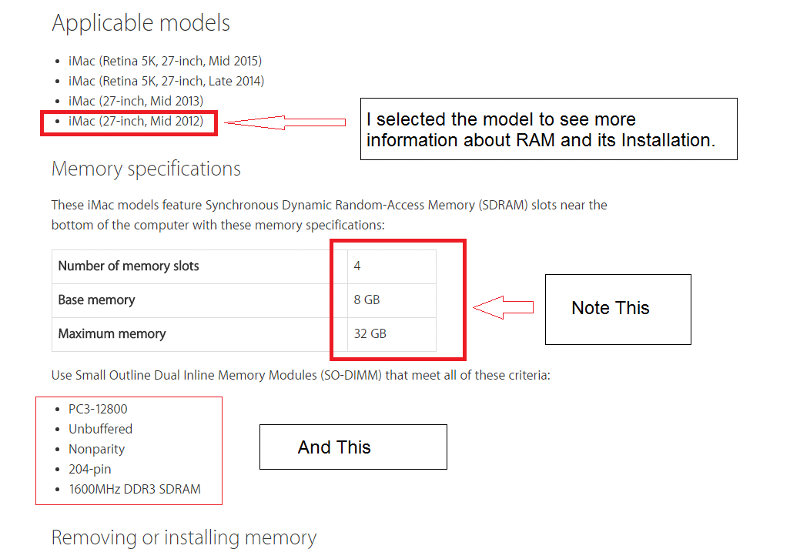 If your iMac already sports maximum RAM, you cannot add additional RAM in any of the slots. If there is a room for upgrading RAM, go ahead.
Installing RAM
No rocket science. You will get some important information
here.
After clicking the link you must select the model number from the list and double-check the memory requirement and other additional information.
Following screenshot is taken from the webpage whose link is shared above. Try to find your iMac's model in lists of
Applicable models.
If iMac (27-inch, Mid 2012) is the model I want to max out the RAM for, the screenshot tells me the following:
There are total 4 slots, each can maximum hold 8 GB RAM (known as Base Memory). So, 8GB X 4 = 32 GB Maximum memory.
If the current memory of my iMac is 8 GB (4 slots having 2 GB each – 2GB X 4 = 8 GB), I need to purchase 4 RAMs, each of 8 GB for 4 slots (8 GB X 4 = 32 GB).
After soaking all information and doing the maths, you may go ahead and purchase appropriate RAM.
The instructions on installing RAM can be found on the link I have shared above.
Final Words
So buying RAM is not going to be as cheap as you might have thought especially if your iMac has 4 slots.
Is hardware update the only solution for speeding up your Mac? No. You must consider doing the basics first and that is cleaning your Mac's hard drive. You can use various apps to do this as well.