Outlook 2016 for Mac is the newest version of Microsoft's venerable email client. I took a look at it to see how it stacked up against both the PC version and the previous Mac version (2011) with an eye to a few key features that are in demand by my clients.
Outlook 2016 for Mac Notes
The new Outlook for Mac promises to be a more familiar experience for PC users, at least at first glance. The continuity for Mac users is also fairly good but not without some bumps on the way. Below is an examination of some the more important features in use at my organization.
Launching Outlook might invoke a request to accept a certificate
Certificates are a fact of computing life today. The problem is that some applications might complain if the certificate is self signed or is otherwise not up to snuff. If that is the case with your organization, it might happen every time the app is run unless the following fix is put in place:
a) Select "Show Certificate" or "Show Details"
b) Make sure it is coming from the expected site (e.g.: your institution's domain)
c) Set the Trust option to "Always Trust"


No auto-archive
A key feature that was lacking in Outlook 2011 is still missing here. It is possible that using Microsoft's online "Personal Archives" should solve the problem. The product does support the feature, according to
this Microsoft support page
:
"
... Whereas Outlook for Mac 2011 doesn't support the archive feature, Outlook 2016 for Mac does support the archive feature. When you use Outlook 2016 for Mac, you can access your archive and move mail items into your archive.
"
Does NOT see user defined Exchange based contact groups
In Outlook for PC, one can define various "Contact Groups" (also known as "Distribution Lists") of email addresses for quick mass mailing. Furthermore, they get propagated to the Exchange server if the account is an exchange account. The benefit is that the same user can have access to those same contact groups on another PC or Outlook Web Access (hereafter referred to as OWA).

Outlook for Mac 2011 could not access them and neither can 2016. The app still cannot synchronize its contacts with that of the Exchange server.
Embedded hyperlinks show beside the associated text when using Plain Text
The text is underlined as usual when using HTML. This applies for both the body and signature.

Here is a feature where Outlook trumps Apple Mail. Apple Mail has an issue with replying and maintaining the font choice shown in the original. One workaround that causes the least headaches is to use Plain Text. Unfortunately, doing so causes any embedded hyperlinks to be lost.

A good example of this problem can be seen in signatures. Many organizations now have standard signature add-ons that are in fact hyperlinks to some information page. Apple Mail requires that the user add the link manually to replace what is lost in conversion, while Outlook does not.
Schedules are gone
An oft used feature in Outlook 2011, scheduling allowed users to dictate when each account checked for mail. That option is now moved to the account's own preference pane.
In addition to account based scheduling, it was used to perform a very useful feature, namely "Empty Deleted Items on Quit", which is now gone. The following screen shot shows the relevant feature from the 2011 version of Outlook: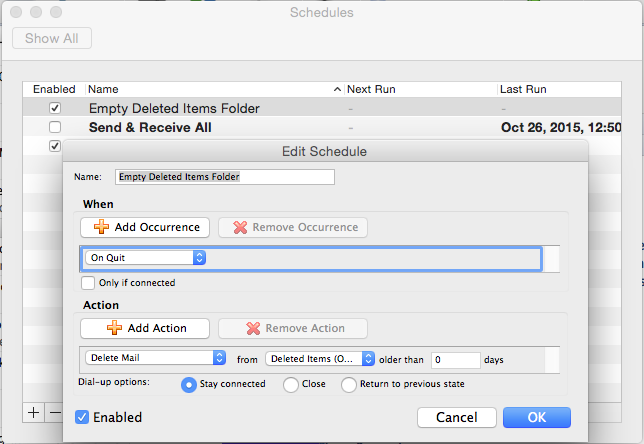 IMAP Voice mail account still requires Sent/Junk/Draft/Deleted items to be defined
One use for email these days is to control one's voice mail account. These accounts, however, are typically stripped down IMAP accounts, with in most cases, only an Inbox.

As a result, Outlook's insistence on having rules for Trash, Sent, Junk and Draft boxes cause sync errors every time the account is checked. A good example of this behaviour can be seen when using Cisco's Unity voice mail system.

By contrast, neither Apple Mail nor Outlook for PC seem to suffer from these sync errors. Both however, seem to have their own quirks when it comes to corporate voice mail. Covering that topic will be left for a different article.
Can now make use of user defined Exchange based categories
One very welcome change to Outlook for Mac is the ability to use categories defined by the user and propagated by the Exchange server. Mac Outlook users can now have access to categories they have created via Outlook for Windows, for example.

What makes this an important feature is that so much of email sorting and selecting seems to be done via categories. The classic way of exporting mail based on a set of criteria (again mainly for archiving purposes) is via categories.
POP accounts are still supported
POP is the "grand daddy" of mail protocols and might still be in use somewhere, so it is a good thing to see it supported. However, it is
NOT
recommended as POP is an obsolete protocol.
The two principal formats that Outlook seems to promote are Exchange (first and foremost), followed by IMAP. The preference can be seen during a manual account creation (via the "Other Email..." option), during which the account type defaults to IMAP. POP is available through a drop down menu: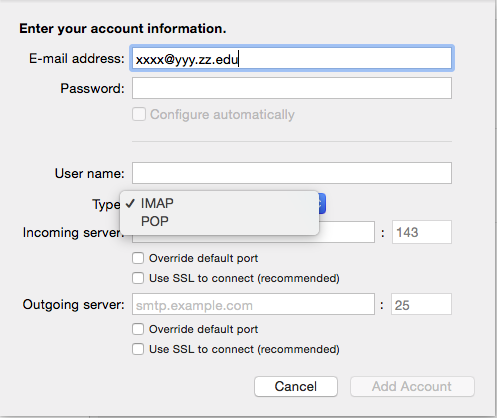 Does not seem to be able to access shared calendars seen by Outlook 2013 (PC)
Shared calendars might be a problem. I have seen a case where the calendars are visible in both Outlook for PC and OWA yet when the same account is used in Outlook for Mac, access is denied with a message stating that permissions are not correct. The same problem is seen in Outlook 2011, so the problem seems to be a chronic one.

The "Subscribe to Public Folders" feature still works. The issue is that there is a different tool that many organizations use: the resource calendar model. A good example would be room bookings. Such calendars are deemed to be "shared" in Mac Outlook speak and therefore fall prey to the aforementioned permissions trap.
Multiple calendars can now be seen side-by-side, identical to Outlook for PC
Prior to the new version, viewing multiple calendars was at best a nuisance. Instead of showing the second calendar beside the first, Outlook 2011 would interleave them, creating an interface that was much harder to read.
Conclusion
The new Outlook for Mac seems to be an incremental improvement, rather than a radical re-engineering of the product. Exchange integration is at least as good if not better and the "look & feel" aspect is linked more tightly to the PC offering.
As noted above, there are still problem ares which need work. Perhaps a new patch or two will fix those issues. Regardless, it is still a step in the right direction.
Thank you for reading my article, feel free to leave me some feedback regarding the content or to recommend future work.
If you liked this article please click the "Good Article" button.