Introduction:
I have always been a big fan of Windows but my liking towards it is slowly being eroded by the variety of other Applications that I encounter, when I browse the Web. Most of the software available is free and maybe Open Source too. This document may flow into two or three pages which you may need to come and revisit or perhaps Bookmark / Add to your Favorites. Be assured that every other thing I bring forward in this Article will be something that you will admire or have already found others approving. It is not that Microsoft cannot make such things that I will speak of here but either it is not in the economic interest of the Company or the Internet is already flooded with such things that they have little left to recreate.
Motto:
My objective here will be to compare the default Applications shipped with Microsoft Windows with their Free non-microsoft alternatives and the advantages of switching over to them. However, since a major number of users are still of the basic type so most webmasters (persons responsible for the creation and maintenance of websites) too have gone only as far as designing their web pages compatible with Microsoft's Internet Explorer Web browser. This fact does push us to the part where we cannot dump Microsoft utilities forever and have to leave them installed just in case the sudden need arises. Once you have become familiar with the applications, the need for using the default Microsoft Applications will arise only once in a blue moon.
1. Web Browser - Replace Internet Explorer with Mozilla Firefox
Download Firefox from -
http://www.mozilla.com/en-US/firefox/personal.html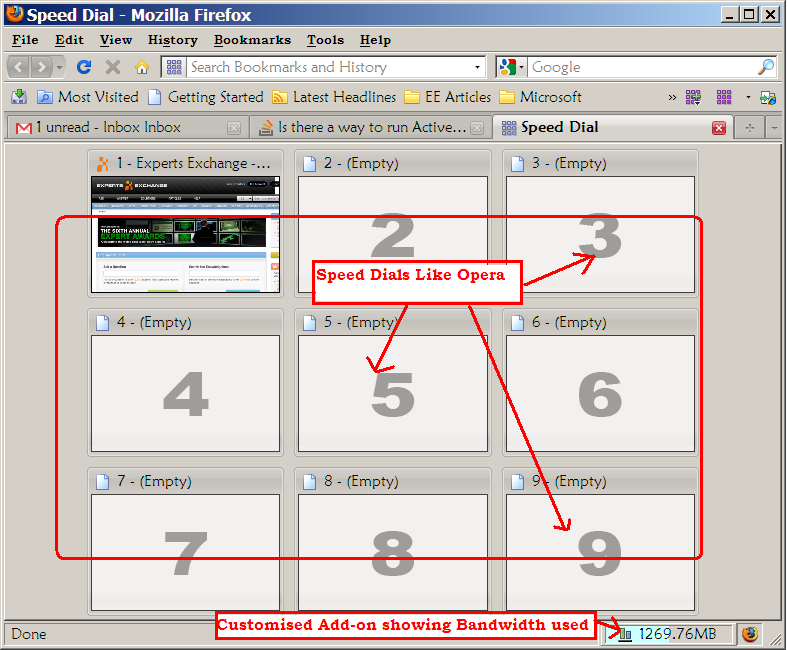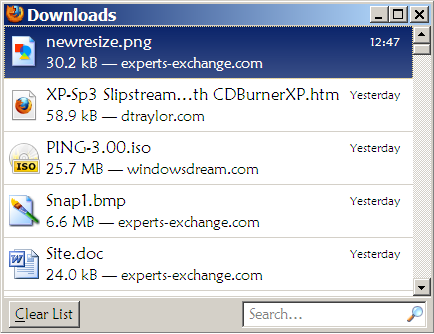 Experienced readers may have already guessed that even before I mentioned it. The Browser wars have continued since the days of Netscape Navigator and Microsoft is slowly losing its share to Mozilla's Firefox in the world of web browsers. Microsoft has made tremendous progress in improving and customizing the default Internet Explorer Browser shipped with their Operating System. However, it still fails to win the heart of the Internet junkie.
Advantages of using Mozilla Firefox-
Faster loading of web pages.
Compatibility with major Download Manager software.
Organized Downloads (It keeps a clean record of the files you have downloaded from the Internet), so that you don't have to search for them in case of a miss.
A plethora of Add-ons to choose from-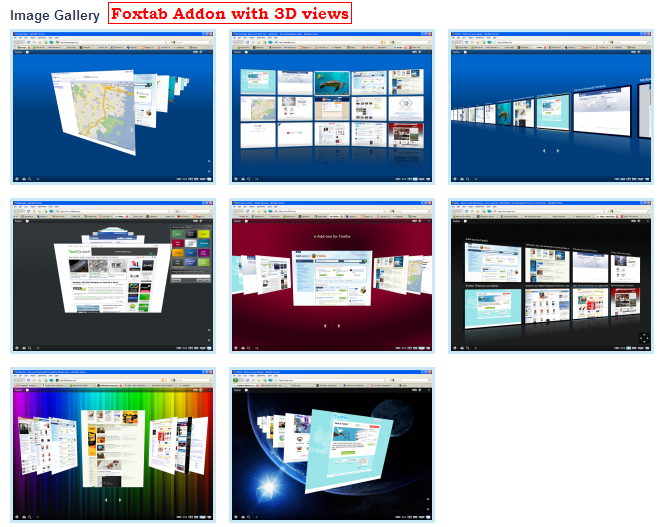 Open Internet Explorer in a Firefox tab (for those naughty banking sites which won't behave) - The IE tab Add-on. Download it
here
Speed Dials like Opera (Those who have liked Opera for this very fact). Download it
here
Foxtab - bring 3D functionality to your Firefox. Download it
here
The above are only a few but there is a never ending list of them. You seek a feature of some other browser and it is probably there as an add-on ready to be installed.
Personally I liked Opera (another popular web browser, for more information visit
http://www.opera.com/
) too, but Firefox had more advantages. When I played with both Opera and Firefox, Opera won on the following grounds-
It managed to pull web pages a bit faster than Firefox
It did boast of a much polished easy to use user Interface
But lost on the following too-
Configuration of Orbit Downloader (which I am going to mention in the next section) was never easy with it.
It had issues with reporting to Bank Sites as Internet Explorer.
ActiveX is a technology specifically designed for the use of Internet Explorer which other browsers may not support. So you may need to stick with Internet Explorer if-
You are a diehard fan of MSN games which are installed and Run by Microsoft Active-X controls
Need to run windows updates from the Microsoft Site. Some BIOS upgrade utilities and Printer sites (like HP) will also want to install an Active-X control to help you upgrade your BIOS / printer software from Windows itself
Visit some sites that won't play well with any other Web browser
However
this page
seems to show a way of running Active-X controls in Firefox. So maybe we won't have to use Internet Explorer again.
[step=""]
Editor's Note:
Google's Chrome browser is growing rapidly in popularity. It is now considered by many to be a viable alternative to either IE or FireFox -- so it's also worth looking at.
[/step]
2. Download Manager - Not shipped with Windows - Orbit Downloader
Download Orbit Downloader from
http://www.orbitdownloader.com/download.htm

I have not been using Internet Explorer 8 but till Internet Explorer 7, there was no download manager shipped with the Microsoft web browser. Other Download Managers which I have tried are-
The basic functionality sought was to resume broken downloads in case of Dialup Connections. However these are the days of the High speed Internet so this functionality is least sought after as it is shipped with Web browsers themselves.
Advantages of using Orbit Downloader-
Enhances your ability to capture and download a majority of those Streaming Video Files over the internet as you see on youtube.com and other video sharing sites.
Schedule your downloads (in case of happy hours of surfing when your ISP won't charge you for Internet usage)
Organize downloads as mentioned above.
Speed up downloads by simultaneously connecting to other mirror sites.
3. Paint - Replace with PAINT.net
Download Paint.net from
http://www.getpaint.net/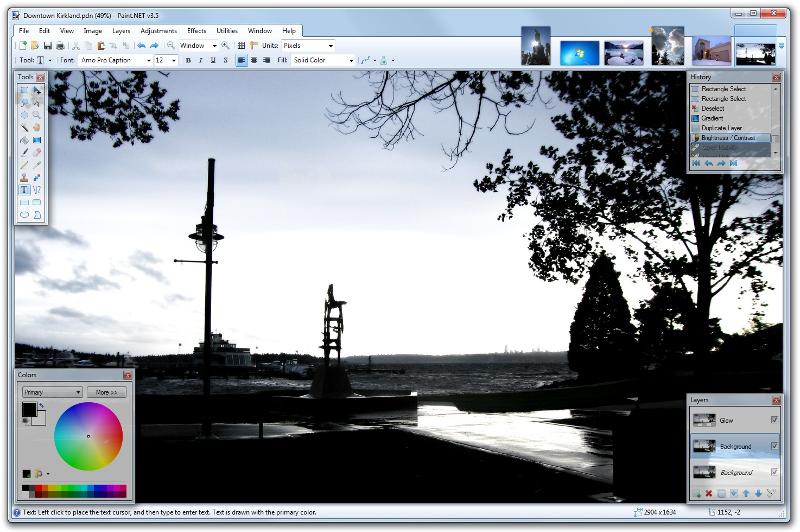 Microsoft Paint is good when you want to work with editing your Screenshots or create very basic pictures. I got tired very fast with its limited options. Although, I am writing about Paint.net here, it has been only a month or so, when I came to know of it. I have heard of it many times since then. Thanks to
aikimark
who gave me the insight to this application. I have found it to be promoted at
www.ask-leo.com
(one of the very reputable sites I visit a lot) in one of its Newsletters and also by an Expert
geeked
in
this
Question of mine.
It requires Dotnetframework 3.5 SP1 which you can download from
here
. However if you are running Windows Updates regularly, you may already have it on your System. You may see other Screenshots of Paint.net on
this
Page.
In particular, I preferred Paint.net over MS Paint because of the following advantages-
You can open many files in the same Application without cluttering your Taskbar. If you open three files for editing with MS Paint, then there are three different Taskbar buttons listed.

Unlimited Undo / Redo options. MS Paint does offer Undo / Redo but the number of cycles is pretty limited.
A host of other options while editing like Auto fill.
Multiple Layers to work with like Professional Image Editing software.
Effects that can be applied to your image like Blurs, Distortion, Noise, etc.
Multiple coloring options like Brightness / Contrast Adjustments, Hue / Saturation, Color Inversion, etc.
Can create and edit transparent PNG files.
There are many other features which I could put forward but the best option would be to get it and try yourself.
4. Default CD / DVD Burning Part of Windows Explorer - Replace with CD Burner XP Pro
Download it from
http://cdburnerxp.se/en/download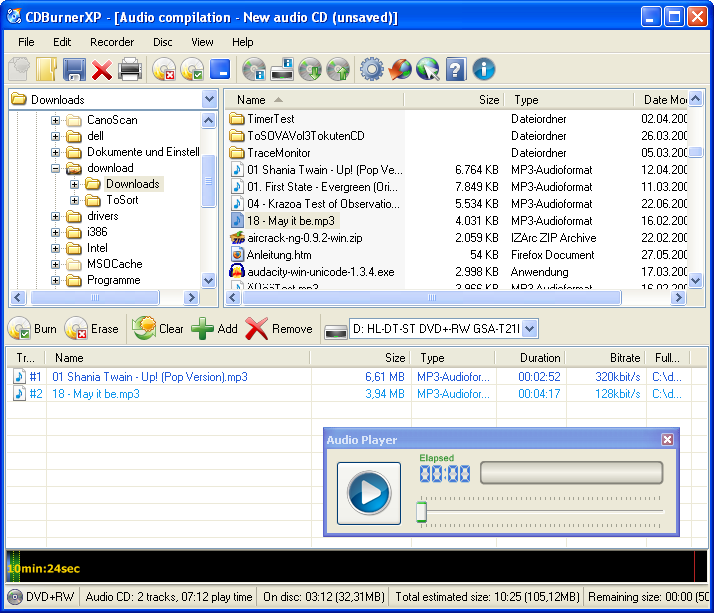 Other than the above, you can see more Screenshots of this Application
here
. CD / DVD burning software generally get complex owing to the multitude of Options you are presented with while you are trying the burn some files to a Disc. One would expect it be as simple as a USB key, simple drag n drop and you are done. Most of the complexity arises due to the efforts to keep the software backward compatible with many other features that were developed during the infancy of the CD era. Nero is the most popular of them that ship with OEM (Original Equipment Manufacturer) Products. The disadvantage is that you have to pay for the Retail Version which ships with more features and the Software you receive is tied particularly with that particular CD / DVD writer you purchased. Once the Writer goes bad, your software is worthless too.
Advantages you may find using CD Burner XP Pro are-
A polished easy to use Graphical User Interface.
It offers the creation of Multi-session Discs (Imgburn - another popular Software does not, though Imgburn does offer to continue Multisession Discs)
It is not tied to your particular CD / DVD writer
Identifies and works with almost all CD / DVD writers available today.
Problems that I encountered with CD Burner XP Pro-
* I did face trouble with the application not being able to identify an Optiarc DVD writer in a Lenovo Laptop (Model - Y330). There were firmware upgrades on the CD Burner XP Pro site to get it working but I did not try them.
* In an earlier version, the Software crashed when trying to burn a Compilation which contained a file that had an invalid Date of creation.
* It was also a pain to slipstream SP3 within a Windows XP Professional SP2 CD but the tutorial on
this page
made my job easy.
The above have probably been fixed in the later versions but these were the only problems that I have faced till date since the last four years.
Follow up in my Next Article:
Owing to the limitation of space and your valuable time, I am breaking this document here itself and will be continuing it in the Second Part which I will be linking back here.
Final Words for the moment:
Was the read worth it? It is a humble request that you download at least one of the above mentioned applications and play with it.
May it interest you that this is my fourth article on Experts Exchange. The other three are --
Applications worthy of being in a Windows Techie Toolkit
Troubleshooting and repairing misbehaving Peripherals in Windows using the Device Manager
Putting Windows Explorer on Steroids
Now like all other writers, may I request that you the reader to kindly click the Small Blue "Yes" button at the End of this Article, where it states "Was this article helpful?", if you really did find it helpful. A "No" is also welcome, so that at least I will know that you got through the stuff I wrote.
Please post comments, so that I may improve on it further. Your input will help me to improve and benefit all future readers.
Ravi.