The first step is to modify your explorer.exe file, which is located in C:\Windows. Before doing this I strongly suggest that you
make a copy of your explorer.exe file
, just to be safe. Next, you're going to want to download a copy of Resource Hacker, from
here
. When that's done, you're going to want to open up Res Hacker and open the explorer.exe file within it.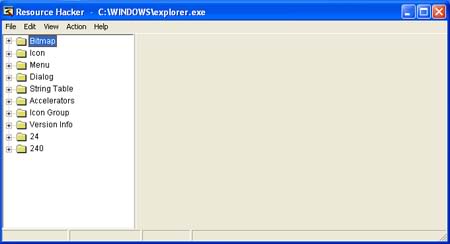 Next, you're going to want to expand the String Table class by hitting the little + icon next to it. Scroll down to 37 and expand it the same way. There should only be one option inside of this class, but depending on your version of XP it will be different. Mint just happens to be 1033. You will then be presented with the following: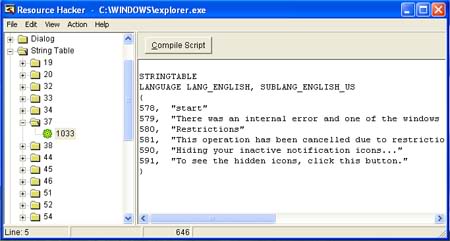 Right there next to the number 578 you see "start". This is where you can change it to whatever you want, so long as the quotes stay there and nothing else changes on that line.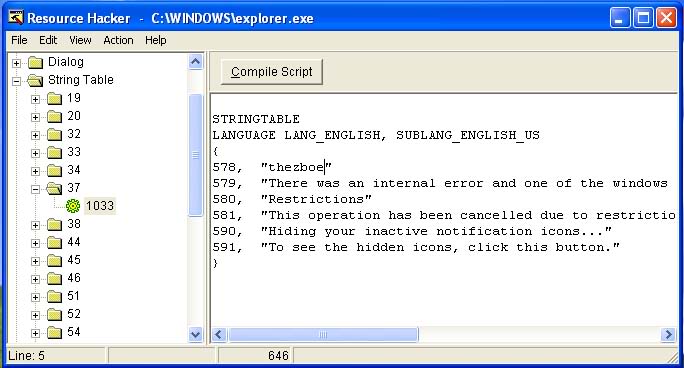 Next thing to do is click that button that says Compile Script just above the text you edited. Next thing is to [SAVE AS] the newly compiled explorer.exe.
*IMPORTANT*
The new file must be called explorer.exe for this to work properly!
Make sure you choose Save As.. instead of Save!

Save the document in a folder inside of your C:\Windows directory (NOT directly inside the Windows directory). Create a directory of your choosing and place your modified explorer.exe in there. After you've finished that it's time to edit the registry to point to our newly created explorer.
** DISCLAIMER **
Messing around with your registry can have severe effects, and might render your XP installation useless. Please do exactly as stated below. If you're not comfortable editing the registry, don't!

To open Regedit, click on start->Run then type in regedit and hit Enter. Now you're going to want to expand all the way out to:
HKEY_LOCAL_MACHINE\SOFTWAR
E\Microsoft\Windows NT\CurrentVersion\Winlogon

When you higlight over Winlogon, you will see a bunch of registry entries show up on the right. The one we are interested in is the one labeled Shell.




Now double click on Shell. In the editable field put the name of the folder where you saved the edited explorer.exe followed by \explorer.exe. Now exit regedit, log off or reboot the computer, and your start button change should be in effect. No more boring "start" for you!




On a final note, you may have to redo these changes when Windows Updates roll around, or after a Windows Repair and similar tasks, because registry and/or explorer.exe could have been restored or changed.