How to install VMware ESX 4 Update 1 trough PXE boot
Installing ESX 4 is an easy task but it could be easier, if you need to install more than 1 server this would be a fast way without making mistakes (you can make during manual installation).
Requirements:
VMware workstation or VMware player
VMware appliance EDA
VMware ESX ISO file
1. Install EDA.
Step 1. Download the VMware appliance EDA
Link:
http://www.vmware.com/appliances/directory/va/89313/download
Step 2. Import the EDA .ovf file in VMware workstation or the VMware player.
Step 3. Add a CD-ROM player to the virtual machine and mount the ESX ISO file to the machine.
Step 4. Start the appliance and follow the on-screen instructions
a. Click on reconfigure to edit the network settings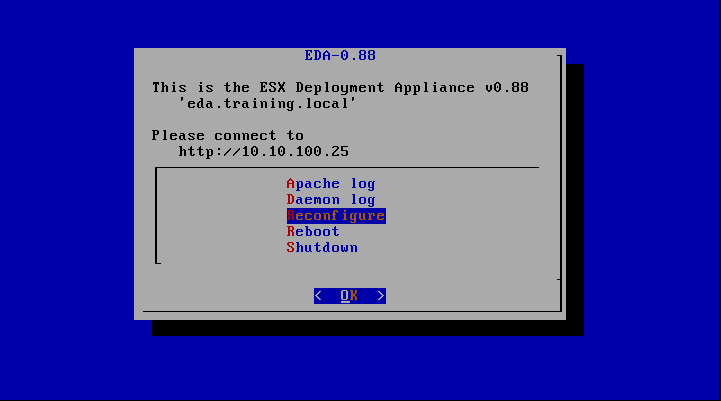 b. Fill in you information and click on OK to save the settings.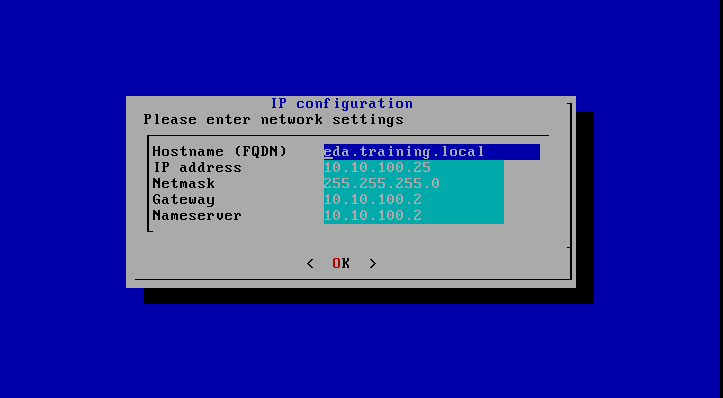 Step 5. Now you can logon to the EDA to configure the boot options
Open Internet explorer and go to they site (your given IP address) in this example this would be
http://10.10.100.25
Login with root - root
2. Configure EDA.
Settings for a successful deployment of ESX on multiple servers
Step 1. setting up the default settings
a. General ESX Host Settings: you must fill all you settings here, the license server is not necessary for ESX 4, this can be done by the host itself later on of by the vCenter server (if you installing more than 4 host then vCenter would be the choose of management).
Click Save before you edit something else otherwise the information will not used.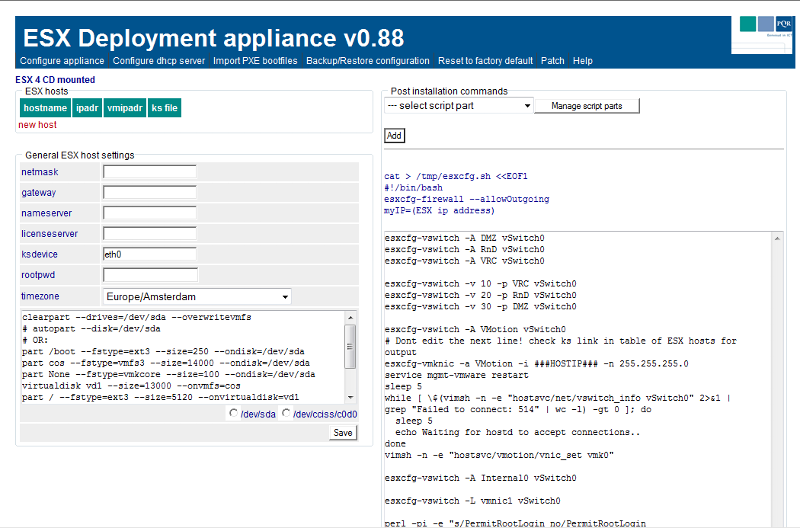 b. Click on new host to add the host settings. Fill in you host name, console IP and VMotion IP settings, remembering to save the settings.

Step 2. Configure the DHCP Server.
Click on configure dhcp server to edit the DHCP Server setting.
Under subnet settings edit the subnet to you subnet class (in this example this will be 10.10.100.0 and netmask 255.255.255.0)
Edit the broadcast-address (in this example 10.10.100.255)
Edit the router option (in this example 10.10.100.2)
Save these settings and click restart DHCPD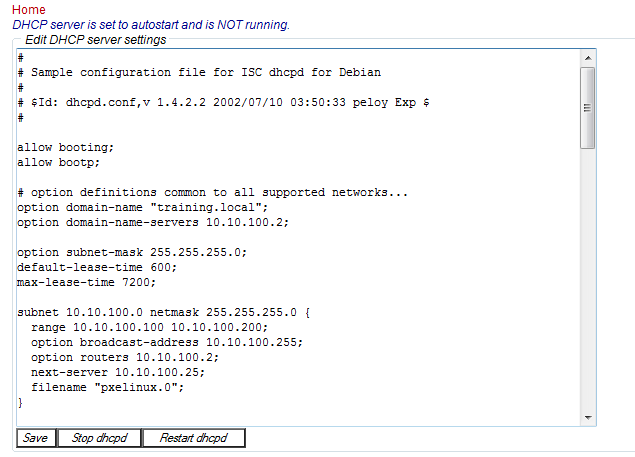 3. Enjoy.
Now you are ready to import the PXE bootfiles, click on import PXE Bootfiles and start you Host (ESX 4 Server to be) and boot with PXE boot.
You will get a boot menu with you ESX installation options, type the Server you want to install, if you made more than one host file (step 1b of Settings for a succesfull deployment of ESX on multiple servers), and wait.
Have fun installing VMware!