BCC is Blind Carbon Copy and is a way for you to hide the e-mail addresses of all the people you are sending the message to from everyone who receives it. This means your recipients do not have to dig thru a list of recipients before seeing the message and
also that spammers who see the message cannot harvest all of their addresses.
When you get e-mails that were forwarded to a number of people, have you ever not been happy with having to go thru a long list of names before you found the message? There is a easy solution for you not to do this to people when you send e-mails
Use the BCC (Blind Carbon Copy) feature to send the e-mails.
In the TO: line put your e-mail address (that way you will actually only show your e-mail address and no one else's). I realize that this will make the e-mail appear a little strange as it is sent from you to you.
In the BCC: line put the addresses of everyone you are sending it to. The BCC entry will allow sending it to everyone but only the TO: name and their name will appear on the e-mail message.
If the BCC: choice does not appear, then you may need to set the option for it to appear (instructions below).
After you have finished addressing the message, delete all the lines at the top of the message that are the old addresses. Clear everything from the body, except the real message.
Now your friends will more readily read your e-mails since they will not have to wade thru lists of everyone it was sent it to.
SETTING UP THE BCC FUNCTION:
In Outlook Express and Windows Mail the default is for only the TO and CC boxes to appear. To just change on one message simply click TO or CC and you will see the option for BCC also.
Windows XP had Outlook Express. Vista changed it to Windows Mail. In Windows 7 it Windows Live Mail and is not included with 7 but must be downloaded from Microsoft.
To change your settings so BCC appears on all messages you are creating you will go in
Outlook Express
or Vista's
Windows Mail
:
1) Click to create mail (or message)
2) Click the
View
menu
3) Click the
All Headers
option which will put a check beside All Headers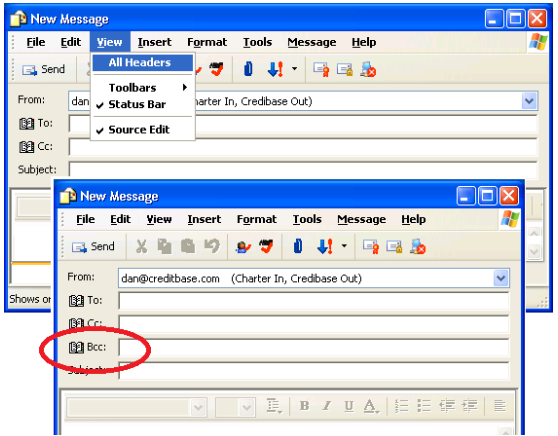 Now you will have the BCC box showing along with TO and CC
In
Windows Live Mail
, create a new message and click on
View
menu and click
CC and BCC
so a check mark appears (or click the blue label-text, as shown).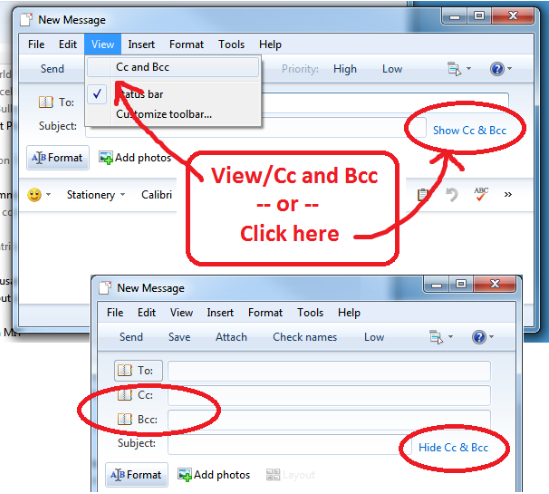 Following these few steps will not only make your emails easier to read, you will be protecting the email addresses of all of your friends.
If you have any questions about this process, please post them below here in a 'Comment'. I will monitor this Article and respond to you as quickly as I can.