As an IT person for a call center we are always looking for tools to make our jobs easier. Well I found the ultimate application for the job. SmartCode VNC Manager gets the job done.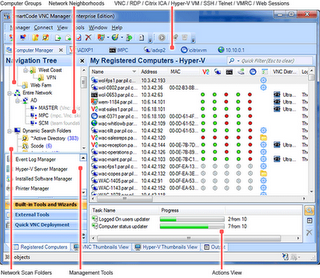 Its easy to get up and running just run the wizard to pull in computers from your active directory if you do not use windows AD then you can scan the network and import that way using ip ranges. Once you import the computers you can then do so many management tasks directly from the application.
Some of these items I use VNC Manager for everyday.
* Installing VNC on the computers within your network.
* View and Record screen captures using the vnc thumbnail view included in the application. This tool is expecially usefull to monitor groups of people at once and keep a screen capture log of the activity while you watch.
* Run scripts remotely on the computers within your network. We do things like delete text files, deploy software remotely, add local admin users. Yes these are things you can do via group policy etc. However having a tool to do some of these tasks is very nice.
* View logged in users. Great when you are trying to figure out what pc a user is on for the day.
* Quickly connect via rdp and vnc to remote desktops on your network.
* reboot all the computers on your network with just a couple button clicks.
* Join computers to the domain and even rename them.
* Manage the VNC install on the remote computer start/stop and even change its password all remotely.
This tool is a total time saver for Call Centers or anyone that needs to manager a number of computers and its low cost makes it even easier to sell to your managers.
SmartCode VNC Manager