#Citrix #XenDesktop #POC #Proof-of-concept
CONFIGURE VMWARE HOSTING IN CITRIX STUDIO
In
Citrix XenDesktop 7.6 Citrix Studio Configure New Site,
we examined the basic configuration of Citrix XenDesktop site using Citrix Studio. In this article, the focus is on connecting the Citrix platform to VMware Hypervisor by the way of vCenter and the SDK.
Assumptions:
The VMware vSphere server configured in a lab with storage
The correct Active Directory permissions are assigned to a Role in vSphere or a specific service account
Citrix XenDesktop is installed on separate server and the Site for POC configured
Log in to the XenDesktop Controller built for proof-of-concept, run
Citrix Studio
, expand
Configuration
, and click on
Hosting
, the right-hand side
"Add Connection and Resources."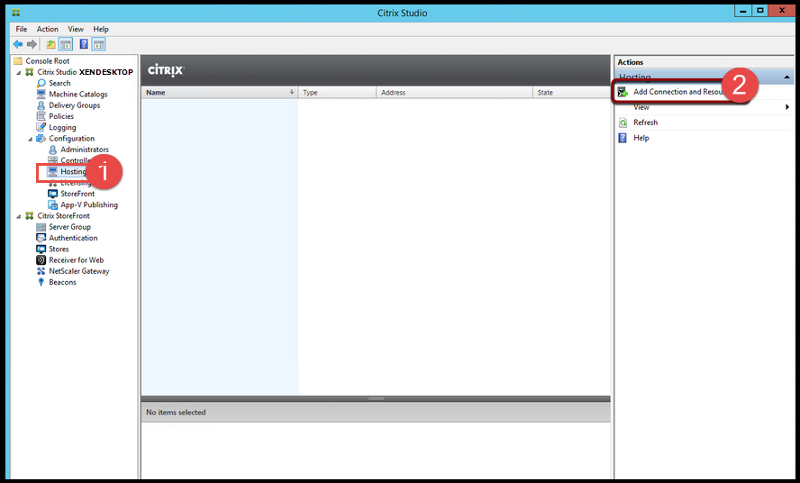 Add Connection and Resources
In the
Connection
page, select VMware
vSphere
as the Host type.
Enter
https://vspherepoc01.vcissgroup.com/sdk
as the vSphere URL. The URL must contain the FQDN of the vSphere server. This is where XenDesktop requires vSphere connectivity to SDK. Refer to
Part Two
for the HTTPS certificate steps.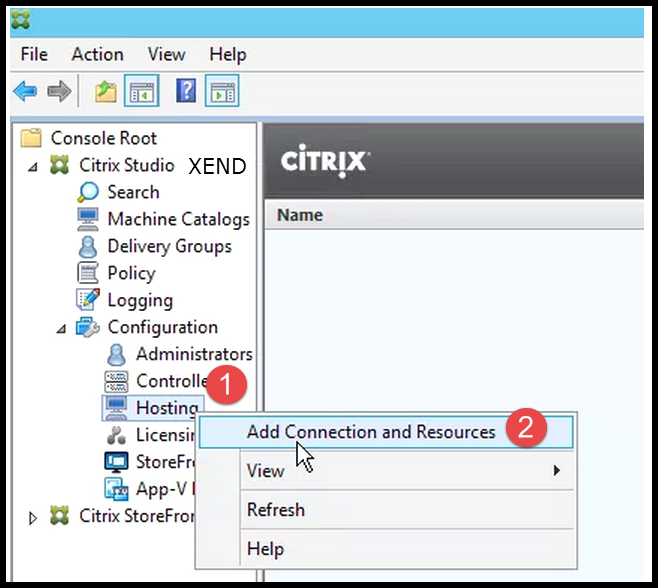 Note
: This runs in the context of a logged-on user who must have vSphere permissions or an appropriate role.
Enter the "
Address
", "
Username
", "
Password
" and "
Connection Name
" > Choose "
Studio tools (Machine Creation Services)" >
Click
Next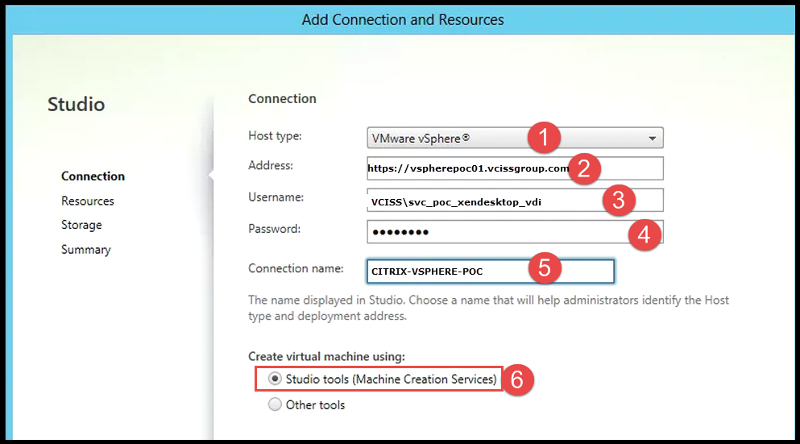 Click
Next
> XenDesktop connects as the Active Directory service account or uses the ID of the user currently logged on and performing the installation.
Permissions must match those provided in Step One for vSphere permissions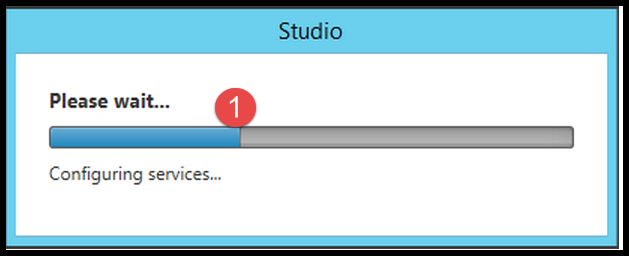 On the Storage screen, one should see the storage logical unit numbers (LUNs) available to the Citrix XenDesktop Site Controller. This is the storage configured as a prerequisite step. We have allocated two datastores of 1 TB each. We are creating
"Random Pooled Desktops"
so select "
Use same storage for virtual machines and vDisks
" >
Next.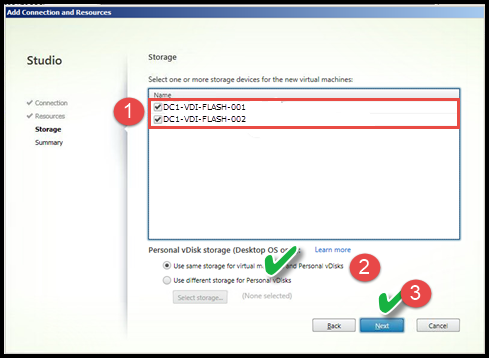 The summary screen provides a quick overview of the connection address, name, networks, and storage. Click
Finish.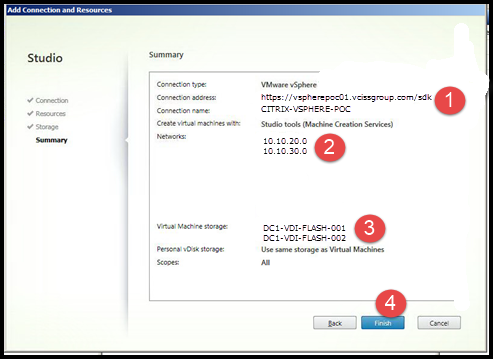 In Citrix Studio there exists a new "
Hosting
Connection".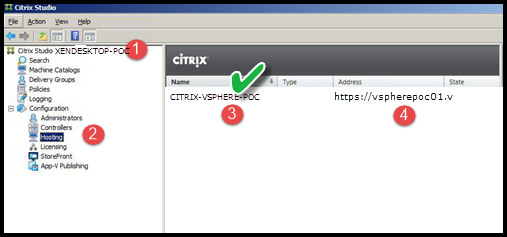 Now we want to run the built-in tests using the "
Test Resources
" option in Citrix Studio. Expand "
Configuration
" > Click "
Hosting
" > on the right-hand side click
"Test Resources."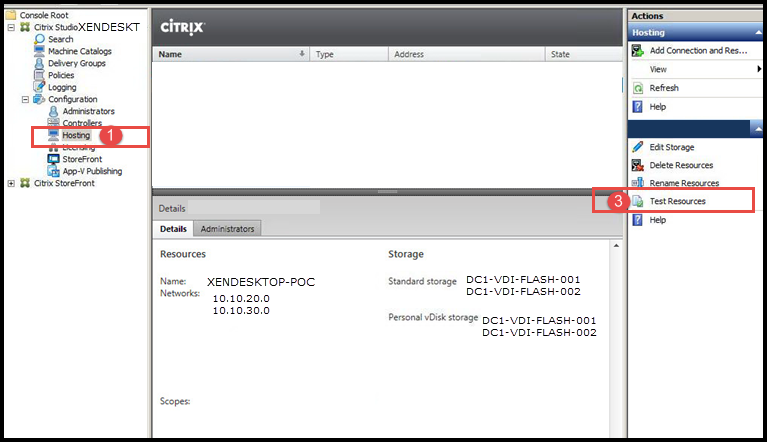 Test resources executes a series of tests then produces a report.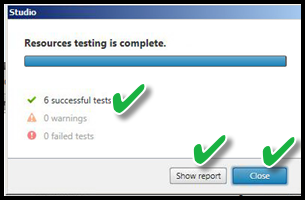 Check the report and remediate any issues found.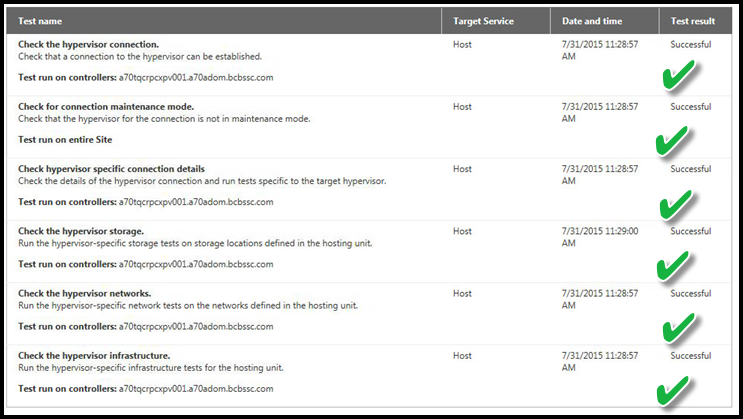 SUMMARY
In this section, we configured the XenDesktop site and created a hosting connection to VMware vSphere using the SDK. This was done without error because we addressed the SSL certificate issue in prior steps. After configuring the hosting section we ran the "Test Resources" task and reviewed the report.
ADDITIONAL READING SUGGESTIONS
Free Tools and Citrix Training
Citrix XenDesktop 7.6 Citrix Policies Advanced Printing
Citrix XenDesktop 7.6 Windows 7 Gold Image Creation
ACKNOWLEDGEMENT
Does this shared knowledge provide value? If this article has value, please click on "Good Article"
button to your right
. Knowing this knowledge is valued by others is motivation to continue sharing. Your support is greatly appreciated.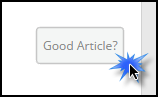 .