Citrix XenDesktop 7.6 Citrix Policies Audio
Citrix XenDesktop 7.6 Citrix Policies - Audio
This article demonstrates how to maximize audio (sound) during the Citrix session. The policies applicable to a local area network attached user with a dedicated workstation (distributed computing). The high bandwidth of a LAN (local area network) combined with Citrix redirection policies (from the server to client workstation) utilizing distributed computing design to enhance the end-user experience.
This article assumes the following prerequisites:
Business applications installed in XenApp
Latest version of Citrix StoreFront installed
Latest version of Citrix Receiver deployed as required by Citrix StoreFront versioning
Latest Virtual Desktop Agent (VDA) installed to correspond with XenApp Site Controller versioning
Citrix Receiver configured for Single-Sign-On to Storefront in the Virtual Desktop (VDI)
Applicable to LAN (local area network) users
Users use workstations or laptops (not thin clients)
This is appropriate for a proof-of-concept (POC) or where all users connected to the Local Area Network (LAN). This is the best practice configuration that maximizes audio and video Citrix settings for Local Area Network (LAN) based users.
Different policies apply where users originate from an internal remote site (Wide Area Network) or from Internet users. The Advanced Citrix Policies that follow allow enforcement of strategic settings to assure best-in-class Video and Audio.

CLIENT AUDIO REDIRECTION
Value: Allowed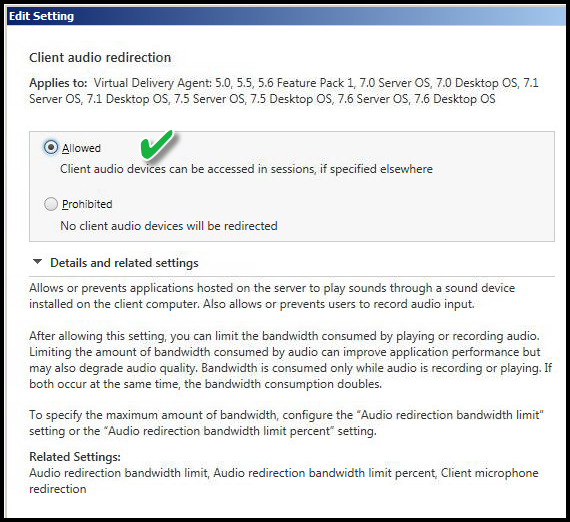 Explanation:
This setting allows for speakers, headsets, and similar devices installed to the client workstation of origin, like with printer redirection but for audio. An audio source in the Virtual Desktop might be a video from YouTube, streaming audio such as a podcast, music or sound from an internal training video. For purpose of this article, this is applicable to LAN attached users with dedicated workstations and speakers or headset attached.
AUDIO QUALITY
Value: High Definition Audio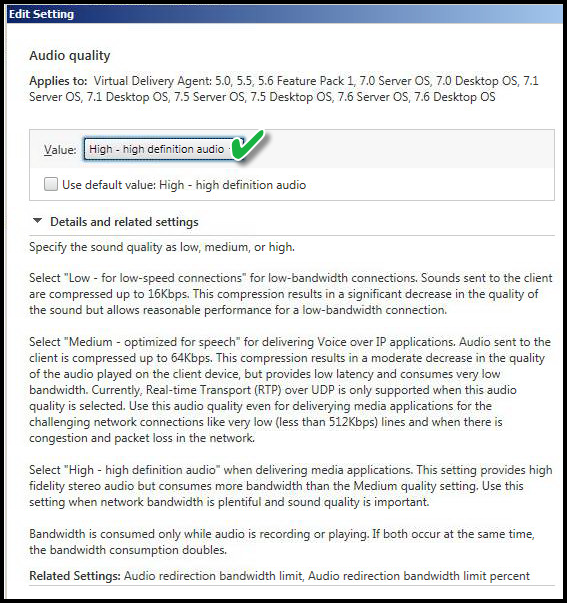 Explanation:
Set this to high definition audio for LAN-connected users. ince this is XenDesktop 7.6 I would need to make sure all users have at least version 4.3.x of the Citrix Receiver client installed. The users would also require adequate hardware to properly demonstrate the high-quality audio capability. Hardware such as digital speakers or headset is preferred. Using distributed hardware allows for dedicated sound cards or the use of the built-in sound chip on some motherboards.
AUDIO OVER UDP REAL-TIME TRANSPORT
Value:Enabled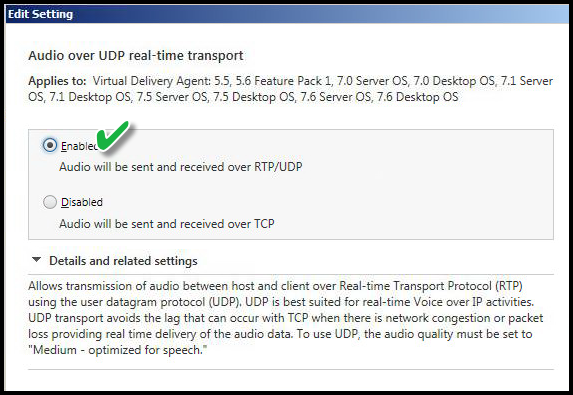 Explanation:
Real-time transport
(RTP) []1]
is a network protocol used for audio and video transport. User Datagram Protocol
(UDP) []2]
is minimalist and
connectionless
protocol. This is the appropriate setting to ensure the best quality of audio. If bandwidth is an issue I might disable this setting. Audio data transmitted with UDP is not encrypted except where Citrix Netscaler is in the path. If Netscaler is between XenApp/XenDesktop and Citrix Receiver - client end user device - the traffic is secured by Datagram Transport Layer Security
(DTLS) []3]
protocol.
CLIENT MICROPHONE REDIRECTION
Value: Prohibited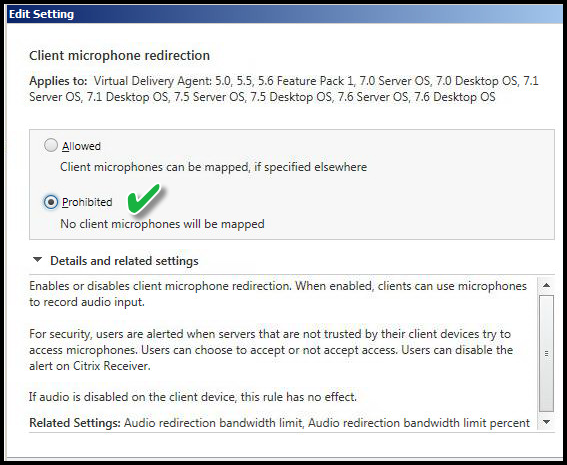 Explanation:
One reason to enable this setting is testing of Skype for Business. That is more of a Pilot phase initiative but due to the power of Citrix policies you can create a secondary policy allowing the use of a microphone. The catch is complexity. Trying to do too much with VDI during proof of concept or pilotcan cause delay. I recommend keeping it simple and HD video and audio are functions where Citrix outperforms the competition. Save the video chat and microphone requirements for after the successful proof of concept.
WINDOWS MEDIA CLIENT-SIDE CONTENT FETCHING
Value: Allowed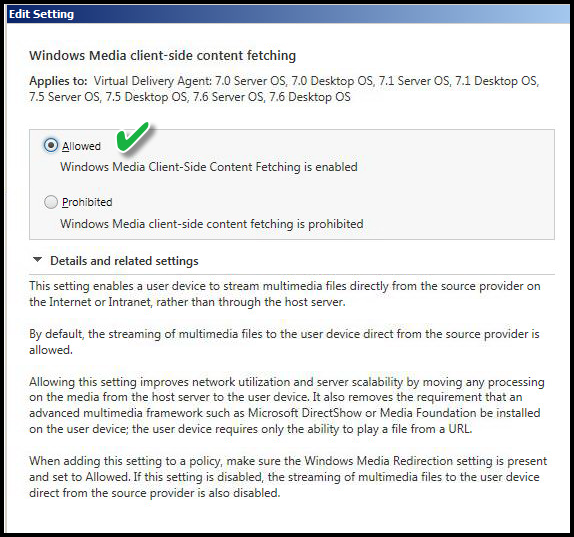 Explanation:
This is allowed by default but I prefer to enable it and show it as part of the policy for documentation purposes. Keeping the default setting is relative when users have dedicated workstations. This is one of several ways to redirect certain functionality to use the compute or memory on the workstation of origin thus removing that from the Citrix server.
WINDOWS MEDIA REDIRECTION
Value: Allowed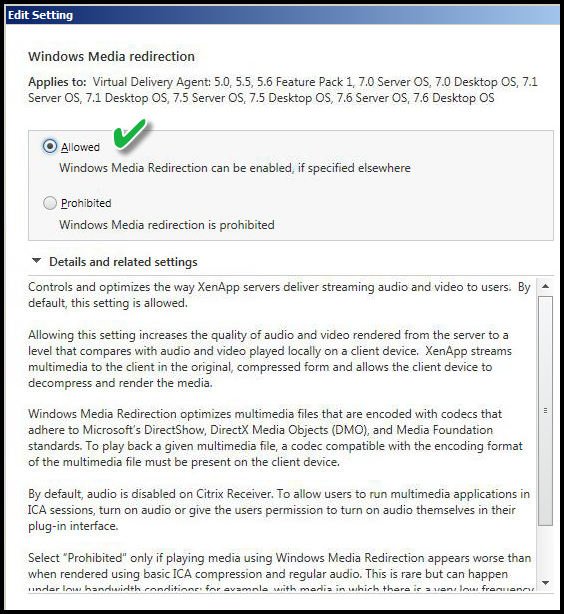 Explanation:
This setting allows for the best audio experience. XenApp or XenDesktop streams multimedia across the LAN to the client in its original form (no additional compression) allowing the client device to decompress and render the media. Keep in mind this is for Windows Media encoded files with codecs adhering to Microsoft DirectShow, DirectX Media Objects, and Media Foundation. This is another example of redirection policy that leverages internal workstations and where bandwidth is not a concern.
REFERENCE
[]1] RTP https://en.wikipedia.org/wiki/Real-time_Transport_Protocol
[]2] UDP https://en.wikipedia.org/wiki/User_Datagram_Protocol
[]3] DTLS https://en.wikipedia.org/wiki/Datagram_Transport_Layer_Security
ADDITIONAL READING
Citrix XenDesktop 7.6 Citrix Policies Advanced Printing
Citrix XenDesktop 7.6 Citrix Policies - Lock Down Peripherals
Citrix XenDesktop 7.6 Citrix Policies - Graphics and Audio
ACKNOWLEDGEMENT
Does this shared knowledge provide value? If this article has value please click on "Good Article"
button to your right
. Knowing this knowledge is valued by others is motivation to continue sharing.