A tricky Outlook problem where recent updates (Thursday February 19, 2016) cause POP email to download repeatedly.
More people use Microsoft Outlook than any other email client. A few people swear at it; but most people swear by it. I am one of the latter. I have had Outlook running since Outlook XP (V2002) and I have had the same PST ever since. Outlook has always worked properly for me. I am now using Outlook 2016 on my Windows 10 Pro ThinkPad. I run my consulting business with Outlook, so I need it to work perfectly.
A week ago this past Thursday (so Thursday February 19) my Outlook failed me. It started downloading POP3 emails repeatedly. Now this is a big deal; I do not need repeats in my Inbox especially when dealing with clients.
I tried SCANPST (Microsoft's Outlook PST repair tool) with no success. SCANPST.EXE can be found in C:\Program Files (x86)\Microsoft Office\root\Office16. You can run the program and it will open a browse window so you can locate your PST file. I tried (several times) deleting and remaking the Outlook Profile with no success. I tried repairing Office with no success. A chat with my email supplier proved that the repeated emails had the same message ID's and so the issue was mine, not an issue with my email supplier.
Wednesday, I purchased Stellar PST Repair Tools. Stellar tools can be found
here
This was an adventure all by itself. I built a brand new PST file and recovered the Stellar output into the new PST file. Removing all the error folders, restoring emails and email folders and checking against my other machine took about 3 hours Wednesday evening. I had email working with a new PST file.
With email working and (as far as I could see, all correct), I turned to the Calendar and discovered it had been restored to a non-Outlook folder. There is no way (that I know of) to import calendar entries from a non-Calendar file into the Outlook Calendar. Ultimately, I had to restore Calendar and Contacts from my original backup. This is a Stellar error. Calendar has to be restored to Outlook's Calendar folder (a special folder type). The screenshot below shows the special Calendar folder. This is MY Outlook, so there are limits to what I can present. Notice the special icon on the Calendar and Contacts folders.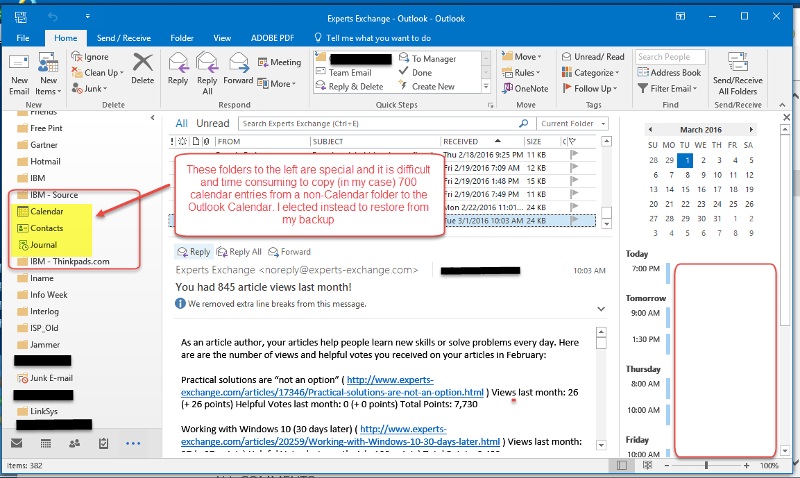 Thursday, it became apparent that the new PST file created by the Stellar repair process did not solve the problem. I was still getting repeated downloads of the same emails. Thursday evening, I uninstalled Office completely, and reinstalled Windows 10. I installed Office and patched everything. As a side note, reinstalling Windows 10 from the Media Creation Tool by Microsoft and keeping data and applications is quite easy. Mostly it is just watching paint dry.
Friday morning, email started repeating again, so all that work had really not accomplished anything. A comparison of the Outlook registry on my ThinkPad (problem machine) with the Outlook registry on my Desktop (no problems) showed no discrepancies.
Now at my wits end, the next step was more luck than skill, I looked at Outlook Add-ins and discovered Outlook on my ThinkPad had one more Add-in than Outlook on my Desktop:
Outlook Redemption Helper
. All I can find about Redemption Helper is that it tries to work around an Outlook Security Patch, is not a virus, but also not particularly helpful to me.
I had to start Outlook as Administrator to remove it, but it did remove cleanly. I started Outlook normally and so far since but 9:00am Friday morning, there have been zero duplicates. Cross fingers, I hope I have solved this permanently.
So what happened? My guess is that somehow in something I did installed this Add-in. I do not know when, but I know it was never part of Outlook on my Desktop machine. I think (and I think it is a reasonable assertion on my part) that Office Updates of Thursday February 19 conflicted with Redemption Helper causing the issue.
Later, I saw this
Microsoft Article
that reasonably confirms bug in Outlook Updates. In particularly difficult cases of repeating emails, you may need to uninstall the update until Microsoft issues a proper patch. You can return to a prior version of Office (Outlook) Click to Run with the following command (in the above Microsoft Article: "C:\Program Files\Common Files\Microsoft shared\ClickToRun\officec2
rclient.ex e" /update user updatetoversion=16.0.6366. 2068

I am fairly sure I have solved this issue, but using Outlook for another week will really convince me. I have a new PST file (first one in 13 years) and a fresh install of Windows 10 (which turned out to be very easy). Everything was where I left it. Indeed, soon Microsoft may issue another patch the properly addresses the problem.

It took in the order of 10 hours of my time to research the issue and make applicable repairs. So that was a week from Hell that I do not need again.