You might be putting your PC at risk when you borrow a Flash Memory stick from an office colleague or your fellow classmate and plug it in to your USB port. Within the next few minutes, you feel something has started running in background and gradually slowing down your PC's processing speed and each time you access your USB Drive, there has been something running at background jamming your PC speed and performance. Upon further investigations it is seen that the virus or Trojan auto-ran itself when you plugged your stick in.
Consequently, for Windows 7 users who have all the current security patches, the good news is you can prevent USB stick infections using the new built-in security tools provided by the operating system.
Windows 7 is an ultimate windows family member that is fully loaded with most of the security tools required to secure your system. Most of the common viruses are spread using USB drive, wasting a lot of time or creating a lot of issues, including file corruption, system slow response, annoying behavior of system and many more problems that can make your system unstable.
The entire above problem can be easily controlled and prevented by just making few very easy and handy configurations in your windows 7. Most viruses in USB drives spread by using autorun.inf style and copy few files in your system that start breeding and making your system unstable.
The Autorun function can now be controlled by following the under mentioned instructions in windows 7. There is no need to make any change in registry or to take risk to make your system unstable by making any change in registry.
Steps are as follows:
1. Go to Start Menu
2. Go to Control Panel
3. Go to AutoPlay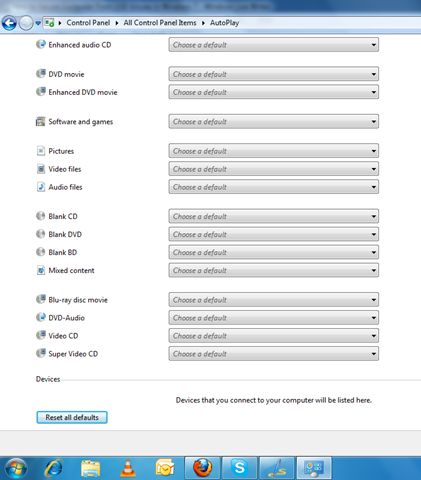 4. In AutoPlay you will find a list of available options to choose for right Autorun options for your connected CD ROM, DVD ROM, Program and games, pictures and many more but the important and interesting thing for this article is given at the end of the list and that is Devices.
5. Select the appropriate options for your connected devices and press the save button to apply the settings.
Now you have moved you PC to a self-protected castle against such auto-running devices.
Summary:
The Autorun feature of your flash memory stick, Mobile or Camera Memory Card, CD ROM & DVD ROM Drive can lead to Bad PC performance since the auto-run can initiate virus or Trojan attack. Windows 7 now has a feature (discussed above) that can control it.