So who is this article for?
If you are like most of the computer users out there, you probably only realize the meaning of 'System maintenance' after something goes wrong. This article is for you if you care about keeping your system working optimally and, of course, if you don't want to spend a single buck doing it!
Great. So what exactly is this 'maintenance' you speak of?
When I talk about system maintenance, I'm mainly talking about keeping your PC working well on 4 aspects:
a) Ensuring the disk is defragmented
b) Making sure the system registry is 'clean'
c) Keeping only files you need
d) Keeping only the programs you need
That's a lot of things. Are you sure I can get this done for free?
Absolutely!
So what's new about disk defragmentation? Doesn't windows have it's own application to do that?
Yes, Windows does have it's own application to do that. However, since Vista, the Windows Defragmentation application actually organizes the data on your hard disk to suit it's own needs and not necessarily to free up space. It can on occasions actually result in lesser free space after completion. That was quite a shock when I made the switch from XP.
So what do I use for Disk Defragmentation?
Auslogix Disk Defragmenter is a great free tool to use for all your disk defragmentation needs. Apart from being free, it comes packed with some great features. Besides being able to defrag your drives, you can also choose to defrag a particular folder, or even a particular file. Plus you can also schedule to run it at specified times. I've personally found that it works much faster than the Windows Application for Defragmentation. You can get it
here
.
Screenshot: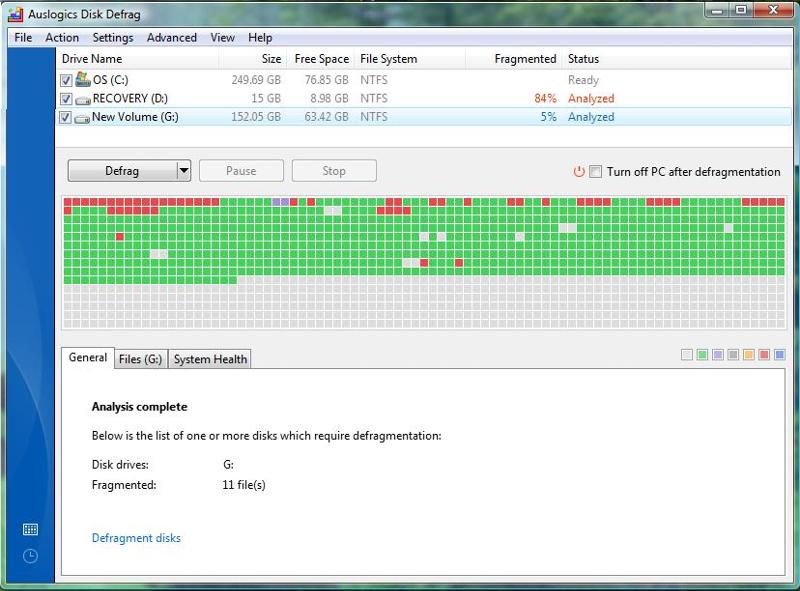 Okay, and what do I do about the system registry? Do I even need to do something about it?
Over time, your registry might get rather bulky and cluttered. This happens mainly after a number of windows updates, software installations and removal. A smaller, cleaner registry automatically means faster running of applications who use the registry for critical functions. So, yes. You most certainly will want to ensure your registry is cleaned up to really have a well maintained machine.
And what can I use to clean my registry?
To clean up your registry, I suggest a neat little free application called "Eusing Free Registry Cleaner". I've tried commercial applications as well as this, and was surprised to see this works as well as the pay-and-use registry cleaners that I tried out. For maximum safety, Eusing Free Registry Cleaner automatically makes a backup of your registry before making any changes to it. You will be able to restore any changes made using the software by choosing Restore registry backup.
You can get it
here
.
Screenshot:
MainInterface.jpg
You mentioned something about keeping only files I need. What did you mean?
After using a computer for a while, after millions of 'copy-pastes' we might not realize that there might be many copies of the same file on our system. This, obviously, is space which could be utilized for other things. Makes no sense to have two or more copies of the same file unless it's an actual backup now, is there?
Makes sense. How do I know which files have more than one copy?
You can try this free tool - "Easy Duplicate File Finder". As the name suggests, this application lists out all files which may have more than one copy on you system. You can then see this list and easily spot out things which you know are redundant copies. It not only allows you to find duplicates, but you can also change the settings so it won't scan the important system folders. This is important for those of you who don't like taking chances with accidentally deleting an important system file.
You can get it
here
.
Screenshot:
easy-screenshot.gif
Great! Now tell me about keeping only those programs that I want.
We are all aware that windows comes with it's own Add/Remove program tool. While this is sufficient for simply running installation and uninstallation files which come with your software, there is more to it than meets the eye. Some software add registry values which they don't uninstall. Sometimes certain files or folders are not removed after uninstalling a particular application. In the end, even though you've technically uninstalled this application, there are still parts of it which stay on your system.
How do I get rid of it?
I suggest using 'Revo Uninstaller Freeware'. This tool effectively scans your system for all traces of an application and removes everything to ensure that any application uninstalled using Revo is completely removed from your system. You can get it
here
.
That sounds like a neat tool.
It is! In fact, apart from the application uninstaller, you can also find and delete junk files, temporary files and folders, your browser history and manage those programs which run on system startup.
Screenshot: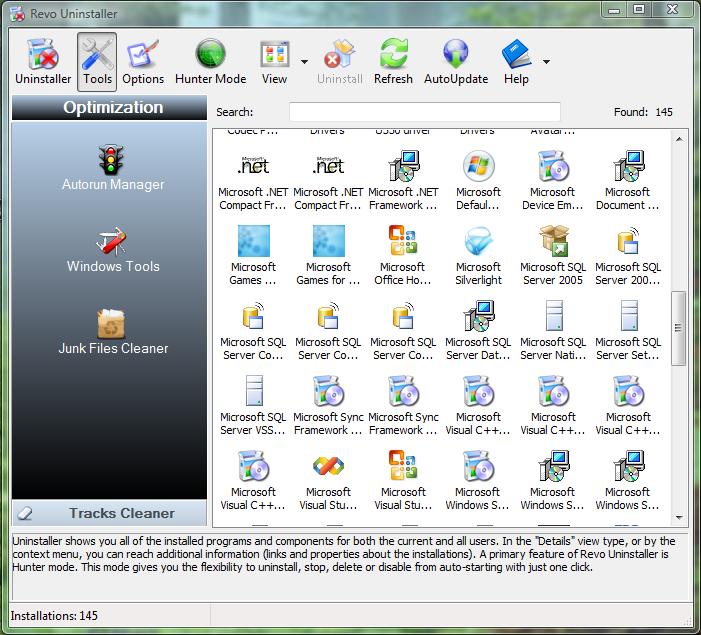 So why do I go for all this instead of a pirated version of some paid software?
I could begin preaching about how piracy is wrong here but, apart from the fact that piracy is illegal, getting original (and in this case free) software means you can:
a) Get product updates without hesitation,
b) Be sure that your software contains no spyware or malware of any kind and
c) Save money, and still own a well tuned computer!
Gee, thanks. Is there anything else?
Yes! Please mark this article as helpful if you thought it was :-)