Worldclient or Outlook Connector are two different services provides by MDaemon to open and view MDaemon data, each application hold their data in different way. for example worldclient shows contacts, calendar, data using the content of MRK files (Contacts are stored in a AddrBook.MRK files, Calendar items are stored in Calendar.MRK Files, Task are stored in Tasklist.MRK files) each of these MRK files will be stored in that particular data type category of parent IMAP folder.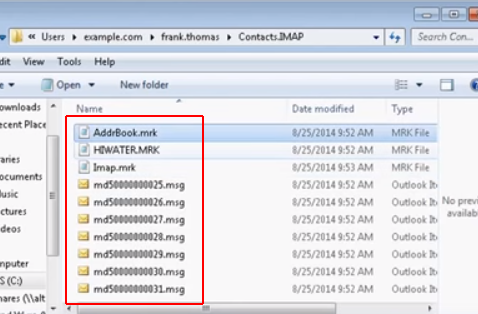 How Worldclient and Outlook Connector reads data? - MDaemon contacts or AddrBook.MRK file will be stored inside the contacts IMAP folder and worldclient read those MRK files but on the other hand Outlook connector read data from the MSG file stored inside the contact.IMAP folder, Calendar.IMAP folder, etc. these files are useful for certain situations.
Suppose that, you have accidentally deleted your contacts from MDaemon then these contacts will also deleted from Outlook connector as well,
Well if you have backup of those deleted contacts in your system than you can restore and recover all deleted data by drag and dropping old backup file to original location. When you will refresh your screen all the deleted data will be recovered automatically. Basically MDaemon is all about MRK files, MDaemon saves its all data in MRK file for particular category.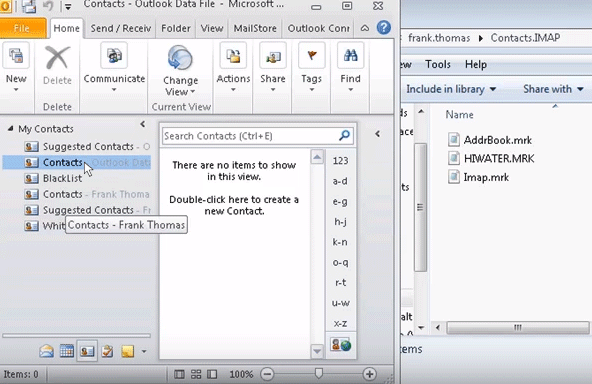 Now we are talking about how to read MRK files without having MDaemon application
"If your MDaemon has stopped unexpectedly, crashed or damaged through virus attack but you want to read your MDaemon mails and other data like calendar, meetings, tasks, contacts, etc."
In above situation, user want to read and view his/her MDaemon data without MDaemon application. MDaemon MRK files are only readable by MDaemon application. Still if you want to open MDaemon MRK files (AddrBook.MRK, Calendar.MRK, Notes.MRK) then you can go with any MDaemon MRK Viewer tool which allows you to open and read data of MDaemon MRK files. I found very useful reference link that help you to understand how to View MDaemon Files, data and directories without MDaemon application.
TechNet Gallery Reference
Convert Data from MDaemon Environment to Outlook, Windows Live Mail, Thunderbird
Now suppose you are in a situation where you are trying to switch MDaemon environment to any other email client environment like Outlook Exchange Server, Mozilla Thunderbird environment, Windows Live Mail environment. For this you have two options, first use synchronization method which is quite difficult because of firewall and lots of protocols. Second option is to go with any external device which helps you to change your email client environment together with same data and details. For such big migration people want their whole data from one application to another one along with AddrBook.MRK, Calendar.mrk, Notes.mrk data…