Wondering how you can get your new website ranking on Google Search so that people find you online? The answer is Search Engine Optimization (SEO). So how do you Start Ranking a New site with SEO? Below is a starter guide to get your new website SEO off the ground.
If you want to get a newly created website search engine visibility you'll need to get it ranking on Google Search Results. Below I've tried to piece together a beginners guide to doing this, that is, initiating Search Engine Optimization on a new website. The aim of SEO is to rank web pages at the top of Google Search Results for certain sets of keywords or keyword phrases.
SEO is complex. If you plan on doing your own SEO, you'll want to familiarize yourself with some authoritative
SEO starter guides
.
I great way to start learning the
basics of Search Engine Optimization
- i.e. the art of ranking web pages at the top of Search Engine Results - is to
Download Google's official Search Engine Optimization Starter Guide
. Thoroughly review the SEO starter guide to gain an basic understanding of what SEO is how it works, and what you can expect it to do for your website.
Below are a few of the first steps you'll want to take.
Make sure your website is Google Friendly
Add your website to
Google Search Console
. Once you verify your website with Search Console, formerly known as Webmaster Tools, you'll get a message from Google that includes five ways you can "Improve the search presence" of your website in Google Search Console. The message should look something like this.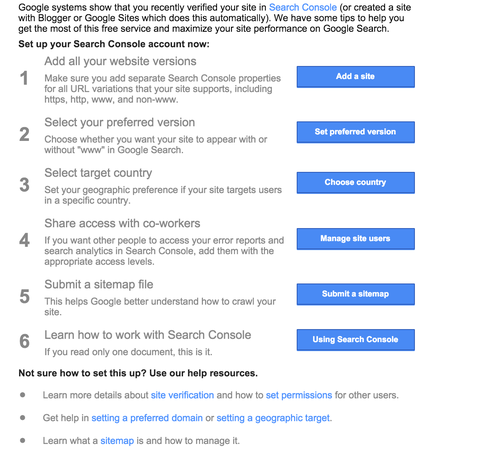 Carefully follow the steps provided and ensure that each is carried out correctly. This will ensure that your website is set up properly with Google, the search engine you'll want to focus on. (Optional: If you plan on keeping up with your own SEO you may also want to
add your website to Google Analytics
. Once you do this you can connect the property you created for your website in Search Console to the Google Analytics property you set up.)
Once your website is properly set up with Google and you've ensured its being indexed and crawled in Search Console, you can start on the On-Page SEO of your site. This involves optimizing the posts and pages of your site for search engines.
A few ways to perform on-page optimization on a site include the following:
Setting up your posts and pages to that they have SEO friendly URLs. The Google SEO Starter Guide I linked to above has a section on "Creating Google-friendly URLs."
Create search engine friendly Meta Titles & Meta Descriptions that target keywords for which you want your site to rank.
Populate the web pages of your site with quality content that is relative to the topic associated with the keywords for which you want your website to rank.
Include SEO friendly images. As a rule of thumb, try to use at least one and no more than three images on each page of your website. To further optimize images to rank on search results, and thereby help the web pages on which they appear rank, use pictures that are relevant to the topic of each page. Use keywords in, but not necessarily as, the image title and alt text of the images.
Hope this beginners guide to doing SEO on a new site helps you get the SEO of your new site started on the right path. Keep it up, you'll be ranking on page 1 in no time with no need to hire a search engine optimization expert.
Originally published by Joseph Chierotti on Quora.com