Zimbra is famous for its platform independency, ability to manage multiple user accounts, easy assimilation with 3rd party applications, social network certification etc. Here, we discuss about how users can move multiple Zimbra user accounts to Exchange, the next best alternative to Zimbra.
Zimbra is a collaborative server suite, which includes both the components of a client & server and desktop client. Available in two versions : open source and closed source, the first one is FREE (for small organizations, not requiring any Zimbra support) and the second one is PAID or commercialized edition (for large scale businesses).
Zimbra Desktop
is a FREE desktop based email client, which can be easily run and operated on multiple platforms – Windows, Mac and Linux.
Zimbra Collaboration Server
(ZCS) is a web client, which is fully-featured edition supporting sharing of emails, contacts, calendars, documents etc., via AJAX interface.
How Zimbra Desktop Saves its Data ?
The default location of Zimbra for saving all its accounts data is :
C:\Users\admin\AppData\Local\Zimbra\zd_backup
But, this is not an automated process. It means that, Zimbra doesn't create any backup of any kind of data on its own. This can be proved when this zd_backup folder is opened, it shows no data and is empty, as shown below :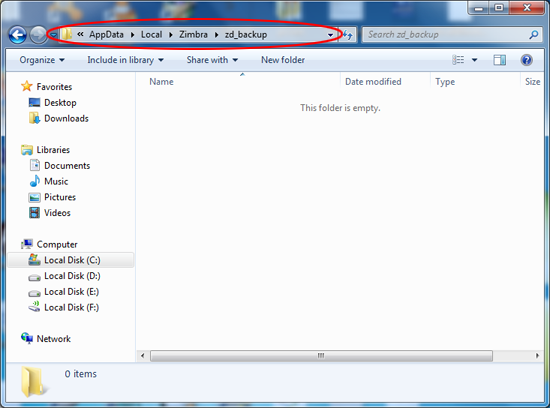 Users need to manually create a backup of all its Zimbra user accounts, using the following process :
After opening Zimbra, go to
Preferences
Tab. Under this tab, click on
Backups
option, appearing on left pane. Here in the right pane, under configure Backups, the complete list of all the configured accounts will appear. Select the account for creating the backup and click on Backup Now option. Follow the same process for all the configured accounts.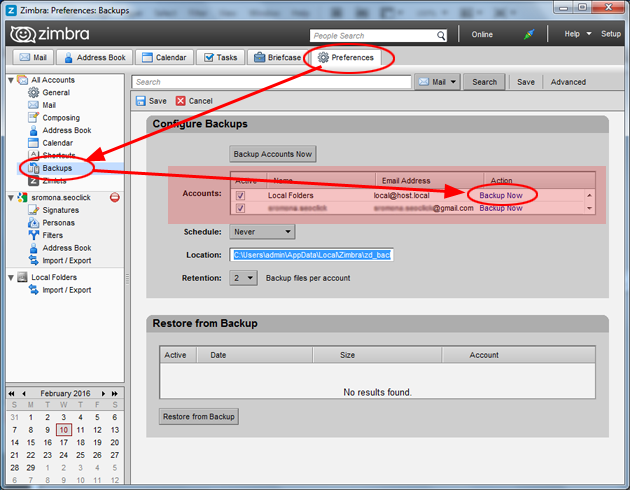 Now when this
zd_backp
folder is opened again, all the user accounts backup will appear in TGZ format, one for each account.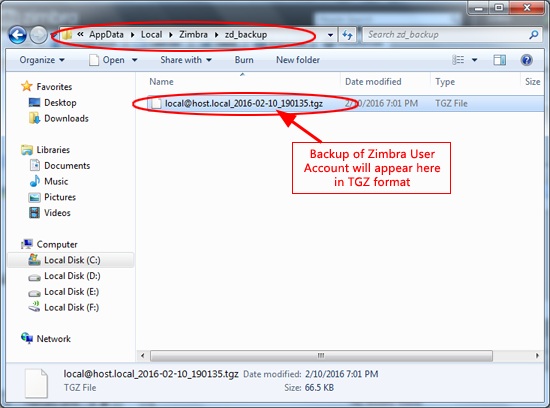 Another alternate method is there for extracting Selective Zimbra data at user defined Location
The above method will extract all the items (emails, calendars, contacts, notes, tasks, briefcase etc.) of a particular user account and save them in a single TGZ file. There is also an alternate method that will help you extract selective items only, and that too at your desired location.
After Opening Zimbra, click on
Preferences
Tab, Click on
Import/Export
option on the left pane. Under
Export
option appearing at right pane, Click on
Advance Settings
and under
Data Types
, click on the items (Mail, Address Book, Calendar, Tasks, Briefcase), you want to take backup of and click on
Export
button. Now browse for the location where you want the save the backup of the account in TGZ format and click on OK button.
Note
: repeat the same process for each Zimbra user account
.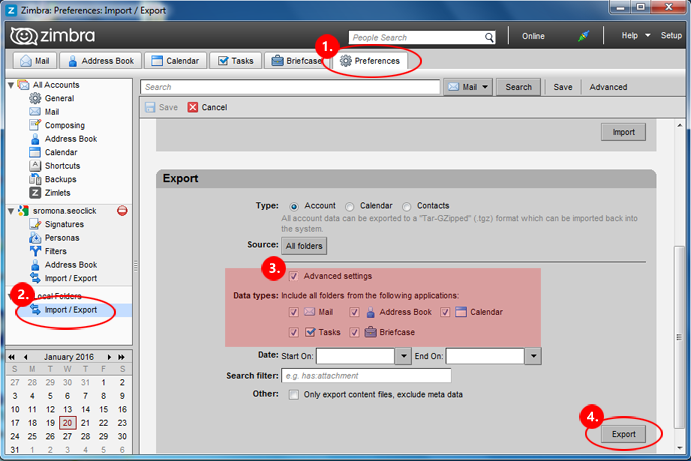 These TGZ files are the zipped files, which need to be extracted for obtaining the folders containing Zimbra user account's data.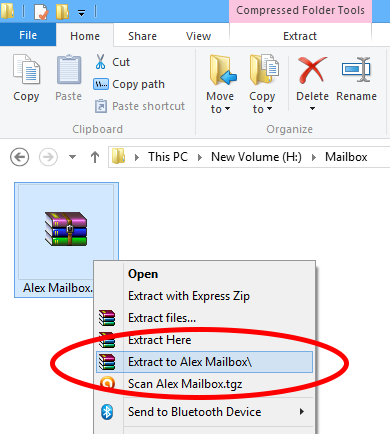 How to move Multiple Zimbra User Accounts to Exchange?
Since these TGZ files are the native files of Zimbra and are not recognized by any other application. So to move Zimbra data into Exchange, a third party application needs to be used, which will provide 100% conversion results with no data loss.
Zimbra Converter
is such an application which has all the capabilities to convert all the Zimbra data to PST format. Designed with powerful algorithms, the software allows conversion of Zimbra mailbox to PST in two modes : Single Mailbox and Multiple Mailboxes. Data created with single mailbox will be saved in a single PST file and data converted using multiple mailboxes option will be saved in individual PST file for each mailbox.
Also, with all the data items of Zimbra's user accounts being converted into PST format, there is no requirement for any other conversion tool for separately converting emails, contacts, tasks, notes, calendars, briefcase to PST file, as the software handles them all and easily perform the conversion process, singlehandedly.
Once the Zimbra to PST conversion is successfully over, the converted PST files can be easily imported in MS Exchange by running the following cmdlet on Exchange shell :
New-MailboxImportRequest
Example :
for importing the PST in Johan's account, enter the command :
New-MailboxImportRequest –Mailbox Johan –FilePath \ mymachine \ PST-Files \ Johan.pst

Other than importing Zimbra mailboxes to Exchange, via PST file, users can easily move these PST files into Office 365 and all Outlook editions supporting UNICODE format (2016, 2013, 2010, 2007, 2003). When viewed in Outlook or any other application, it can be seen that all the converted items get stored at their respective places, i.e., email messages in email section, Address book in contacts section and so on.
Conclusion :
Zimbra Converter provides handy solution to users who are waiting to move their
multiple Zimbra user accounts to Exchange
, Outlook and Office 365.