This is an article about Leadership and accepting and adapting to new challenges. It focuses mostly on upgrading to Windows 10.
In the world of Information Technology, there are a great many ordinary users and individual people ("homeowners") who do what someone else tells them what to do in the area of information technology and computers. I like to face challenges head on and see what new technology can do. This article is about leadership.
Background:
Microsoft has recently issued Windows 10, and appears to be determined to make people upgrade their Windows 7 and Windows 8 computers to Windows 10. For the record, I upgraded my Windows 8.1 ThinkPad X230 to Windows 10 last August, and I replaced my ThinkCenter Windows 7 machine with a new ThinkCenter Windows 10 machine last December. Both are working well and from the point of view of reliability, I know I can depend on both of them. Here is a screen shot of overall reliability: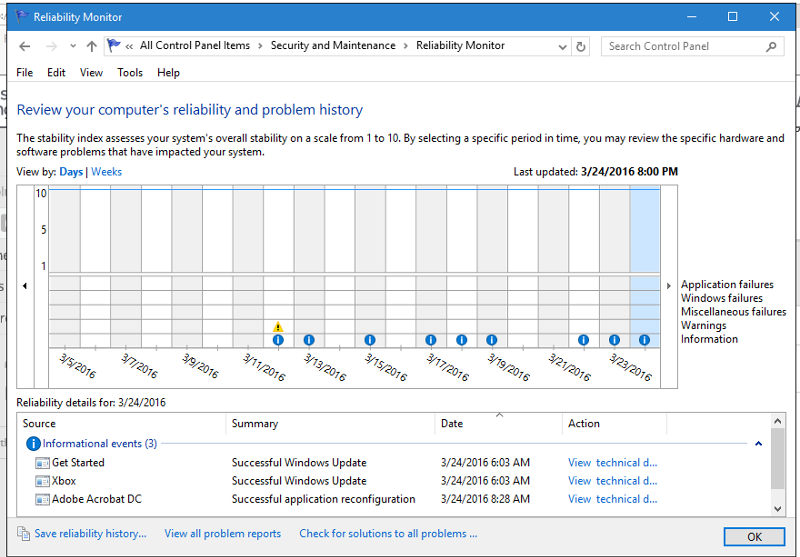 I was prompted to write this article because of some recent past posts and discussions where members here have said Windows 10 does not work properly and so recommend against upgrading. In fact, it does work properly assuming it has been set up properly on Windows 10 compliant hardware. Every machine of my own and all the machines of friends and colleagues that we have upgraded all work just fine.
Yes, yesterday's legacy antivirus is likely to give problems, many old VB6 applications have failed, really old Office might or might not work, but likely not well if it does install, and so on.
Skipping Windows 8 – Bad Move:
Further, many people skipped Windows 8 and this was a mistake, predominately because they missed a tremendous learning opportunity. They also missed upgrading machine hardware to be Windows 8 compliant, and missed the fact that a lot of Windows 7 software supplied by computer manufacturers does not work in Windows 10. Old Windows 7 machines may not even upgrade; newer Windows 7 may well upgrade but the updating step getting rid of baggage takes a long time. One ThinkPad I upgraded from Windows 7 was old enough (a little over 3 years) that I finally had to gut it to nothing (except Data) and start fresh. Now it runs very well.
https://www.experts-exchange.com/articles/20459/Cleaning-up-a-Windows-7-Machine-A-story-about-viruses.html
Leaders should not be standing back from these challenges. Leaders should be embracing new technology and determining how to make it work and determining what software needs to be upgraded to ensure success.
Leaders should have run Windows 8. It did run fairly well – well enough for me to support my consulting business for 2 years on Windows 8. It had its share of reliability errors, but I never lost anything. But because these people did not run Windows 8, they largely have no idea that Windows 8.1 was a standalone operating system and not a service pack update. People who did not buy or update modern machine with Windows 8 were blissfully unaware that Windows 8 drivers (unlike Windows 7) were a lot closer to Windows 10 so that that path from Windows 8.1 to Windows 10 was much easier than the path from Windows 7 to Windows 10.
Too many purported leaders are standing back waiting for something or someone to force them into Windows 10. That is not leadership. Leadership means getting out in front, not following along.
The Challenge of Independent Consulting:
Being in business for oneself is very illuminating. People (particularly management) want to know what is out in front of them and they want to know what they should do. When they saw me running Vista reliably and successfully, they knew they could trust my views on software. When they saw me running Windows 8.1 reliably and successfully and when I told them Windows 10 was on the horizon and their reasonably new flock of Windows 7 machines were just fine until new machines came with Windows 10, again they knew they could trust my views. I started consulting with Windows XP and led clients out of Windows 98. I soon enough was running Windows 7 (after running Vista for 18 months) and led clients into Windows 7. Now I run Windows 10 after running Windows 8.1 for a couple of years and I am now leading clients successfully into Windows 10.
In another article on consulting, I noted that I have VMware Workstation with a variety of guest machines. I have no trouble supporting Windows 7 because I have a Windows 7 guest complete with Office 2010 on my Windows 10 machine.
http://www.experts-exchange.com/articles/17320/Independent-Business-Consulting-later-in-life.html
In this world of information technology, most people are followers. If you wish to be a leader, you need to get out in front and adopt new technology and office software. Know what works and what does not work and why. Know what to adopt and know what to leave behind. I have been successful this way and facing challenges head on is part of this success.
Benefits:
Now that I have upgraded my ThinkPad X230 to Windows 10 and acquired a ThinkCenter M73 Windows 10 desktop, I do not have to upgrade for a while (my guess is that I am stable for the next 5 years).
I got on the Office Subscription platform with Office 2013 Click-to-Run and upgraded free to Office 2016 shortly after Windows 10 came out.
I refined my ideas on Remote Access and now have remote access to my home office network. This has been beneficial and I wish I had done this sooner.
https://www.experts-exchange.com/articles/28139/Remote-Access-for-Individuals-and-Small-Business.html
I have upgraded all my software to the most current versions and now all of it is working smoothly in Windows 10.