Transferring data across the virtual world became simpler but protecting it is becoming a real security challenge. How to approach cyber security in today's business world!
Looking after organizations data integrity, stored information confidentiality and network traffic security is becoming a major challenge nowadays.
Transferring data across the virtual world became simpler but protecting it is becoming a real security challenge.
Business security plan approach
IT security process and design are key to protect the digital information of a business. "Who can access what? When? And how" are the big questions to ask and answer in order to maintain any IT security system in term of Data confidentiality, Integrity and Availability.
Defining "services and users" access levels ("who can access what?") will be a key to answer a business data confidentiality and security. This task will become harder with multi-departmental/group companies.
The best way to minimise its complexity will be by following a simple security system design and by knowing what to secure and managing security groups for individual functions…

In addition, a
Business Continuity Plan
is to be created and reviewed on a regular basis and whenever needed as IT evolves. Hiring external auditors is much recommended as they approach the security risk from a neutral point of view and they can move the process faster.
Understanding the IT infrastructure and the type of IT incidents is another important addition into understanding the IT environment in terms of security weaknesses and strengths.
A good example will be to have a regular look on content-filtering and web analysis systems logs. Keeping an eye on the network changes (maybe using a third party software) will also help to report the activities of network users in order to identify the kind of threats that are likely to occur in the future.
IT security from Plan to practice
Implementing a security policy for an organization should start by making sure that the staff within the business are IT security aware which means that they will need to know the common risks which will expose the organization to security threats.
The IT function in an organization is not the only responsible unit to maintain IT security; It is a collaboration of processes and policies which need to be maintained across different business functions. Injecting IT security awareness into an organization culture by making all security rules clear, available at any time for the staff is always a good start.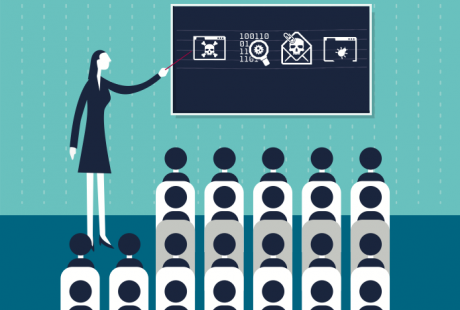 In today's world, organisations should also ensure they are
PCI Compliant
if they were to store customers' financial details. They need to make sure that their IT policies meet their legal and regulatory requirements of their covered "geographical area" information security policies.
In addition, applying hardware and software security measures by deploying firewalls, intrusion prevention and detection systems, honey pots and antivirus systems will definitely decrease the risk of malicious attacks. Pre-defined IT policies and rules (including password and data access policies…) available in the business routine operational model is nowadays the key to start building a secure IT environment.
Conclusion
Defining the organization IT security strengths and weaknesses is also a key to have a healthy secure IT system. Investing in a Cyber Security audit will definitely improve a business continuity plan and will work best when different business functions are involved, otherwise it will become useless.
Having regular penetration tests and external Cyber security audits will definitely improve the IT security level for IT systems as well as ensuring that all systems have up-to-date patches.