This article will elaborate 5 Free Exchange Server tools introduced by Microsoft that simplify Exchange deployment by testing, monitoring the server. Every Exchange administrator must give them a try!
Microsoft Exchange Server is the most widely used mail server in small as well as large organization that maintains large database. The larger the Exchange database becomes, the more utilities are needed to manage it. Hence, Microsoft introduced plenty of tools to make Exchange deployment easier for administrator. In this article, I will be explaining 5 best free tools for Exchange Server.
Microsoft Exchange PST Capture Tool:
PST Capture application is designed to capture all available PST files in a network so as to convert them to Exchange mailbox. Once the tool has finished searching Outlook PST files, it will import them to Exchange server and Exchange online. The software simplifies the large-scale task of Exchange admin as it searches, list, and import each and every PST file in an instant.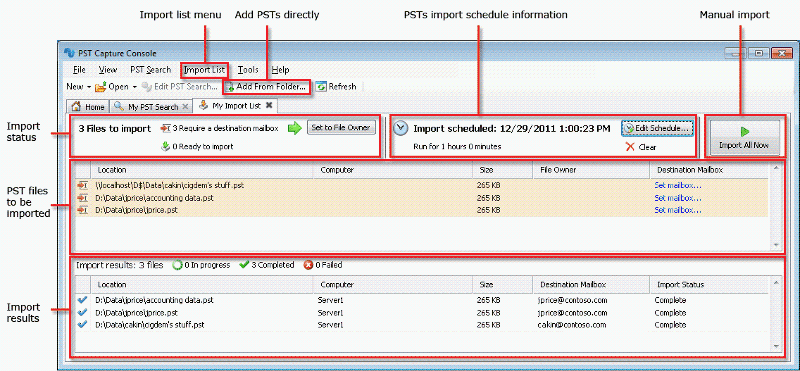 Log Parser 2.2:
Log Parser tool has its own benefits in Exchange server environment that helps administrator to query large amount of data for specific information. The tool provides universal query access to text-based data such as log files, XML files and CSV files. Besides, the application provides key data sources which includes Event log, registry, file system, and Active directory. Log Parser generates text-based output of your query. Apart from this, it gives output in SQL, SYSLOG, or a chart format.

Exchange Server User Monitor (ExMon):
ExMon is being widely used by almost all the Exchange administrators to evaluate client-side Outlook data in Exchange Server environment. In addition to this, the utility helps in determining the current utilization of resources such as CPU usage, information about user's email client & system. Exchange Server User Monitor further assist administrator to make better future plans for the health and performance of Exchange server. Below is the information that ExMon tool displays:
Display Outlook editions used by clients
Outlook cached Exchange mode or classic online mode
IP adresses of clients
Outlook clients' data examining
Display resources use like CPU usage in percentage, server-side processor latency, network latency, bytes out, bytes in, processing with Outlook 2003 MAPI and later versions.


Exchange Remote Connectivity Analyzer (ExRCA):
It is a web-based application that enables Exchange admin to troubleshoot connectivity problems. ExRCA is a powerful Exchange Server tool which assist administrator in determining and resolving the issue by performing Exchange ActiveSync connectivity test, Exchange Web services connectivity test, Microsoft Office Outlook connectivity test.

Jetstress:
List of top 5 Exchange admin tools cannot be complete without Jetstress application which is mainly used to simulate disk input/output (I/O) load of Exchange Server database and log file. This utility monitors the performance of storage by using administrator-defined parameters. Once Jetstress has completed simulating disk subsystem, it generates result as pass/fail.