My experience with Windows 10 over a one year period and suggestions for smooth operation
Windows 10 has been out nearly a year now and at this point, Windows 10 and Windows 7 are now the two predominant Windows operating systems left standing. There are about as many Windows 10 machines as XP, Vista, 8.1 and 8 machines combined as of July, 2016. While there remain millions of Windows 7 machines right now, Windows 7 will die out as all the others before it. If you are still considering the free upgrade to Windows 10 and if your machine will run Windows 10 (not all machines will) then there is about a month left to act.  
I have had Windows 10 running on my Lenovo ThinkPad X230 since early August, 2015, and I have written several articles about Windows 10. Look in my Profile here in Experts Exchange and click on Articles Written should you wish to peruse them.  
This article is about making Windows 10 run reliably and smoothly. I wrote this article because a lot of members are stumbling over Windows 10 problems and some posts suggest Windows 10 is full of bugs. Neither issue needs to be true on a solid machine with Windows 10 properly installed. The current build of Windows 10 (Version 1511 – Build 10586.420) is about as reliable as Windows 7 and has no more bugs than Windows 7. The end of this July promises Version 1607 and I expect it will be a decent upgrade when it comes out.
You can see how reliably my system runs in the Reliability Monitor History screen shot below. Go to Control Panel, Security and Maintenance, and pull down Maintenance. Click on View Reliability History.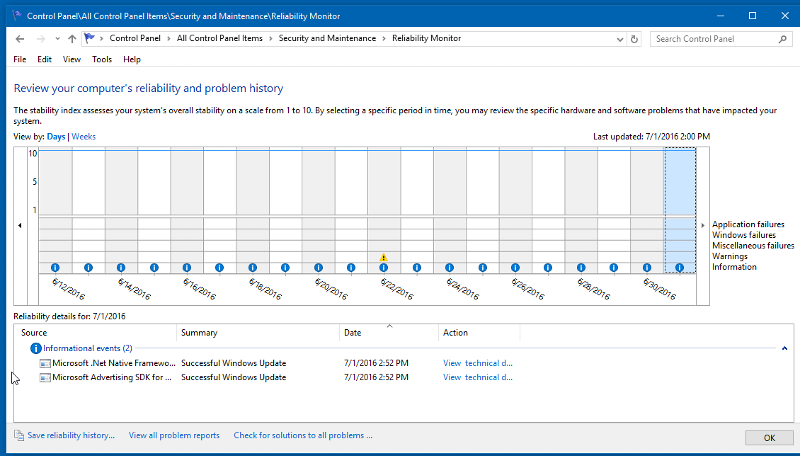 Most of us who are running Windows 10 took advantage of the free upgrade (end of July 2015 to the end of July 2016) on an existing machine. That is how I have Windows 10 Pro 64-bit on my ThinkPad X230. It was originally a Windows 8 machine and I upgraded to Windows 10 in very early August, 2015. Late in 2015, I got a Lenovo ThinkCenter M73 with Windows 10 Pro 64-bit pre-installed. Both machines work very well and both are reliable. Upgrading to Windows 10 on a machine that came with Windows 8 should work fine. The machines I upgraded from Windows 8 to Windows 10 are all working well, and a Windows 8 machine certified for Windows 8 is the best base for upgrading to Windows 10.  
Upgrading from Windows 7 to Windows 10 has been another story. The only machines I upgraded from Windows 7 to Windows 10 smoothly and problem-free were new out of the box. Even then, I first uninstalled all the Windows 7 vendor software. Windows 7 machines that were older and/or well used have proven (in my experience) to be very poor candidates for upgrading. The oldest machine had to be recovered back to Windows 7 and the others had to have Windows 10 installed fresh and software reinstalled.  
Any time there is an issue with an operating system, the issues can be big or the issues may be small. I am going to discuss big issues first. If you upgraded from Windows 7 and did not remove non-compliant Windows 7 software and/or the machine was infested with viruses and malware, you may be best to reinstall Windows 10 fresh. If you are having significant issues with any machine running Windows 10, it may be best to install Windows 10 fresh.  
Installing, Reinstalling and Repairing Windows 10
Windows 10 has changed how operating system installations and repairs work. Once Windows 10 has been installed and activated on a given machine, the licensing is stored in the Microsoft Licensing Server. You can re-install Windows 10, repair Windows 10 (same thing really), and install Windows 10 on a new hard drive (same machine) from the Microsoft Server using the Media Creation Tool.  
https://www.microsoft.com/en-us/software-download/windows10
OR
http://www.microsoft.com/en-us/software-download/windows10
You can run the link above in place (that is what I do most of the time) or download the tool and create a USB key from it.  
Run the Media Creation Tool in place, click on Upgrade to Windows 10 (even if Windows 10 is running), allow the Update Drivers step to complete and then choose from the following options:  
Keep Data: You can normally keep data (so long as not infested with malware) as data does not affect machine operation.
Keep Applications: If you have big issue, select No and reinstall software later. If you are trying to do a repair, select Yes. You can always do it over.
Keep Nothing: Select this if you wish to do a fresh install of Windows 10 and start completely over. 
The method above supports all the major ways to reinstall or repair an existing, activated installation of Windows 10 and is a significant shift from prior operating systems.
Updating Windows 10
Once you have installed Windows 10, you need to keep it updated. Even this has changed.  
First,
for regular retail and OEM (Original Equipment Manufacturer) installations, updates must happen. You cannot elect to hide and not do Windows 10 updates. There are at least two reasons for this (and there may be more)  
Updates today can be pre-requisites for updates tomorrow and must be in place for tomorrow's updates to install. 
Some people turned off security updates and then complained that their machines had problems. This issue was fairly commonplace.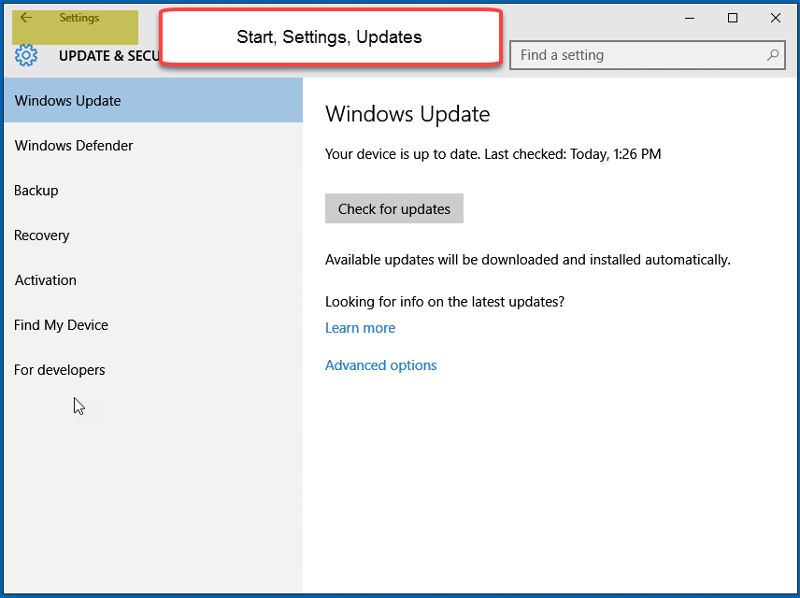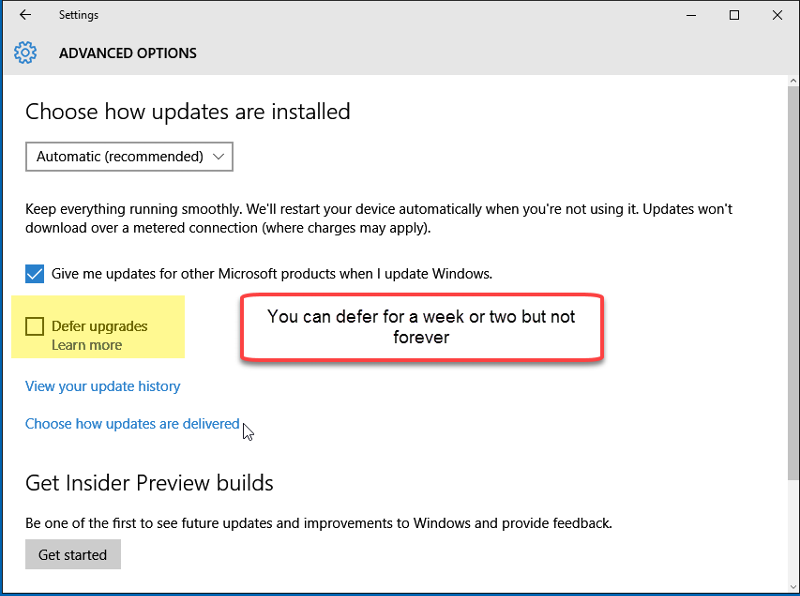 Second,
some updates come in the form of update rollups. This method used to be common (Windows XP and prior), disappeared in Windows 7 for most of its life, and has returned in Windows 10, probably in a different form. So when you run the rollup update, the update history for updates included in the rollup will disappear.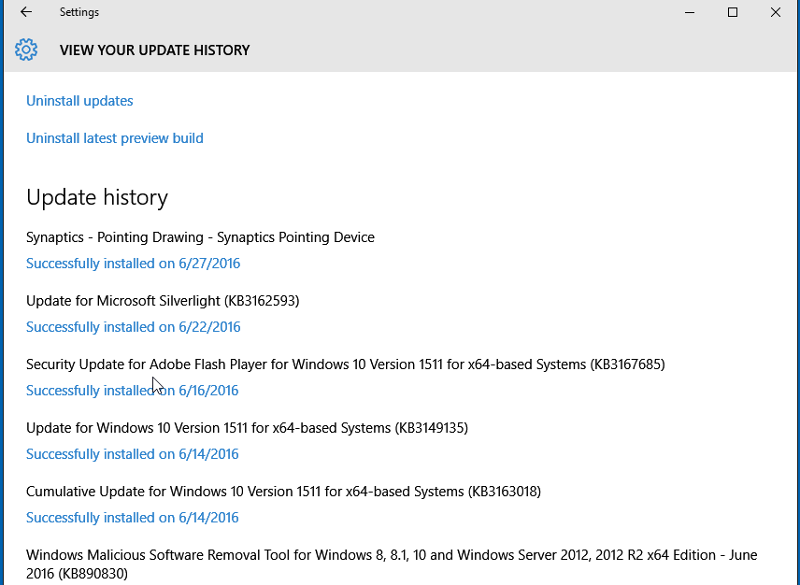 Third,
major version upgrades now do an in-place reinstall of the operating system. This happened with version 1511 last November and (so far as I know) will also happen with version 1607 due out late July or early August 2016 (perhaps Patch Tuesday in August). These upgrades can take as long as three hours including the download of the complete operating system. If you are an individual, take this time into account. Consider letting the upgrade happen overnight of Patch Tuesday. If you are in a business and your machine has a standard account access, ask your IT Department about upgrades.  
The version upgrades check driver requirements for your machine, but be sure to check your antivirus for necessary upgrades. Symantec Endpoint Protection had to be upgraded for Windows 10 Version 1507 Build 10240, and again for version 1511. Also, NCP Secure Entry VPN has had to be upgraded at each major release.  
You need a decently fast internet connection for Windows 10. If you are without good internet for a short period, wait for a better time to do updates. If necessary, consider cellular Internet to meet your needs. I have a HUAWEI LTE E8372 cellular USB Key and it works very well when not near my normal home office Wi-Fi.  
I have an update that fails and I cannot proceed
I have had this issue – the Hewlett Packard Null Printer driver will not install on Windows 10. There is a solution for this. Since Windows 10 came out, and still current as I write this, wsushowhide.diagcab from Microsoft can hide failed updates and let new updates proceed. I have done this and it works very well. Go to:  
https://support.microsoft.com/en-us/kb/3073930
Download the tool (it can be run in place) and save it to a folder you have for these purposes. Run the tool and select items to hide.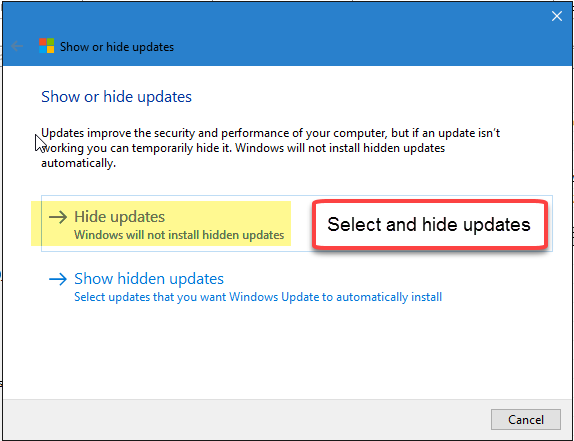 I am on Build 10240 and cannot update to the next Version
I had this happen once on a machine that was originally Windows 7. The cause (in hindsight now) was Lenovo driver helper software. The solution was to back up, do a fresh install (Keep Nothing) using the Media Creation Link and all is now well.  
Repair techniques for Windows 10
System File Checker
: SFC has been available as an in-place repair for Windows Operating Systems since Windows Vista. System File Checker repairs missing or damaged operating system files and may or may not correct your problem.  
Open an Admin Command Prompt and run SFC /SCANNOW. I sometimes run it twice to pick up any remaining errors if it will. Allow it to complete, shut down your computer, start it up and test. See the Microsoft link below for a more in-depth description of SFC.  
https://support.microsoft.com/en-ca/kb/929833
Note
: To open an Admin Command Prompt, find cmd.exe (Search cmd.exe), right click on cmd.exe and select Run as Administrator.  
DISM (Deployment Image Servicing and Management) Utility
: is a tool to repair the local Windows Image. Since Windows 10 sub-builds now occur fairly frequently, this tool may or may not run. It is beyond the scope of this article to repair DISM as that involves making repairs from an off-line image.  
To run DISM, open an Admin Command Prompt:
Run DISM.exe /Online /Cleanup-Image /Scanhealth to check (takes 15 minutes or so).
Run DISM.exe /Online /Cleanup-Image /Restorehealth to make repairs (20 minutes).
Shut down the computer, start up and test.  
Removing old Windows 10 installations (Windows.old)
When you first install Windows 10 from Windows 8 or Windows 7, the old operating system is held in Windows.old. This folder disappears after 30 days so that means you have or had 30 days to make a decision to return to the prior operating system.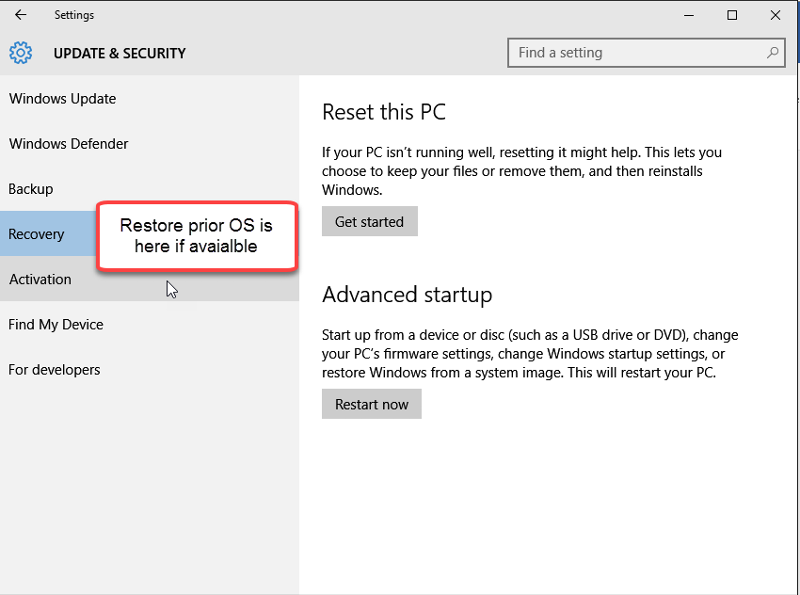 When you now install a new version of Windows 10 (say Version 1511 from Version 1507), the same Windows.old folder will be created. The same 30-day rule applies.  
If you are satisfied with your current version of Windows 10, you can remove Windows.old with Disk Cleanup. Run Disk Clean up (in Administrative Tools and select Clean up System Files. Allow this to run and complete and see if Windows.old has been removed.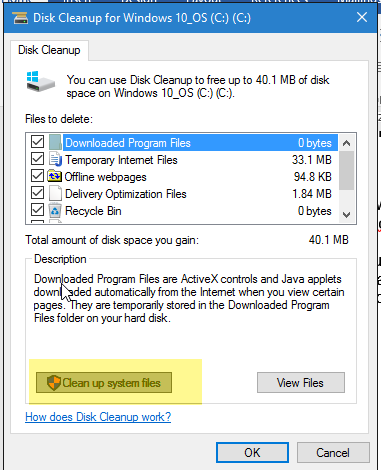 Now, if Windows.old remains (sometimes it does and sometimes it does not), you can remove it in Safe Mode with Disk Cleanup in Safe Mode. This does work.  
To start a Windows 10 Computer in Safe Mode, use msconfig.exe, Boot Tab, select Safe Mode and restart. Then run Disk Cleanup. Go back to msconfig.exe, Boot Tab, deselect Safe Mode and restart again, this time in Normal Mode.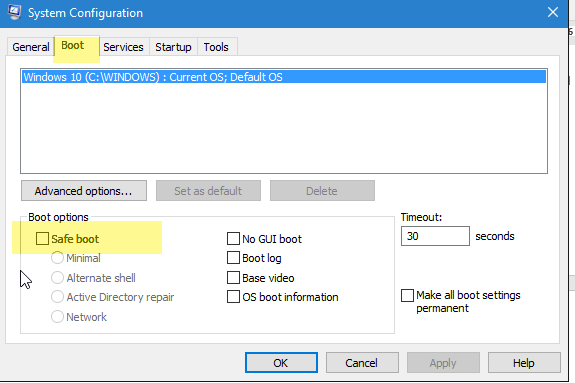 "I do not like the bland white title bars"
(Neither do I)  
Windows 10 Build 10240 (the first production build) offered no flexibility for title bars and later builds only offer limited flexibility and different themes such as black theme. Office 2016 offers a black theme as well.  
I prefer, and I have, blue title bars. I found an article in Windows Central that allowed me to change accents, but when I tried to re-download the files, they are no longer available.   
With the help of Experts Exchange there is another article that you could try. Changing Windows colours is probably a moving target as Windows 10 evolves.
http://codeinc.nl/windows-10-get-rid-of-those-white-windows/
What applications does Windows 10 support?
As a general statement, all normal business and most homeowner activities are supported in Windows 10. There are exhaustive lists on the Microsoft Web Site of supported applications. Here is what I run on my Windows 10 machines:  
Office Home and Business 2016 Subscription (all main Office applications)
Adobe Acrobat DC on one machine; Adobe Reader DC on the other.
QuickBooks Premier Accounting V2016
Hewlett Packard OfficeJet Pro 8610 networked printer
WinZip Pro Version 20.5
NCP Secure Entry Client VPN Application Version 10.10
iTunes Version 12.4
Skype Desktop Version 7.25
xPlorer2 Version 3.2 (Very Nice File Explorer)
Ultra-Edit Version 23 (world's best text editor)
Sync Back Pro Version 7.6) to synchronize documents and files between machines
VMware Workstation Version 12
Symantec Endpoint Protection Version 12.1.6 (minimum for Windows 10)
And a big laundry list of other programs  
The key is that everything in the list above is the latest version and overtly supports Windows 10, according to software manufacturers.  
What applications are not supported?
In terms of what is not supported, I have not given up any capability or function by upgrading to Windows 10. I have just upgraded to the newest version at hand. What I have seen (experience and here at Experts Exchange) is that old version of Office, Adobe, QuickBooks, Symantec and other applications are not supported because they were designed for earlier operating and are now obsolete and out of support.  
I have legacy software I must use or support
I truly believe in keeping software current as that solves a litany of problems. If you choose not to upgrade, life will only get more difficult as time goes by.  
For an interim period, or for support of other people (which I do), I run Windows 7 Pro (and Vista Business, XP Pro and earlier systems as simultaneous virtual machines inside Windows 10. This works very well, supports earlier legacy software and (with VMware Workstation) supports Unity Mode so the legacy applications work transparently from the main Windows desktop screen.  
Below is a screen shot of a Windows 7 Guest machine running Office 2010 and Adobe Acrobat XI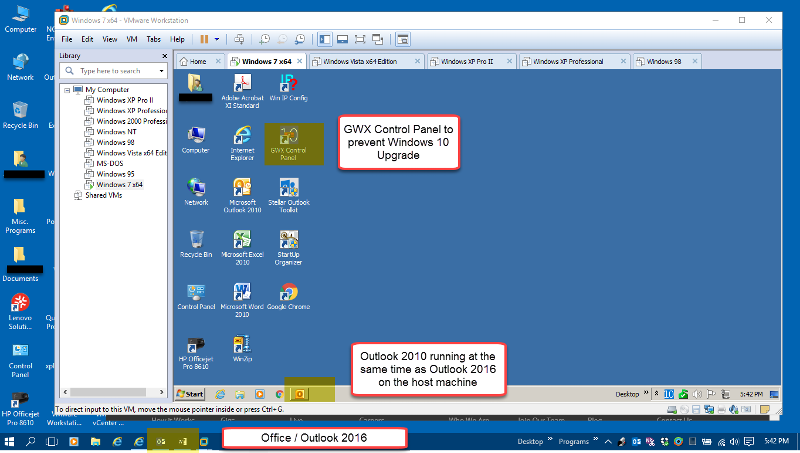 Regular Maintenance and Smooth Running
I conduct the following regular maintenance activities – normally each Saturday morning.  
File all email in Inbox and compact the Outlook Database.
Keep Outlook Auto Archive ON (runs every 60 days)
Run Disk Cleanup (Administrative Tools)
Defragment the Hard Drive. I use Perfect Disk by Raxco and this is done automatically on an ongoing basis. Defragmenting SSD drives is not required or recommended.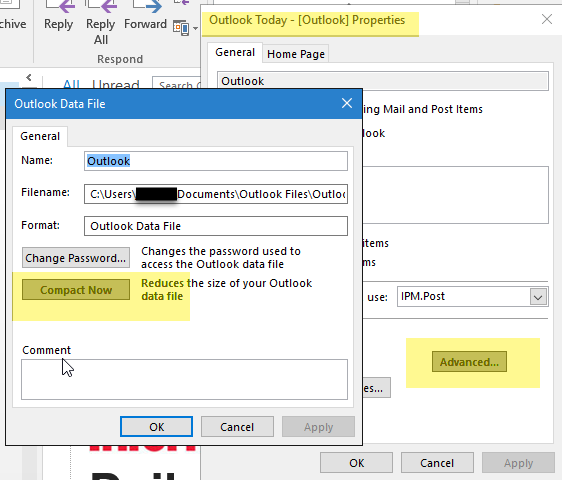 My ThinkPad X230 runs smoothly and reliably. It is a completely trustworthy machine and Windows 10 performs as well or better than any Windows operating system before it.