Many programs have tried to outwit PowerPoint in terms of technology and skill. These programs, however, still lack several characteristics that PowerPoint has possessed from the start. Here's why PowerPoint replacements won't entirely work for designers and businesses alike.
Love it or hate it, PowerPoint is still the most commonly used program for presentations. Why, then, do people hate it enough to try replacing it with new programs?
Three of the most popular web-based contenders are:
1. Prezi, which features a Flash-based image map you could zoom and pan around.
2. ClearSlide, which allows you to plug in web content, such as Tweets, to a presentation.
3. Bunkr,
marketed as a PowerPoint killer
, which specializes in gathering presentation content and links from the web.
Despite the features of these so-called "replacements", they are still considered as software. Like any tool, users must master them to create effective presentations, whether you want to use something bundled with your software package or a subscription-based program.
Going Head-to-Head with the Competition
To put things into perspective, let's compare these competing programs and discuss why using an alternative application won't solve your presentation problems.
1. Prezi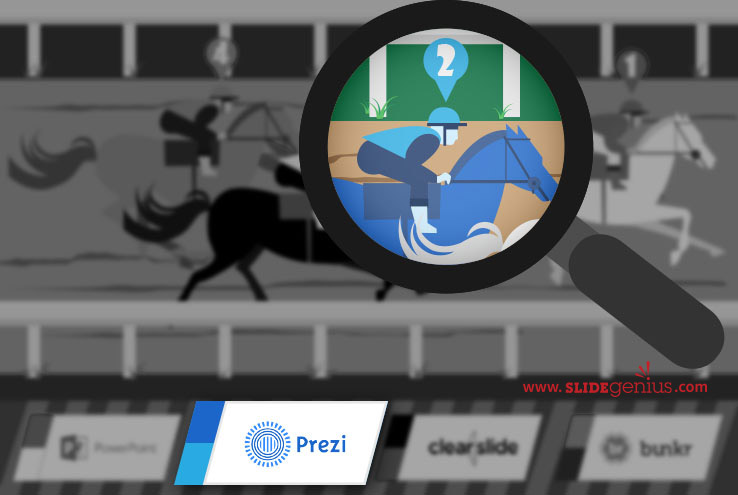 The Program
Prezi's main feature is its ability to
zoom in and pan across an image
. This simplifies the process of arranging all your information on a single canvas. Prezi magnifies one section of the image then moves to the next when you start the slide show.
This method allows you to show an overview and structure before you start, as opposed to a more sequential presentation. Similar to exploring a blueprint or floor plan, this is useful for hinting at how individual facts spatially relate to your overall message.
The application itself is free to download and use, but its premium features, including the ability to privately store your presentations, cost $4.92 to $20 per month.
The Weakness
Since you provide a preview of the entire canvas, there's still a risk of the frame being
cluttered with text
when you zoom out to its overview. Combined with the zoom and pan function, navigating through your presentation can end up making your viewers dizzy. One example is
Coca-Cola's 2012
Prezi presentation, wherein slides were text-heavy despite the panning transitions.
Because of the limited within-frame animation options, you end up showing most of your data at once. This bombards your audience with too many information to process.
Why PowerPoint Trumps It
Showing a series of points gives your audience time to digest the information, something that PowerPoint's fade-in animation has been doing from the start.
This is important when showing graphs. In Prezi, you can only show the whole image and zoom in, leaving you limited options, especially when presenting financial data to investors.
If you can't employ beginnings, middles, and endings like how PowerPoint can with its data, you'll fail to establish a main point and a convincing conclusion, which may confuse your audience.
2. ClearSlide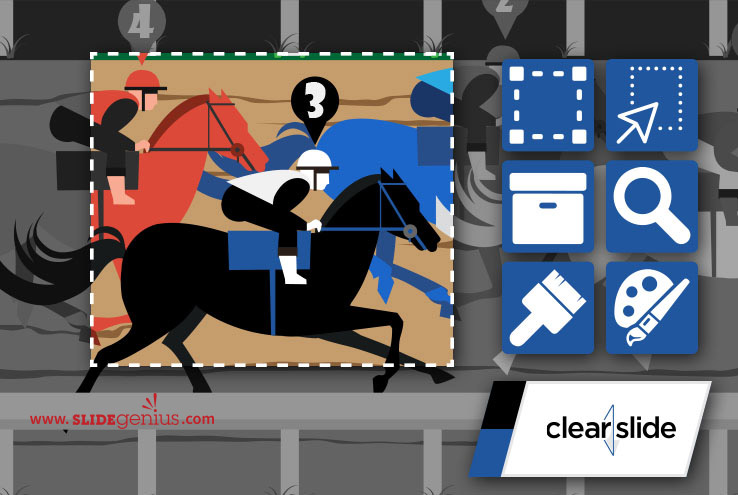 The Program
ClearSlide, formerly called SlideRocket, can import and improve existing PowerPoint presentations with its own set of animation tools. Apart from this, the app also provides online collaboration plus analytics when
keeping track of your presentation's viewers
. This is useful for sales teams that wish to measure the effectiveness and ranking of their decks.
ClearSlide's functions are almost the same as PowerPoint's. Like Prezi, it's also free to use but with a higher premium subscription of $35 per month.
The Weakness
While ClearSlide is definitely a contender in terms of animation, the free version
only allows online presentation publishing
. To save your files offline, you need to subscribe to the premium version.
The ability to present from any device may be an advantage, but Internet connection isn't always reliable; even mobile data signals can't be accessed anywhere. This makes having an offline copy in your personal device a necessity.
Why PowerPoint Trumps It
Unlike its online counterparts, PowerPoint files can be synchronized anywhere, especially when paired with apps like Dropbox. In addition, unlike ClearSlide, there's no loss in quality or font substitution issues. If you really need to edit the file in another device,
PowerPoint has its own online version
that you can use for free, with all its basic features.
3. Bunkr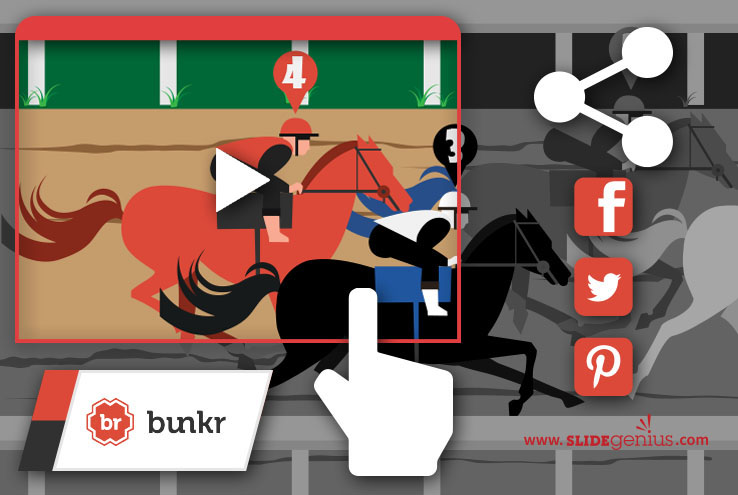 The Program
Bunkr excels at
obtaining, storing, and integrating
the information you need for pitches. With this feature, you can easily
search the web
for facts, videos, and articles to cite, giving your pitch more credibility. Any information you choose to bookmark is saved to an online account for future pitches.
Since the app is web-based, it works with just about any Internet browser. Your files can be exported to .pdf and .ppt formats, which allows you to edit and share your presentations efficiently.
The Weakness
Because the app is still in its relative infancy, it's prone to more reinventions. Major updates can potentially harm a user's master file. The startup company behind it was founded in 2011 and has reinvented itself several times due to code base and online server problems.
Every new product, no matter how innovative, will always have to improve to stay on top of the competition, something PowerPoint has had more than enough time to do. The application is also subscription-based, with a price of $6 per month.
Why PowerPoint Trumps It
While the database gathering feature is undeniably useful, design and animation options are still limited.
You can dump in all the facts and statistics you want, but simply citing your real-time profits isn't enough to convince your clients. If you can't arrange your information around a compelling idea and deliver it in a visually engaging format, using an alternative presentation app won't cover for you.
The Takeaway: Technique Matters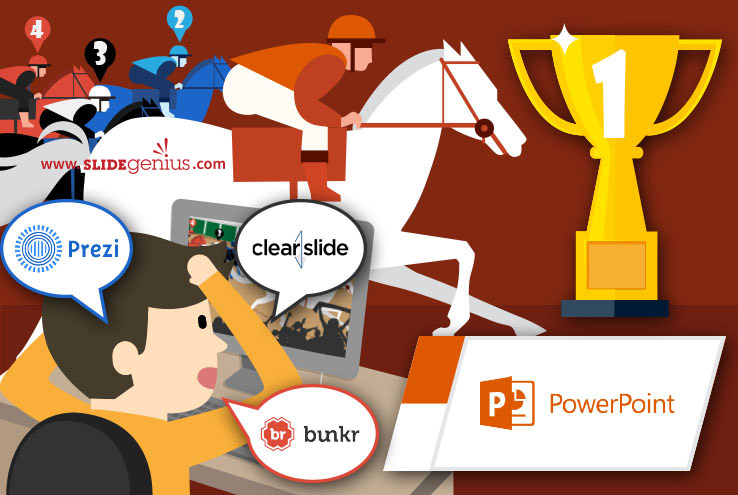 In every presentation, your objective will always be to sell your ideas or products, regardless of your methods.
Keeping your slides simple yet visually appealing has always been the key to successful selling. This focuses your audience's attention on you and how you tell your story.
You could show a dynamic mind map like in Prezi, an online presentation for multiple audiences like SlideRocket, or cite facts easily like in Bunkr. But if you just focus on what the software can do, you won't do your brand any favors.
PowerPoint goes beyond a simple collection of bullet points. Its import and animation functions give you more options to create an engaging presentation. The fact that it had more time to improve itself, both online and offline, puts it as the go-to choice for creating presentations.
To make the most of this blank slate, you need to know exactly what you want to present, who to show it to, and how. If you can't master your tools to sell your idea, no amount of bells and whistles will save your pitch. Mastering your own presentation techniques matter more, regardless of what presentation program you use.
References:
Blume, Joby. "
The Problems with Prezi.
"
BrightCarbon
. April 9, 2012
Callarman, Shannon. "
Presentation Design Methodology: 3 Thought Leading Methods - Cubicle Ninjas.
"
Cubicle Ninjas
. July 2, 2013
Cordray, Robert. "
The Best Presentation Software: Keynote vs. PowerPoint.
"
Adotas
. September 30, 2014
Dillet, Romain. "
Bunkr Is The PowerPoint Killer We've All Been Waiting For.
"
TechCrunch
. August 22, 2013
Dillet, Romain. "
Bunkr Is Now The Definitive PowerPoint Alternative Designed For The Web.
"
TechCrunch
. February 4, 2015
Maidment, Paul. "
Keynote Vs. PowerPoint.
"
Forbes
. January 30, 2003
Park, Katrin. "
PowerPoint Should Be Banned. This PowerPoint Presentation Explains Why.
"
Washington Post
. May 26, 2015