The Microsoft Outlook email client is fitting for both official and home use in one's day to day life. Although beneficial to a great extent owing to its advanced features, its potential can be significantly increased with some freeware and premium tools. These can act as add-ons, OST to PST file converter, link-ups as well as data management utilities. This article highlights the top techniques that can make your Outlook usage more beneficial, engaging, simple, enhanced, to name a few.
Know the top 10 Outlook free and paid tools that can empower you to do yet more
The tools and techniques that can enhance your experience of Outlook usage have been enlisted in the sections below:
1. Always send attachment(s) in email(s) - Users of MS Outlook should always attach media files as attachments to their email(s). It is not difficult to re-send the email with attachment(s) that you forgot the last time, but it looks unprofessional, shows a lack of attention to detail, and absent-mindedness on your part to the recipients.
Simple, helpful, and great at keeping your e-name in good standing, 'Outlook Attachment Reminder' is a VBScript checking messages for the word 'attach' and its variants. It then searches for some attachments. If attachment(s) is not appended to the email being sent, a message pops up on the screen asking whether you need to attach any file as shown in the image below: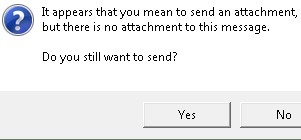 2. Always pin a transparent calendar to your desktop – You should always pin a transparent calendar to your desktop as it increases productivity by making you aware of the upcoming events at a glance.
For this, 'Outlook on the Desktop' that requires .NET 2.0 can be used. Its name indicates the work it does and is a good value add for Outlook users. It contains a transparent calendar enlisting all your scheduled appointments on your Windows desktop. It gives you the same kind of at-a-glance awareness as a large sized paper or table calendars as shown in the image below: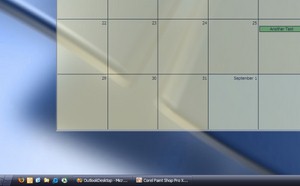 Please check this link for more information: https://outlookonthedesktop.com/
3. Use 'Quick Parts' to enter text or image automatically – If you need to key-in the same texts and images into every or most of your email that you send, you can use the Outlook 2007 'Quick Parts' feature.
By using Outlook 2007 'Quick Parts' you can save on time. It saves snippets of both texts and images for easy reuse. The reason being, it is a feature that has the power to key-in texts and images automatically. However, you should be aware of the steps involved in the process to bring it to use.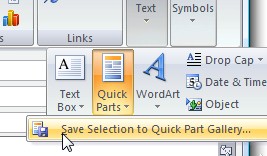 4. Tweak to empty email folders regularly and quickly - Outlook is an out-of-the-box application that is devised to make sure that you see and have access to all the emails. It does not assist you in getting rid of it. However, without removing the emails in your mailbox, its performance can decrease. Therefore, you should compile a list of tweaks to empty the email folders such as Inbox, Outbox, etc. quicker.
5. Remove your duplicate contacts quickly – Duplicate contacts are created when new contacts are imported into Outlook, and you have existing contacts bearing a similar name or email address. This must be removed as soon as possible to keep up the performance of your MS Outlook desktop email client. Or, you can use Anti-Dupe, a freeware software application that is devised to perform cleaning in a smart way.
6. Use Gmail and Outlook properly – With a few settings in Gmail (the web-based email client) and Outlook (the desktop email client), you can use the features of both the platforms for incredible output such as flagging an email in Outlook, etc. for example. Moreover, the large sized mail folder forms a handy clean-up utility.
7. Delay your email sending for good reasons – It is advised that you delay sending email messages sometimes for some good reasons. This is because deferring in sending emails can save you from embarrassment. For instance, if you send an email at midnight the recipients may doubt your saneness. Thus, to avoid such a scenario, you can create the email at any time of your convenience, but defer its delivery, and schedule its sending at an appropriate time to avoid embarrassment. You can alter the time duration of individual messages to delay sending as is shown in the image below: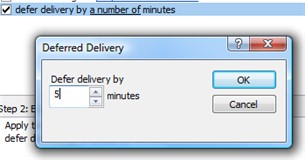 8. Integrate with OneNote to enhance Outlook experience -Microsoft's OneNote is not widely accepted in comparison to Evernote, and other go-anywhere tools. But its integrated capture structure can fill in everywhere that Outlook is not suited for, and can act as a powerful utility. It can be used as a repository for tasks or agenda that is thought of, sent to you, and collected, to ultimately end up on the 'hard' Outlook calendar and reminder setup. It can also be used as the go-between for your personal and career schedules. Last but not the least, OneNote features a number of cross-Office-product magic.
9. Add all kinds of greatness with Xobni –Xobni is a freeware Outlook helper application that offers you to review all your sent and received email messages, contact cards, Gmail-like conversation threads, faster indexed search option that remembers corporate hierarchy. You can download it free-of-cost and avail the benefits it offers for Outlook desktop email client.
10. OST File Converter – Both OST and PST are Outlook data files. However, OST being an offline folder, you cannot access its data items. Therefore, if you have an OST file, you should first convert it to PST format for accessing its data items such as emails, contacts, calendars, tasks, journals, etc. Stellar OST to PST Converter is a comprehensive (commercial) utility that can be utilized for OST to PST conversion. The Software Converts 20 emails from OST to PST free.
The Way Forward
Outlook is an indispensable part of your professional and system's life. In this article, we have discussed the top free and paid tools whose sole outcome is better Data Management. Empower your Outlook today!