The old way of writing your work experience was based more on numbers and filling in each moment of your life with activities, whether they are constructive or not. Now, companies have come to appreciate the things you can do more, and the time you spend in a cubicle less.
The main difference between the old and new trends is that some people can work an eternity in international companies without learning new things, others are inquisitive enough to devote their time to find new strategies to achieve their professional purposes.
The most widespread type of resume today is the chronological one. While it does a good job of listing your work experience, education, and skills, it doesn't do much more than that. And a list, let's be honest, is not that exciting. A more appreciated alternative is the functional or skill-based resume which answers the requirements of the
job description
in an organized and careful manner. Its aim is to draw attention to your competencies for any position available and your potential, as opposed to your experience.

What is a Functional Resume?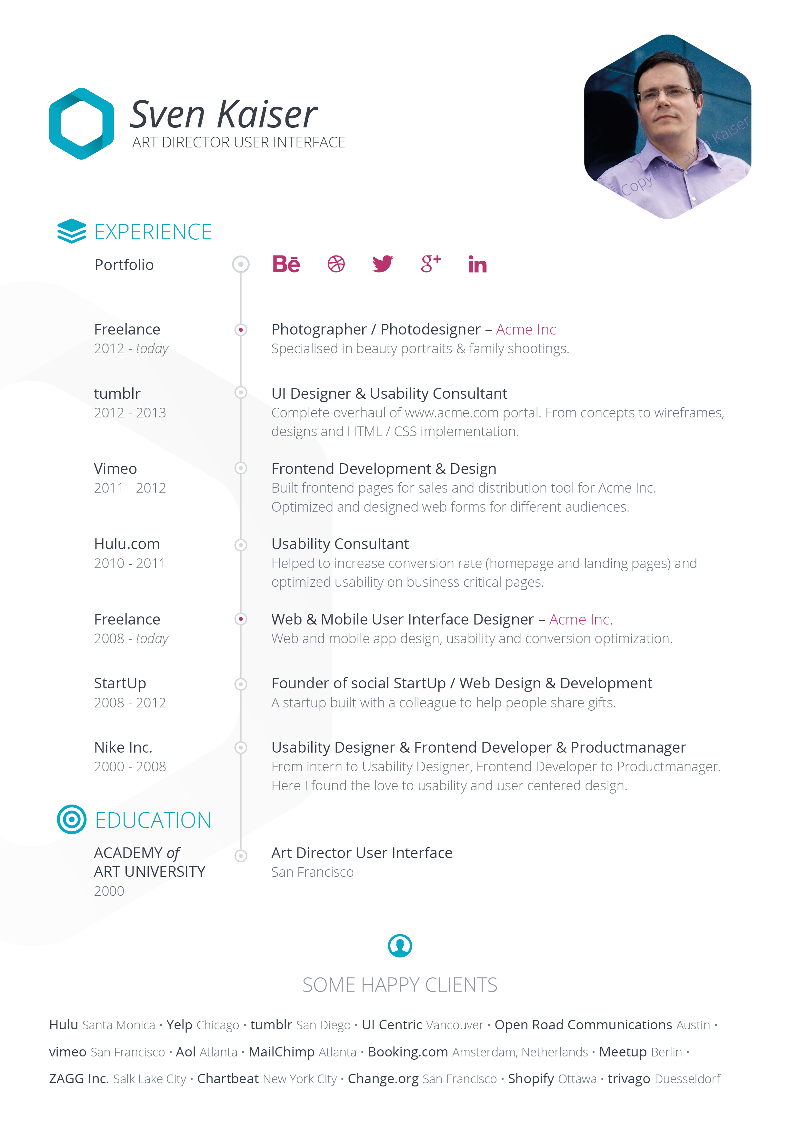 skills and abilities
you've accumulated during your work years, instead of uninterestingly listing those years. You will still have to mention all the jobs you've had, in chronological order, but with functionality comes interest. If you still want to, you can check a few classical templates out on Resume Genius' website, but you can take it up a notch by checking
Kick Resume's brilliant templates
. For the sake of argument, see bellow one skill-based resume example and one chronological one.
The bulk of your resume will contain statements explaining how you got the skills you have added to your resume. Don't write more than one or two sentences for each skill, to avoid stretching your resume too long and losing your reader. However, you can add a longer story for the most important skill you possess. If you tailor your resume for a particular job and expand on a skill relevant to it, you will have convinced the employer to call you for an interview before he or she has seen the list of your previous workplaces.
Who Should Use a Skill-based Resume?
This type of resume is especially useful if you're just starting your career and have never had a job. It allows you to showcase skills accumulated during high-school or college by participating in a course or extra-curricular activities. It will have more of an impact than a half-a-page resume, where the only relevant information is your name and phone number.
Another situation where a skill-based resume will bring you an advantage is if so far you've only had small jobs, project based, or you were
a freelancer
. An irregular work history may stop hiring managers from reading the rest of your resume. But, when you've already shown you can bring value to the company, using your hard-earned skills, the work history will matter less.
Also, a classic resume may not be of much help if you decide to change careers. Sure, having constantly worked in a lot of places, or for a long time, is something to look up to, but, if the jobs are not related, all that history will be nothing more than noise for the reader. Of course, everyone knows that a lot of the general skills you pick up are interchangeable between workplaces, and that's exactly what a skill-based resume lets you emphasize.

How to Write a Skill-based Resume?
Target the job and always emphasize skills important to that employer. Department stores, for instance, are usually looking for people skills, multitasking, and the willingness to be flexible. You will easily spot them if you carefully read the job description.
Organize your skills in categories. List technical or job-specific skills and general skills separately, regardless of the workplace you've accumulated them at. Use bullets to organize the categories.
Write a short story about yourself after the skills section. Make it more informal this time and skip the bullets. If you think it a good idea, you could also write a longer story and attach it to the resume, in the style of a KSA.
Add education and courses as well. While the resume focuses on skills, you still need to list both the jobs you've had and the places you've studied at.
Follow the basic resume rules and be concise, use a professional font and don't go over two pages.
Hopefully, you can see the advantages a skill-based resume has over the classic chronological format, and you'll be able to write the best resume for that job you've been hunting for so long!
Skill-based Resume Example
Jane ExpertExchange
221B Baker Street
London
Telephone: 020 0000 0100
Email: jane.expert@exchange.com
Professional Overview
Talented professional offering 10 years of in-depth experience as Marketing Manager and solving the challenges of the industry on a daily basis. Throughout career, honed the skills required for developing in-depth monthly plans to achieve each financial, social media, and new leads targets, creating compelling content marketing, incontrovertible partnerships e-mails, and attractive newsletters, meticulously negotiating terms with minimum compromise.


Broad expertise spanning Digital Marketing, Sales, Customer Care, Marketing Campaigns.
Fluent in Spanish, Swedish, and German.
Exquisite IT skills for MS Excel, CRM, Google Analytics & Data Strategy.
Qualifications & Education

CIM Diploma in Professional Marketing (The Chartered Institute of Marketing)
University of Manchester, 2006
Main Competencies
Google Analytics
Budget Management
Product Launch
Marketing Copy
Account Management
Cross-departmental communication
Project Management
Experience Overview
Marketing Management:

Managed the marketing team throughout two companies of 5 and 12 members each.
Oversaw the main tasks with a focus on quality work so that each day the team gets closer to the allocated target goals.
Served as a connecting point between the company and important partners, vendors, and marketing agencies.
Strategies Planning Concept:
Conducted reports that analyzed the results over the past month;
Set monthly targets to reach new potential for company;
Created new strategies for the upcoming month with sets of tasks assigned for each day to use every moment in achieving the nominated targets;
Delegated the sets of tasks to each member of the marketing team.
Employment History

Marketing Manager – Digital Solutions, 2011-2016
Marketing Assistant – ACD Universe Company, 2006-2011

Chronological Resume Example
Jane ExpertExchange 221B Baker Street
London
Telephone: 020 0000 0100
Email: jane.expert@exchange.com
Education
University of Manchester, 2006
Marketing Management Bachelor Degree
Coursework:

Microeconomics
Marketing Foundations
Financial Decision
Fundamentals of Financial Reporting
Main Competencies:
Google Analytics
Budget Management
Product Launch
Account Management
Cross-departmental communication
Project Management
Work Experience
Marketing Manager – Digital Solutions, 2011-2016

Oversee the performance of marketing team;
Analyze the former month results by reading reports and identifying the campaigns that worked, needed improvements, and the campaigns that didn't work;
Develop marketing planning for each month with the goal to achieve targets such as new leads; higher revenue, website, and social media traffic;
Monitor campaigns on a daily basis so that they are adjusted for success;
Manage multiple projects simultaneously based on practical techniques of time management;
Collaborate and negotiate with business partners on behalf of the company.
Marketing Assistant – ACD Universe Company, 2006-2011
Carry out reports to summarize marketing results of the former month;
Research industry topics and come up with creative ideas;
Create copy writing for company's website and social media profiles;
Manage campaigns with the aim of bringing in new leads and partnerships;
Monitor marketing trends in the online medium;
Take part in weekly team meetings and brainstorms.