Learn to move / copy / export exchange contacts to iPhone without using any software. Also see the issues in configuration of exchange with iPhone to migrate contacts.
Copy / Move / Export Exchange Contacts to iPhone via vCard File
Exchange Server has been enhancing business communications since the day it came into being. The mail server is as widely spread as you explore it. Both, administrative and client level convenience is taken into consideration while upgrading the server. The regular upgrades are responsible for the flexibility Exchange server has attained over the past. Considering it, users now come up with requirements to export Exchange contacts to iPhone. However, there is no direct means to be honest. Thus, this blog focuses on all the probable workarounds needed for fulfilling the requirements. Moreover, smartphone based applications available to simplify the procedure further are discussed along with commercial help available to automate the procedure and as a result, make it completely user friendly. Read on to know what the latest versions have in store to help you move Exchange mailbox contacts into your iOS device even without software usage. In the following next sections we are going to discuss how to transfer or copy Exchange contacts to iPhone.
Why Export Exchange Contacts to iPhone?
Exchange is the perfect business collaboration and centralized storage system for all levels of organizations. However, since the emergence of smartphones, the communication system has become mobile. Client-server environments are usually considered rigid for their accessibility within a restricted network domain and server forest only.
Nevertheless, the evolution of Exchange Server over the past has made it possible for users to break these bounds. You can carry around your data and experience the freedom of corporate communication.
Moving corporate communications to mobile device(s):
1. You can communicate under any network environment. Although this is considered a risk as using an open network to access your corporate account may put it under the risk of being misused (intercepting packet data transfer). However, within a home network or your own mobile data pack, the convenience of communicating through an Exchange account can be in your hands.
2. You are free to move around without having to carry around the laptop all the time. Mobility is a big factor in organizations, especially for higher level associates. Some of the job profiles require business travel, which makes it difficult for users to work under restricted client-server environment. However, the evolution in the way technology and Exchange server now work, has brought all these changes to end users. This has liberated users to use their mailboxes along with complete data (synchronized) even on the move.
How to Export Exchange Contacts to iPhone?
We have discussed the flexibility that Exchange server started providing. However, there is no direct method to transfer contacts from Exchange to iPhone. Thus, the following segment will guide you through the manual approaches and possible workarounds that can make it possible for you to attain the end requirement i.e. get access of Exchange contacts on iPhone.
Access Methods to migrate exchange contacts to iphone
NOTE:
In order to get access of Exchange contacts on iPhone via configuration, you need to be connected to the network domain as that of Exchange while configuring the account.
1. Configure on iPhone:
You configure your Exchange account on your iPhone using basic configuration settings or ActiveSync. The configuration will let you access your Exchange mailbox contents on your iPhone device on the go all the time. However, you need to be in connection and synchronization with the server for the same. Thus, this is not a permanent contact transfer from Exchange mailbox to an iOS device.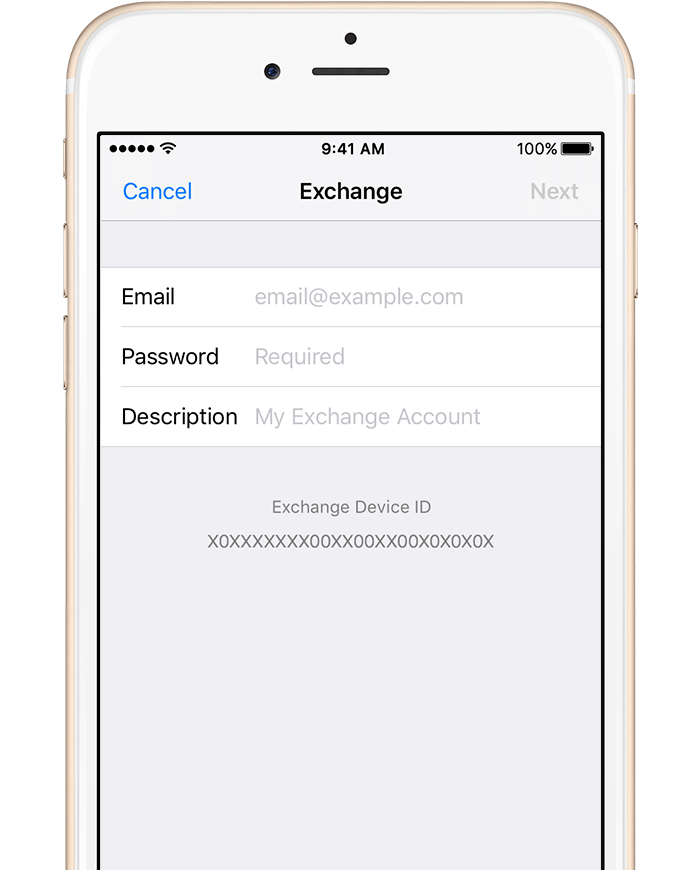 2.
Another one is a workaround where, the user can either export mailbox to PST. Once that is done, the contacts can individually be pulled out (using Outlook) in vCard format (or in bulk using a commercial tool). vCard files being the most flexible file format available presently, and is chosen as the preferred type. However, one contact can be pulled out of an Outlook Data File at a time without using a tool.
Issues with Configuring iPhone with Exchange
Even though the iOS based smartphone is built to be able to connect with an Exchange server profile using ActiveSync settings, admins and users of the server have complained about issues. Therefore, before you proceed any further with the iPhone configuration of Exchange Server to copy Exchange contacts to iPhone memory, look at 3 of the most repetitive connectivity issues faced by users and Exchange server admins.
Challenge in Coexistence:
Compatibility of Autodiscover feature is one of the issues that is widely reported by users that have prevented them from connecting their iPhone devices with Exchange server account.
Settings of IP Address:
According to the feedback by many users, it is discovered that their devices function properly when they are connected over internet to ActiveSync. However, a stop in mail flow is detected when connected to a corporate network. Usually, the issue is detected within a DNS setting.
Timeouts Firewall:
Timeout issue tends to surface with ActiveSync on an iPhone if the firewall between CAS and iPhone are set up to a specific timeout period of 30 minutes or longer. The method is simply for adjusting the timeout.
How to Export Exchange Contacts to iPhone?
When no manual workarounds or procedures succeed in exporting data, the only option left to choose is a third party application. There are a variety of applications that render the required transfer of data in some or the other way; you just have to choose which one suits your convenience.
A couple of smartphone-based applications are available to make the following possible:
1. Move Exchange Contacts:
It requires you to have Exchange server account configured on your system and have it synchronized always to maintain its data too. However, there are iOS based apps available, which enable you to move or migrate exchange contacts to iPhone despite disabling the sync.
2. Sustain Exchange Contacts:
If you still doubt the availability, there is another application for iOS devices that enables backing up the contacts of Exchange. You can select the configured account and move Exchange contacts to iCloud. This ensures availability of your contacts even though the configuration is unavailable.
Commercial Programs to import Exchange contacts to iPhone
Applications are for smartphones and depend on Exchange configuration on your iPhone device. How would it be if you don't have to bother configuring Exchange at all and still have the contacts on your device?
Seems impossible, but is practicable with the mere help of a commercial program that enables pulling out contacts of Exchange in multiple or single vCard file(s).
Third party tools do demand investment to be made but are completely convenient to use. You can transfer or export Exchange contacts to iPhone without coming across any technical glitches or doubts of getting the desired results. Therefore, the use of a third party tool is recommendable over the workarounds or depending upon configuration.