Veeam Backup & Replication has added a new integration – Veeam Backup for Microsoft Office 365. In this blog, we will discuss how you can benefit from Office 365 email backup with the Veeam's new product and try to shed some light on the needs and use cases of email backups.
With more and more users switching to Microsoft Office 365, they all want to be confident in their data integrity when working with cloud solutions. At first glance, cloud-based mail seems to be automatically protected against failures and losses, as you are provided with a fault tolerant mail server. However, in real life, this is not always the case. For example, with no mail backup in place, any virus launched on the user side will encrypt cloud-based mail and make its recovery a rather complicated task. To help you always remain in control of your data, we developed a solution that allows you to mitigate the risk of losing access to your Exchange Online email data and ensure Availability to your users.
So, meet the new
Veeam Backup for Microsoft Office 365
Protecting Office 365 Exchange Online's data integrity through built-in mechanisms
Let's look at how organizations' mail is protected in the cloud. Of course, an administrator monitors the Exchange-side policies, especially the retention policy for remote sites. If the retention period for mail in the Deleted Items store has not expired, mail may be retrieved and recovered from it. By default, the retention period is 30 days; you can change this value in the Exchange Admin Center.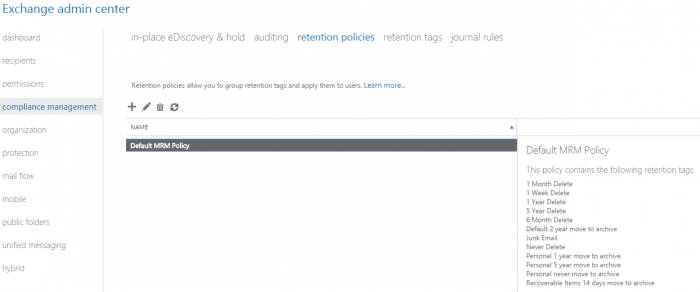 For more information on MRM (messaging records management) policy options, read this Microsoft TechNet article:
https://technet.microsoft.com/en-us/library/dn775046(v=exchg.150).aspx
.
To protect your mail data in the cloud, Microsoft Exchange Data Availability Groups (DAG) are also used, as well as the traditional backup tools aimed at helping you in disaster recovery.
However, failures may occur on the user side too, and you definitely need a solution to protect organizations' mail against data loss scenarios not covered by traditional tools. This is exactly the situation where the new Veeam Backup
for Microsoft Office 365
can help. This solution backs up mailbox data of an Office 365 organization to a local repository, allowing you to meet the "3-2-1" rule for data protection. It also offers flexible recovery options, providing for quick search and restore of individual mailbox items residing in either archived Office 365 content or on-premises Exchange backups.

How Veeam Backup for Microsoft Office 365 works
As you see in the picture below, the workflow is rather simple: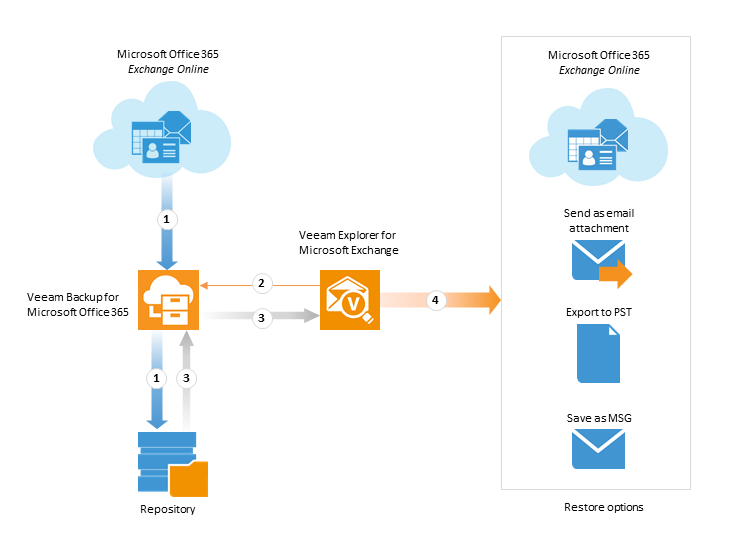 1. Veeam Backup
for Microsoft Office 365
gathers mailbox data from Exchange Online using Exchange Web Services and PowerShell, and stores it in the repository; data is transferred using SSL. To carry out these operations automatically, an administrator creates and schedules a backup job. Each successful job run creates a restore point where the corresponding state of the mailbox data store is kept.
2, 3. A user selects the mailbox database state to work with (as of the latest restore point, or as of the certain point in time), and this data store is automatically added to the Veeam Explorer
for Microsoft Exchange
scope. This way, it becomes available for browsing and restore of mailbox items and folders.
4. Then users can utilize browsing, searching and restore capabilities of Veeam Explorer
for Microsoft Exchange
. They include:
Export of mailboxes, folders and items as Personal Folder Files (.pst)
Saving mailbox items as Microsoft Exchange Mail Documents (.msg)
Sending mailboxes, folders and items as attachments via email
Restoring mailboxes, folders and items to Exchange Online or on-premises Exchange Organization
Installation and Configuration
To deploy the solution, just download and unpack a ZIP archive from the Veeam website. The archive contains two installers —for the Veeam Backup
for Microsoft Office 365
and for the Veeam Explorer
for Microsoft Exchange
, which has been slightly upgraded to support the new tool.
You may install these two components together or separately either on a physical or virtual machine. If you have Veeam Backup & Replication 9.5 deployed in your environment, then you can run only Veeam Backup
for Microsoft Office 365
setup, as Veeam Explorer
for Microsoft Exchange
is already present in the infrastructure (as a part of Veeam Backup & Replication installation).
Note that the solution supports Windows 2008 R2 and higher (64-bit). When installing on different machines, ensure the machine that is used to install Veeam Explorer
for Microsoft Exchange
has an OS version not lower than the one on the machine where Veeam Backup
for Microsoft Office 365
will run.
You will also need local administrator rights to install the solution.
When the installation is finished, you can launch Veeam Backup
for Microsoft Office 365
by clicking its icon in the list of application programs.
After installation, its console will look like this: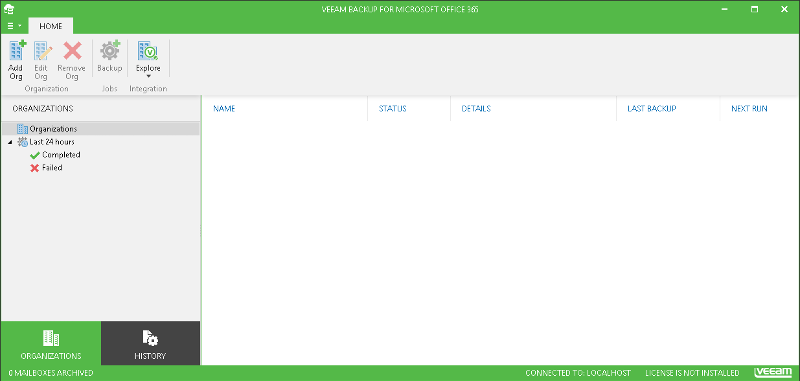 Perform initial configuration
Click the Home menu icon (next to the
Home
tab) to open it and select
Options
from the command list
In the dialog that appears, the first thing you should do is configure the repository settings. Go to the
Repository
tab: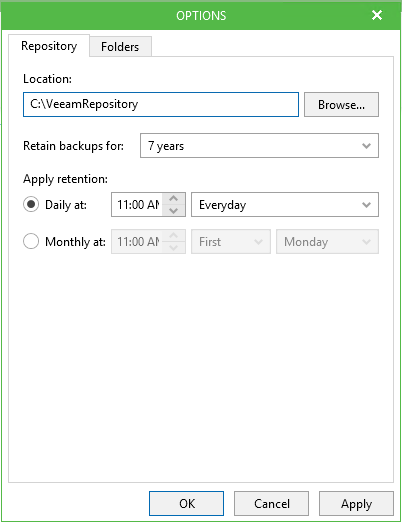 Location
– specify the path to the local folder that will used to back up the cloud-based data. By default, it is
C:\VeeamRepository
.
Retain backups for
– specify the repository data retention period. Minimum is 1 month and maximum is 7 years; default value is
3 years
.
Apply retention
– specify how frequently retention settings should be applied to data in the repository. You can specify a daily, weekly or monthly schedule. When applying retention, the retention period starting point is set to the current date.
By default, Veeam Backup
for Microsoft Office 365
will back up all folders from users' mailboxes. However, on the
Folders
tab, you can select which mailbox folders should be excluded from processing - this can be, for example,
Junk E-Mail
. These folders' data will not be stored in the repository.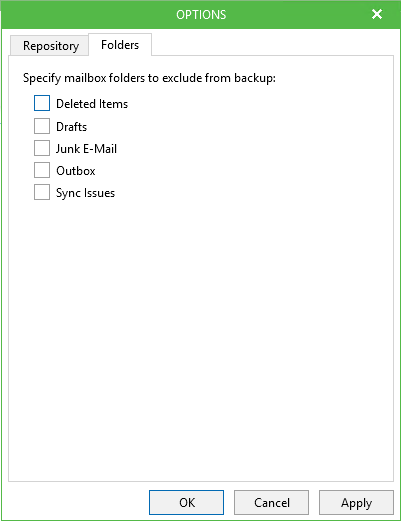 To save the settings, click
Apply
and then click
ОК
to close the dialog.
Important!
These settings are global, i.e. they will be applied to all the backup jobs configured for all organizations added to the solution scope.
We're all done with the settings. To configure backup jobs for an Office 365 organization, you should add this organization to the program scope. For that:
Click
Add Org
on the toolbar, or select the
Organizations
node in the navigation tree, and from its shortcut menu select
Add Office 365 organization...
. The
Add Organization
wizard will be launched.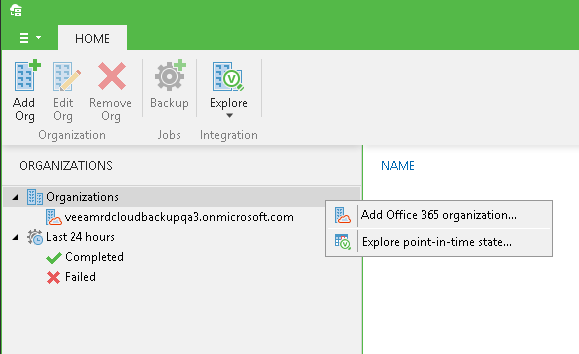 At the first step of the wizard, enter a user name and password for connection to the organization. Use any of the following formats:
user@domain.com
or
user@domain.onmicrosoft.com
. Check that this account is granted the following roles for the Exchange organization
Role Management
,
View-Only Configuration,
and
View-Only Recipients
.
Make sure the
Grant impersonation to this user
option is selected. This will allow the service to archive mail from other users' mailboxes.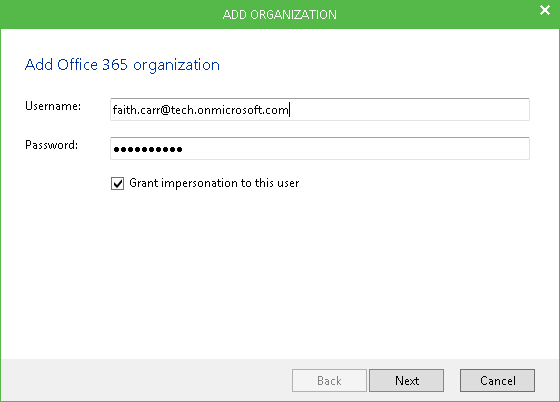 Grant impersonation to this user
option is selected by default. If this role is not here, it will be assigned to this user after you click Next.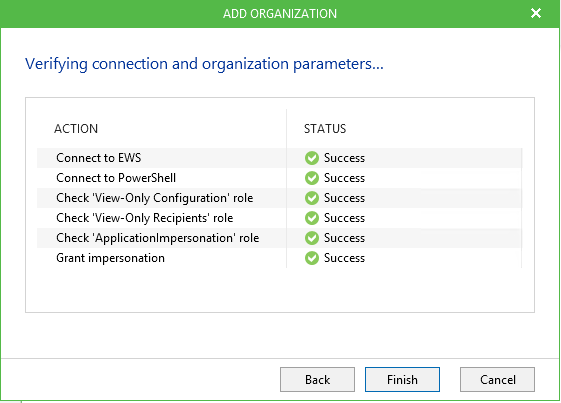 Note:
Alternatively, you can assign these roles manually using these PowerShell commandlets.
Backup
Now you need to create a backup job:
Select your organization in the tree and click the
Backup
command to launch the wizard.
In the first step, enter the job name and a brief description, if required.
Then select what you want to back up. This may be either all the mailboxes of a remote organization (
Backup all mailboxes
) or just the selected ones (
Backup the following mailboxes
). In the latter case, click
Select
in the loaded list and select the mailboxes you need.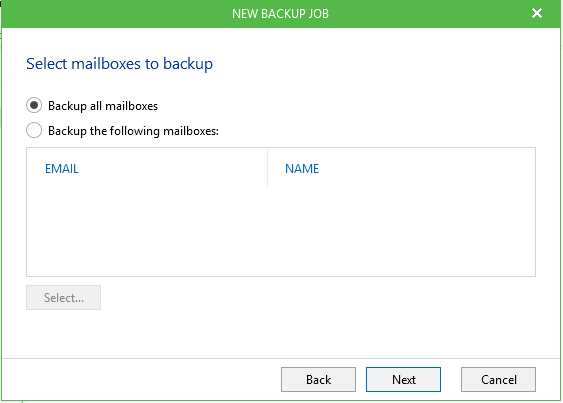 Note:
Don't forget that the exception folders (Junk e-mail, Deleted Items, etc.) you configured in the general options will not be backed up in any job.
Finally, configure a schedule. Everything is pretty clear here: regularly with the specified frequency, automatic termination if a job is too long (by default, 4 hours), re-run in case of failure (by default, 3 attempts with a 10-minutes interval between them).
If you want the job to run as soon as the wizard is finished, select the
Run the job when I click Finish
option.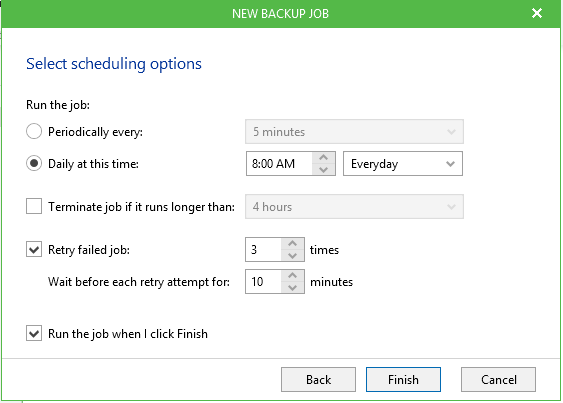 Thus, each job is created with an assigned schedule. If you want to force the job launch (despite the schedule), make sure the
Run the job when I click Finish
option is selected. The job will be started and displayed as
Running
. If you do not want to run the job after clicking
Finish
, clear the corresponding check box.
If you want to edit or completely remove a job, you must first disable it by selecting the
Disable
command from the menu.

Item recovery
To recover an item, Veeam Explorer
for Microsoft Exchange
is used. To start the process, do the following:
From the Veeam Backup
for Microsoft Office 365
menu, select the required scenario – this can be either the
Explore latest state as of <date_time>
or
Explore point-in time state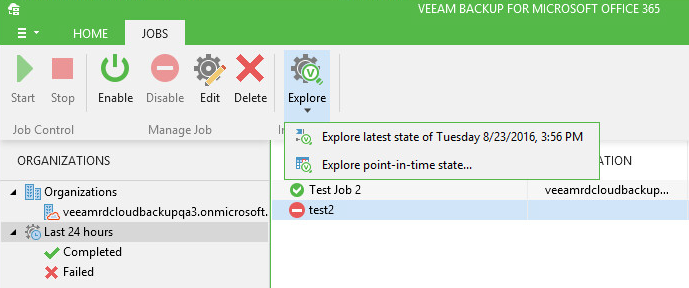 If you selected the second option, then in the Explore Backup dialog that appears, select the corresponding restore point and enable the options you need:
Show items that have been deleted by user
(by the moment the selected recovery point is created)
Show all versions of items that have been modified by user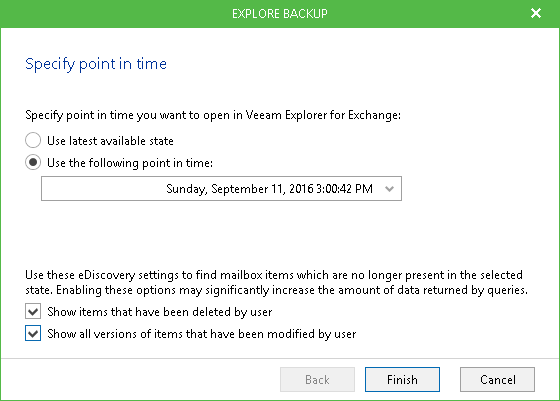 After you click
Finish,
the corresponding mail storage will be added to the Veeam Explorer
for Microsoft Exchange
scope and displayed in its main window: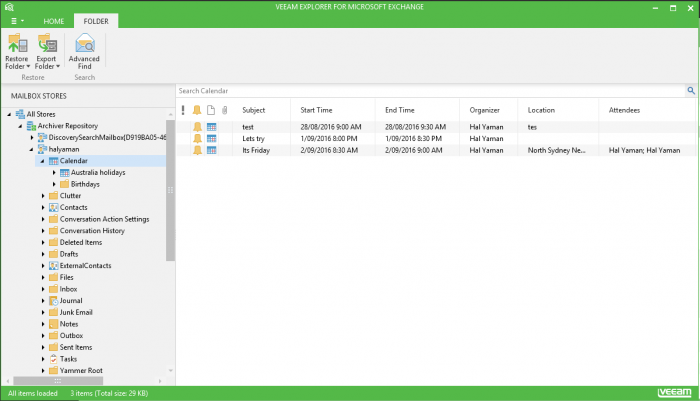 Now you may use the Veeam Explorer search and restore capabilities to export, send, or restore items to the desired location – that is, to the Office 365 or on-premises Exchange: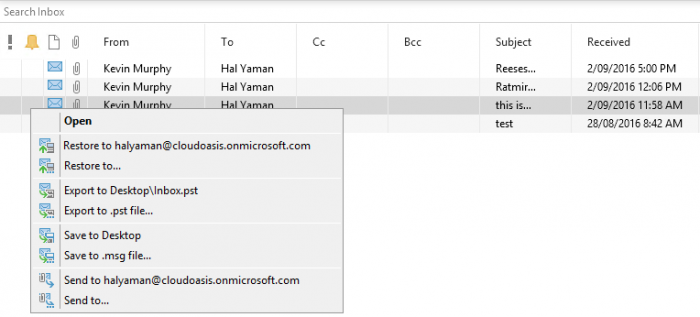 To read more about Veeam Explorer
for Microsoft Office 365
, visit the product
preview page
,
Veeam forum
and Help Center.
By: Olga Slusarenko. Senior Technical Writer, R&D, Backup at Veeam Software.
LinkedIn profile
.