In this article, I will show you HOW TO: Perform a Physical to Virtual (P2V) Conversion the easy way from a computer backup (image).
In my previous Experts Exchange Articles, most have featured Basic and Intermediate VMware and Virtualisation Topics.
If you would like to read my Basic VMware articles, they are listed at the end of this article for your convenience.
I've written a few articles on the vast subject of Physical to Virtual (P2V), Virtual to Physical (V2P), and Virtual to Virtual conversions for Experts Exchange over the years, a few are selected below.
Quoting from the last article above,

Whether you are a VMware vSphere Beginner, Intermediate, Advanced or Expert, Physical to Virtual conversions sometimes are not easy, and many issues can arise, a successful conversion requires 50% technical knowledge, 25% patience and 25% luck to get a successful conversion. Sometimes it is not as simple, as install VMware vCenter Converter Standalone, and click next to obtain a successful conversion.


Physical to Virtual (P2V), Virtual to Physical (V2P), and Virtual to Virtual conversions are one of the most popular questions in the VMware and Virtualisation topic areas on Experts Exchange, so, therefore, I conclude this subject is still causing huge difficulties.
One question comes up frequently, How do I convert a physical server/workstation to a virtual machine, and also I have an image of my computer I would like to convert to a virtual machine, both are usually answered with use VMware vCenter Converter Standalone or VMware Converter - which is true, BUT VMware Converter does not play nicely with images or backups of computers anymore, and you will find Symantec and Acronis software images do not work with current versions of VMware Converter.
So I am going to share with you in this article, a hidden gem of a software product I've discovered which can complete Physical to Virtual (P2V), Virtual to Physical (V2P), and Virtual to Virtual conversions with ease.
The background to this finding came, when my business laptop a Sony VAIO Duo 13 Hybrid tablet, failed with a Missing Operating System, only later to find, in fact, the mSATA SSD had failed.
No problem I thought I have a backup of the laptop which is taken every morning at 7.30 am, so I can recover the data, but there was a critical Windows application, which I needed to run for a pending tax return, and the UK taxman waits for no one before penalties are applied!
VMware Converter was not going to help me, as the backup of my laptop was not going to be compatible.
I noticed the backup application, has a Restore to Bare Metal function.
In this article, I will show you the steps, with screenshots of HOW TO: Perform a Physical to Virtual (P2V) Conversion the easy way from a computer backup (image).

1. Pre-requisites
Veeam Endpoint Backup FREE 1.5 installed on a virtual machine.
Recovery Media CD Image (ISO), created using Veeam Endpoint Backup FREE 1.5.
Veeam Endpoint Backup FREE 1.5 latest backup of server/workstation/laptop to "restore" or "convert" to a virtual machine.
2. Creating the Recovery Media
Install Veeam Endpoint Backup on the server, workstation or laptop you want to perform the conversion. When prompted create the recovery media. Complete a backup using Veeam Endpoint Backup and backup to either a Network Attached Storage (NAS) device of external media.
ANDY TIP If you install and create the recovery media on a virtual machine, (the destination computer for the image) it will add all the necessary drivers to complete a successful conversion. In this article, I will be creating the recovery media on a VMware virtual machine.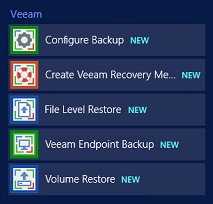 Select Create Veeam Recovery Media if you skipped this step at the end of the installation.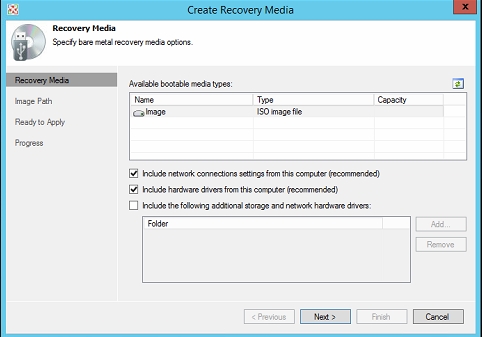 Accept the defaults, and click Next to continue (paying special attention to include hardware drivers from this computer)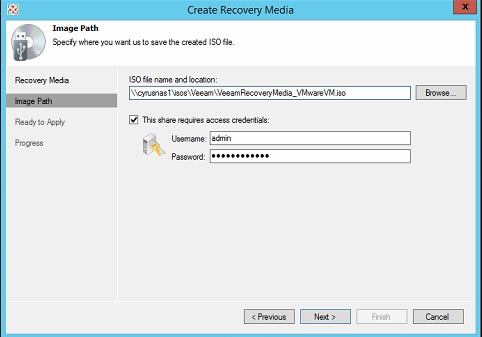 In this article, I'm specifying a Windows Share on my NAS, which also happens to be an NFS export for my VMware vSphere Hypervisor (ESXi 6.5) host server. It will make it easier to connect this ISO to the virtual machine. I've also created a Recovery Media image called VeeamRecoveryMedia_VMwareVM.iso
Review the summary, and click Create to create the Recovery Media.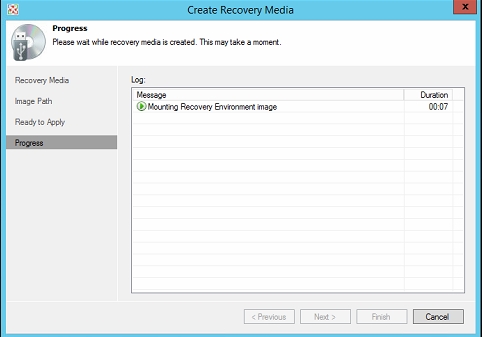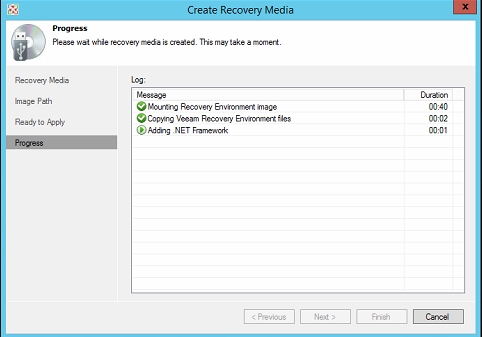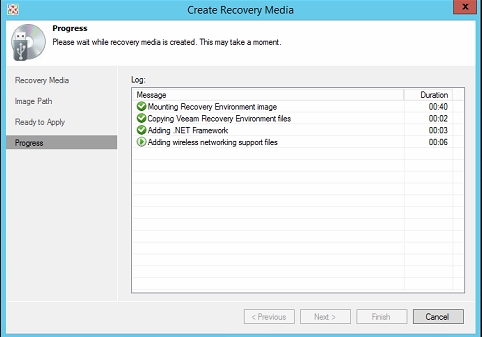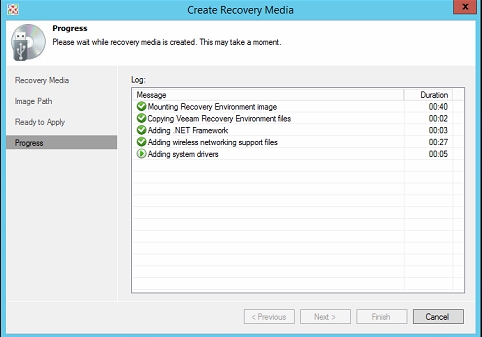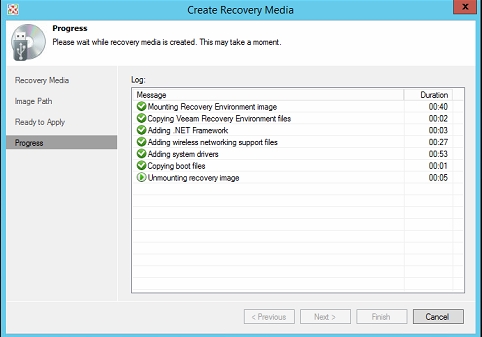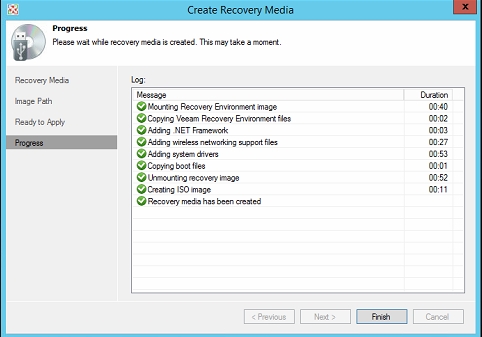 Recovery media has been created, click Finish.
3. Preparing the destination computer.
if you were restoring to a new physical bare-metal computer, you would now take the Recovery Media, insert into the CDROM drive (or USB flash drive) and BOOT from the Recovery Media and restore the image.
In this article, we want to complete a P2V, physical to virtual conversion, this is where the procedure is a little different to VMware Converter, VMware Converter, inspects the hardware, and creates the VMware virtual machine configuration, and then transfers the image to virtual machine virtual hard disk.
Follow this procedure to create a virtual machine, and complete a P2V. You will need to create a blank virtual machine with no operating system installed. If you do not know how to do this, please see my Experts Exchange Article
I've created a virtual machine configuration for a Windows 8.1 virtual machine, with 32GB RAM, 2 vCPU (sockets) and 250GB hard disk. This configuration is a higher specification than my original laptop. Your specification will differ.
Connect the Recovery Media to the virtual machine and BOOT the virtual machine. See Step 3 in the above article.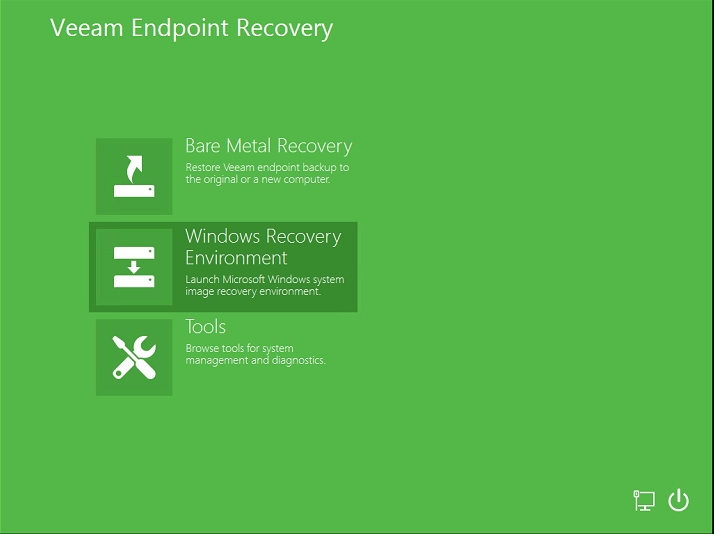 Select Bare Metal Recovery and hit enter. Please note the Network Icon is lit and does not have a cross through it, important if completing a restore from your network resource.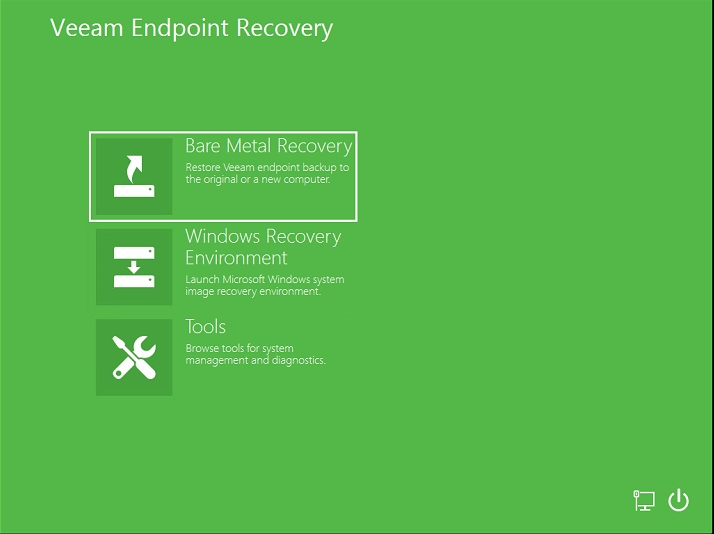 I'm restoring the backup from my NAS, so I'm going to select Network Storage if you have the backup on local storage select Local storage.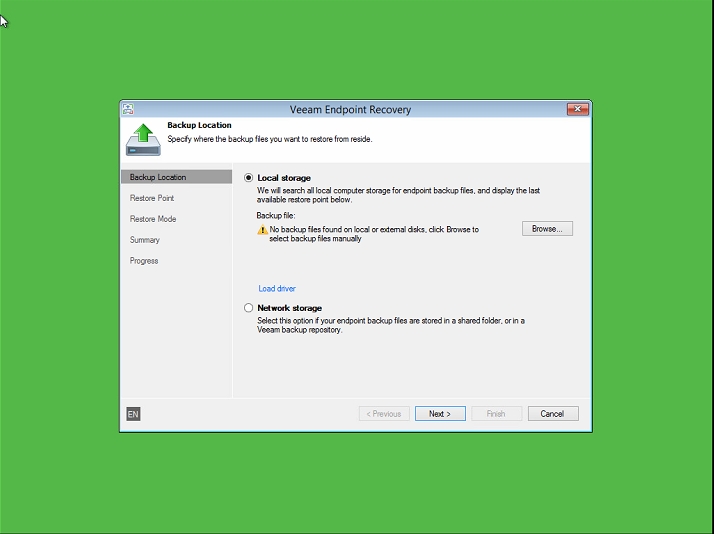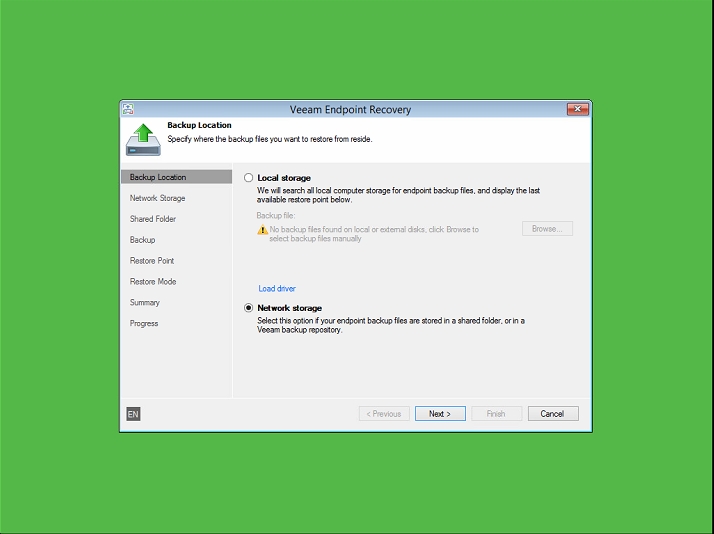 Select Next to continue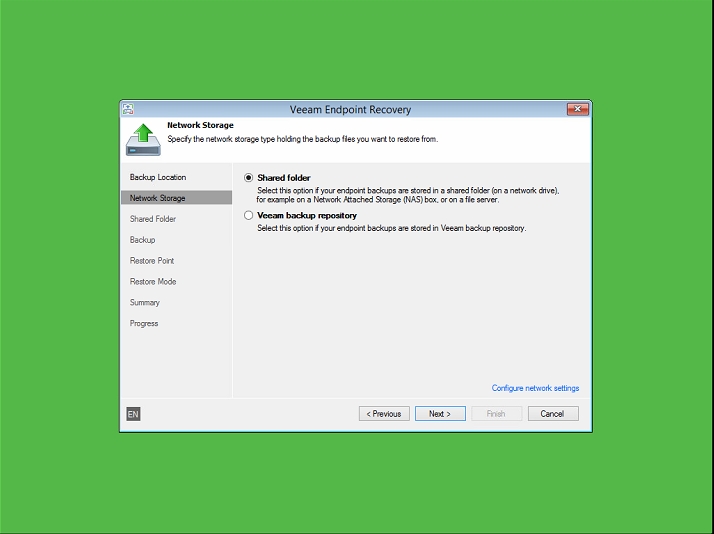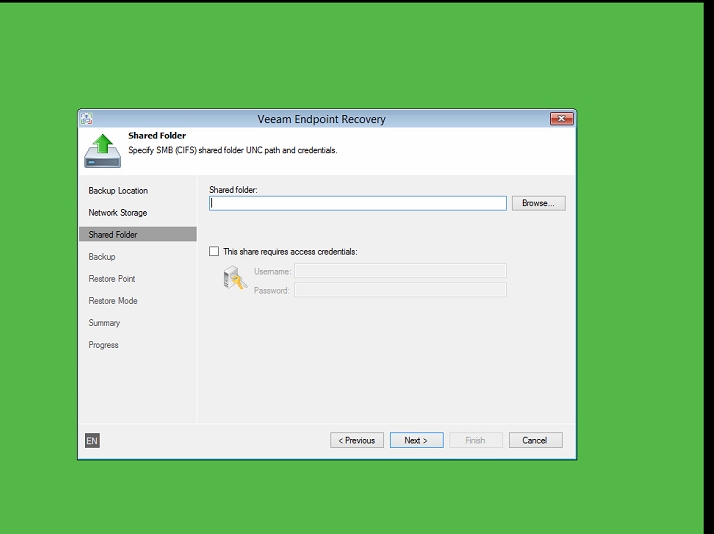 Enter the shared folder name and credentials if required, followed by Next to continue.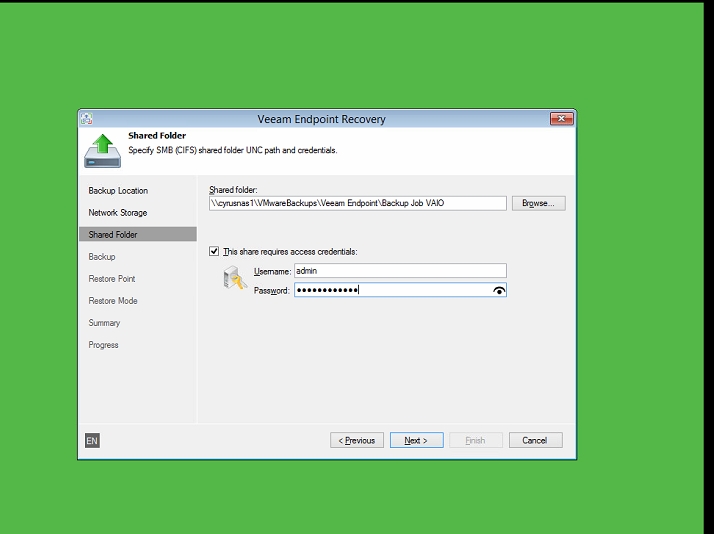 Select the Backup Job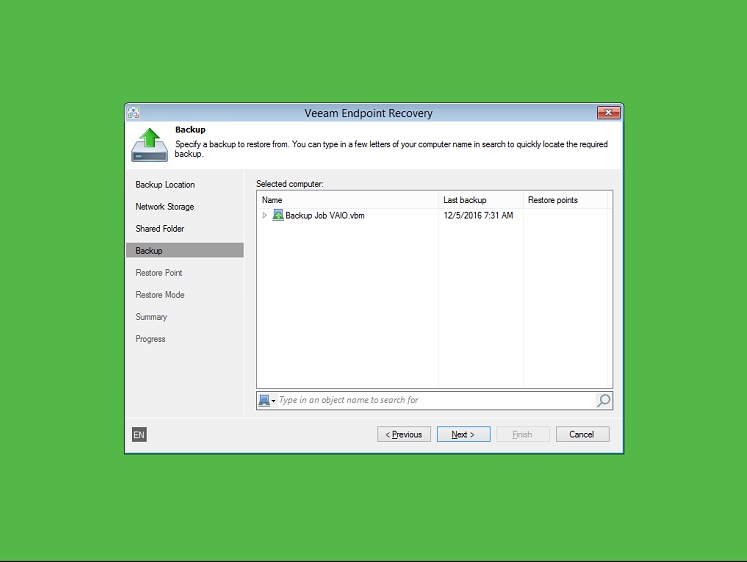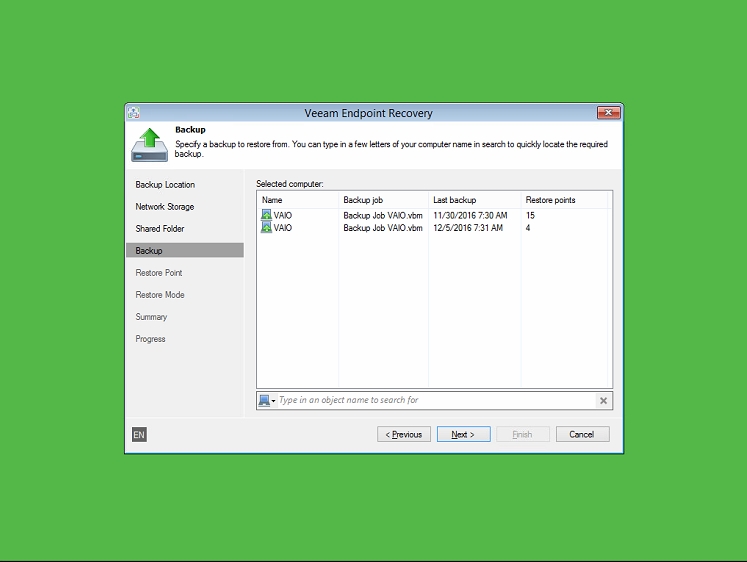 I'm going to select the last backup on the 30 November 2016, for my laptop conversion to a virtual machine.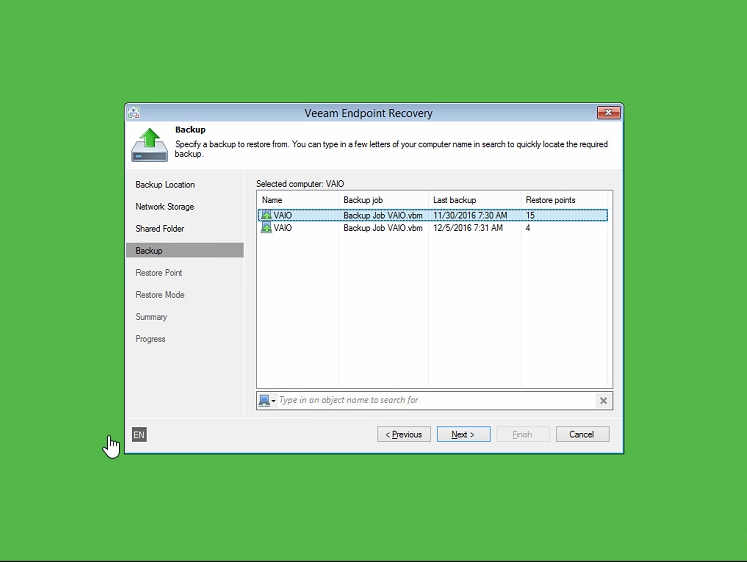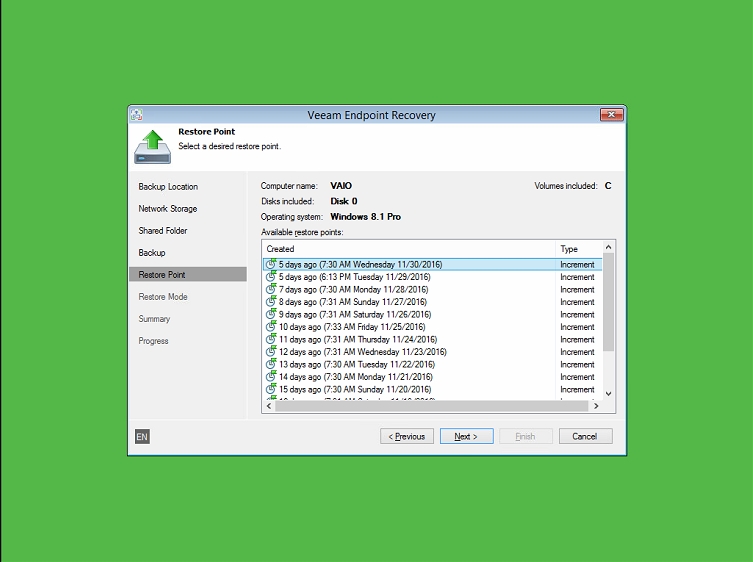 Select a desired restore point, depending on how long you had Veeam Endpoint backing up your computer, you may only have one. I installed Veeam Endpoint over 12 months ago on my laptop, installed in "Set-it-and-forget-it" mode, and it's worked extremely well, and it's FREE!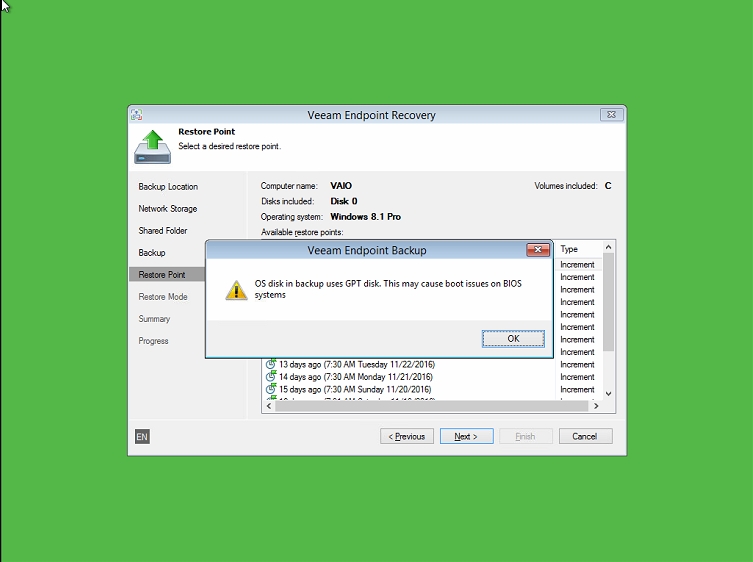 Ignore the warning for the moment about GPT disk, and click OK to continue.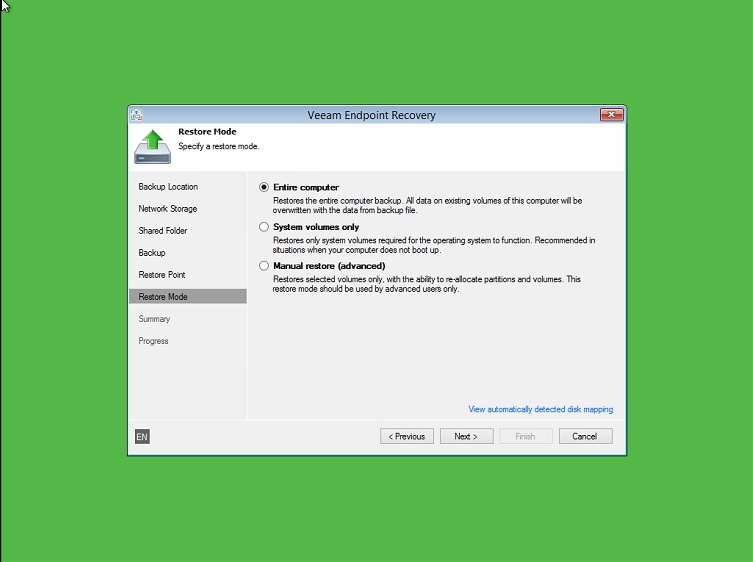 Select Entire computer, followed by Next to continue.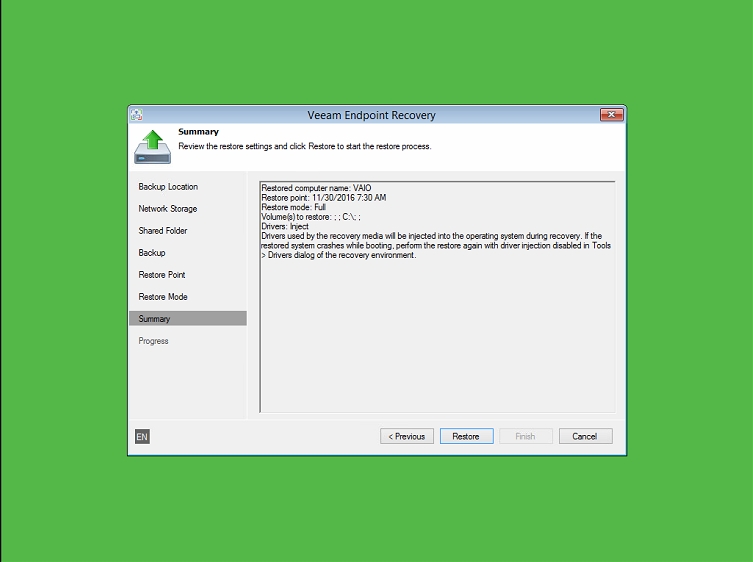 Review the Summary, and click Restore to restore your computer. and complete your P2V.
Go for a coffee, whilst the restore is in progress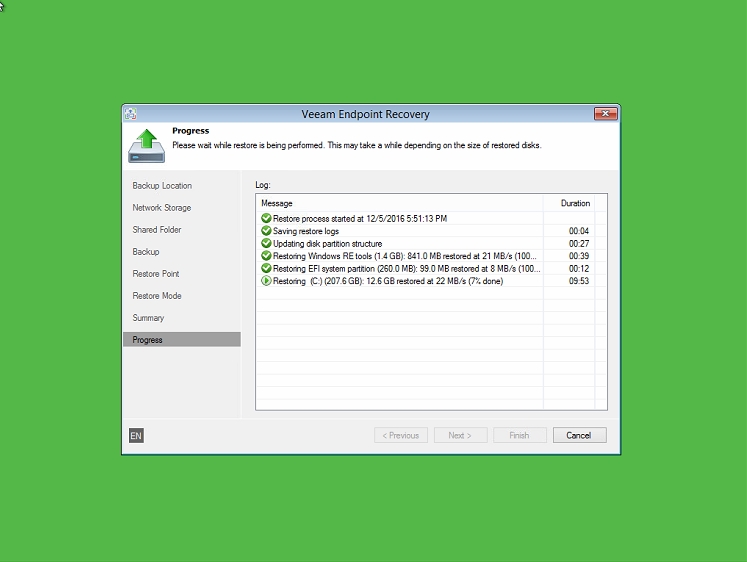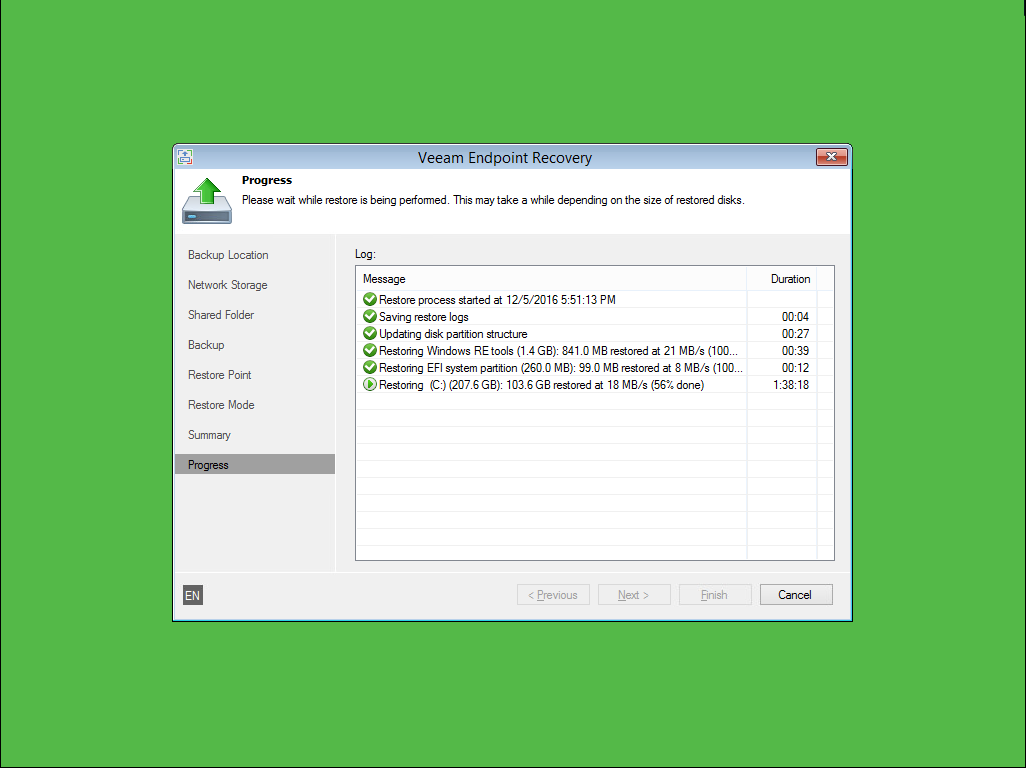 After a few hours, the restore is complete.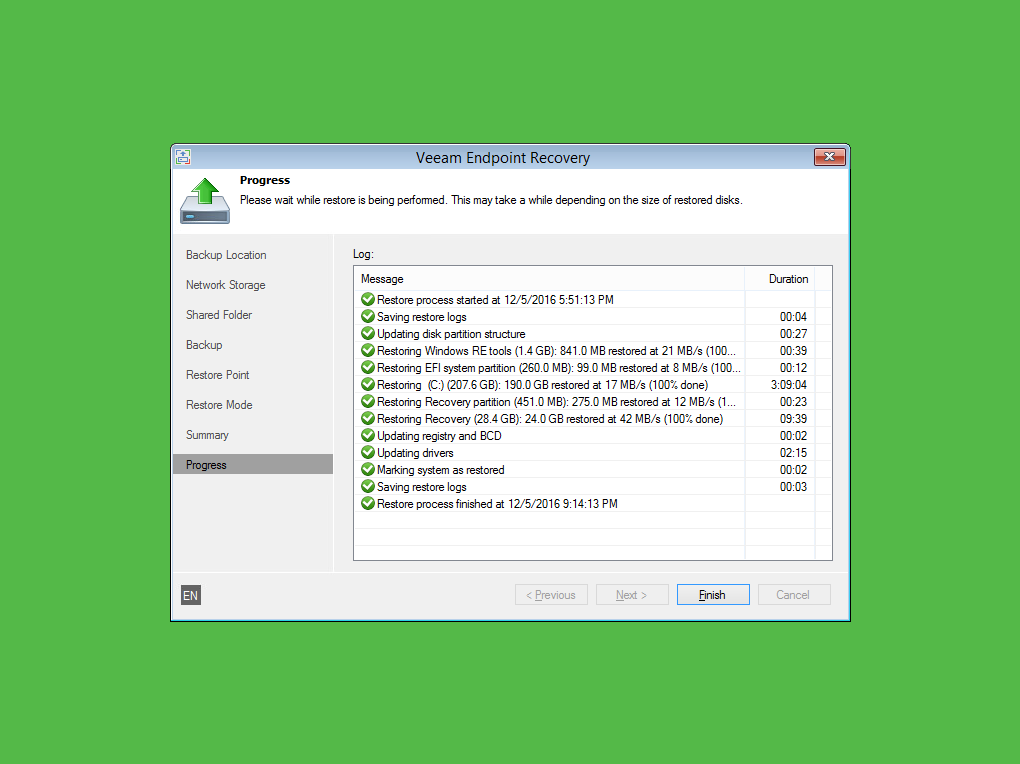 Click Finish, and select Reboot, to Reboot the computer. Make sure you have disconnected the Recovery Media from the computer. (virtual machine).
4. Powering on the new virtual computer.
Power on the virtual machine.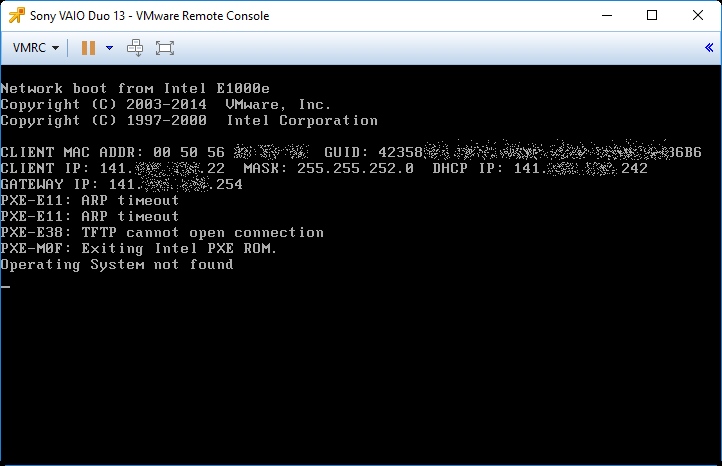 This is an example of what can happen. The computer did not find a valid BOOT device e.g. hard disk, and has defaulted to a network boot, which has failed so the familiar Operating System not found message is displayed.
Earlier you may remember, that Recovery Media detected that the restore contained a GPT partition, and reminded us this may cause Boot issues on BIOS systems. The solution is to change the virtual machine from BIOS to EFI. because the original laptop, was using UEFI, not a traditional BIOS to BOOT Windows 8.1.
VMware vSphere has a solution for this.
Edit the VM settings, > VM options > select Boot Options, and change from BIOS to EFI.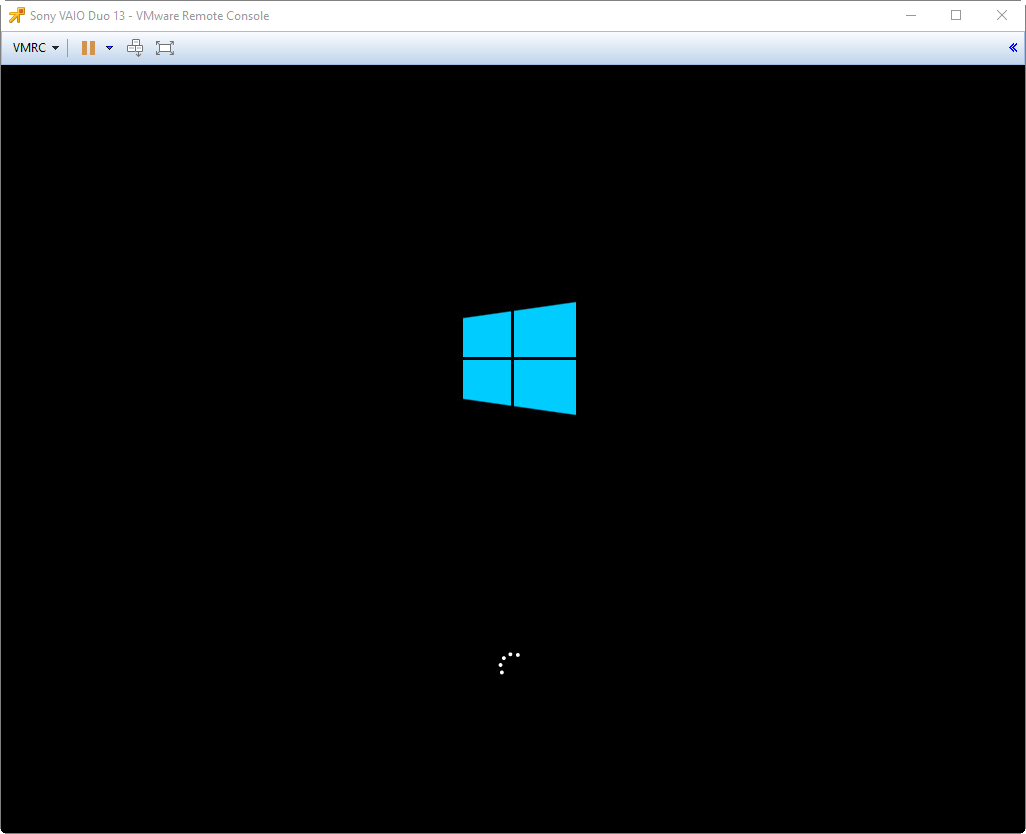 Now the virtual machine starts to Boot Windows 8.1.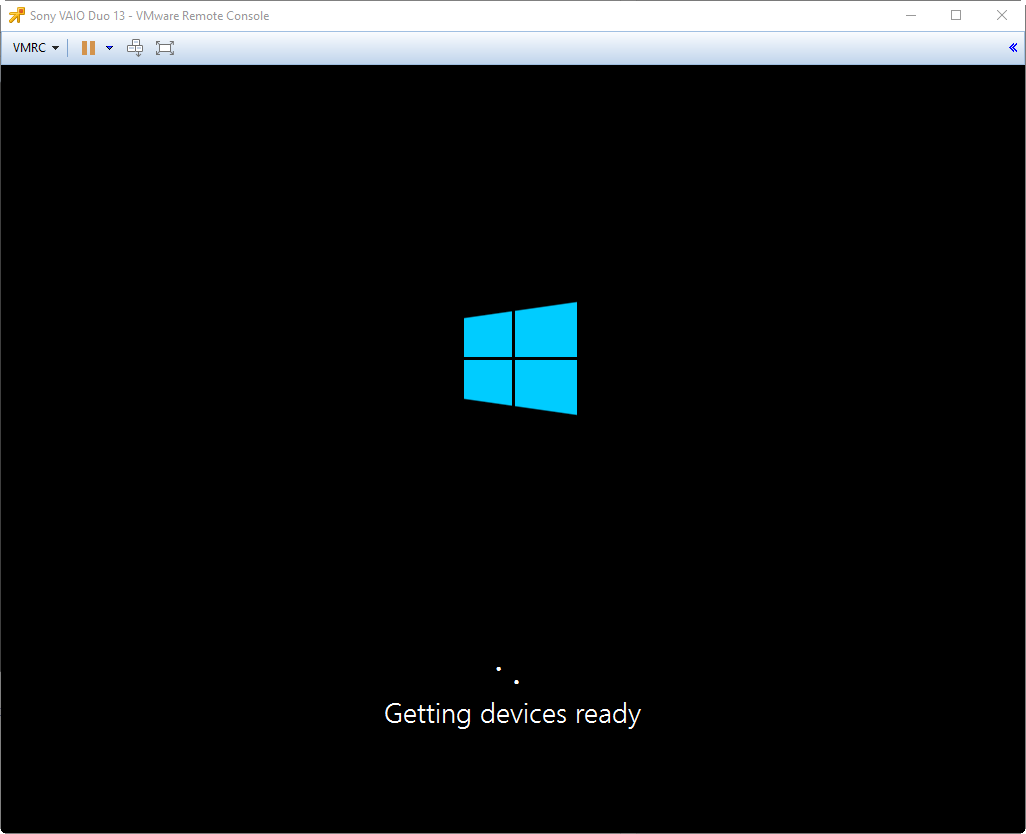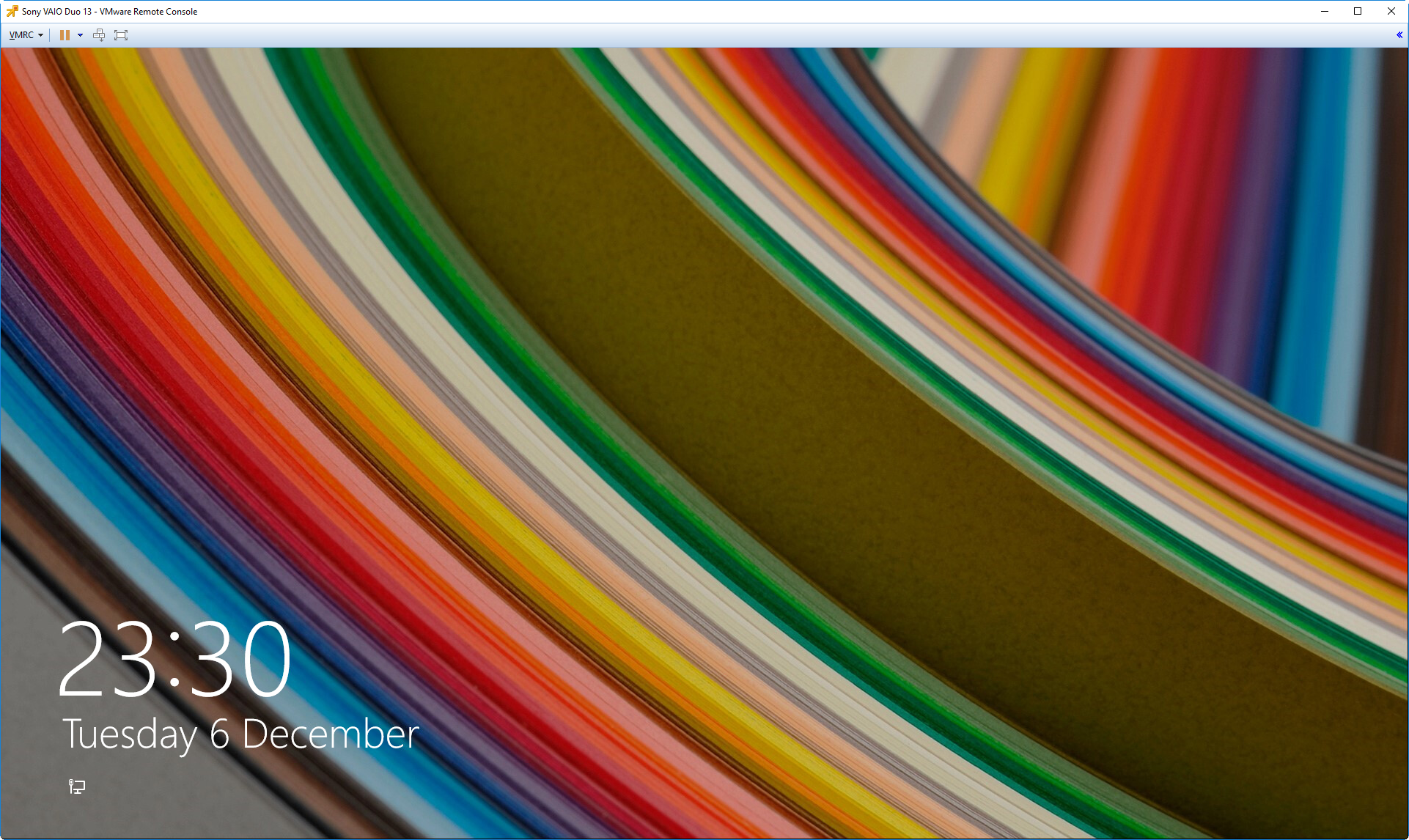 A familiar Windows 8.1 Pro startup screen.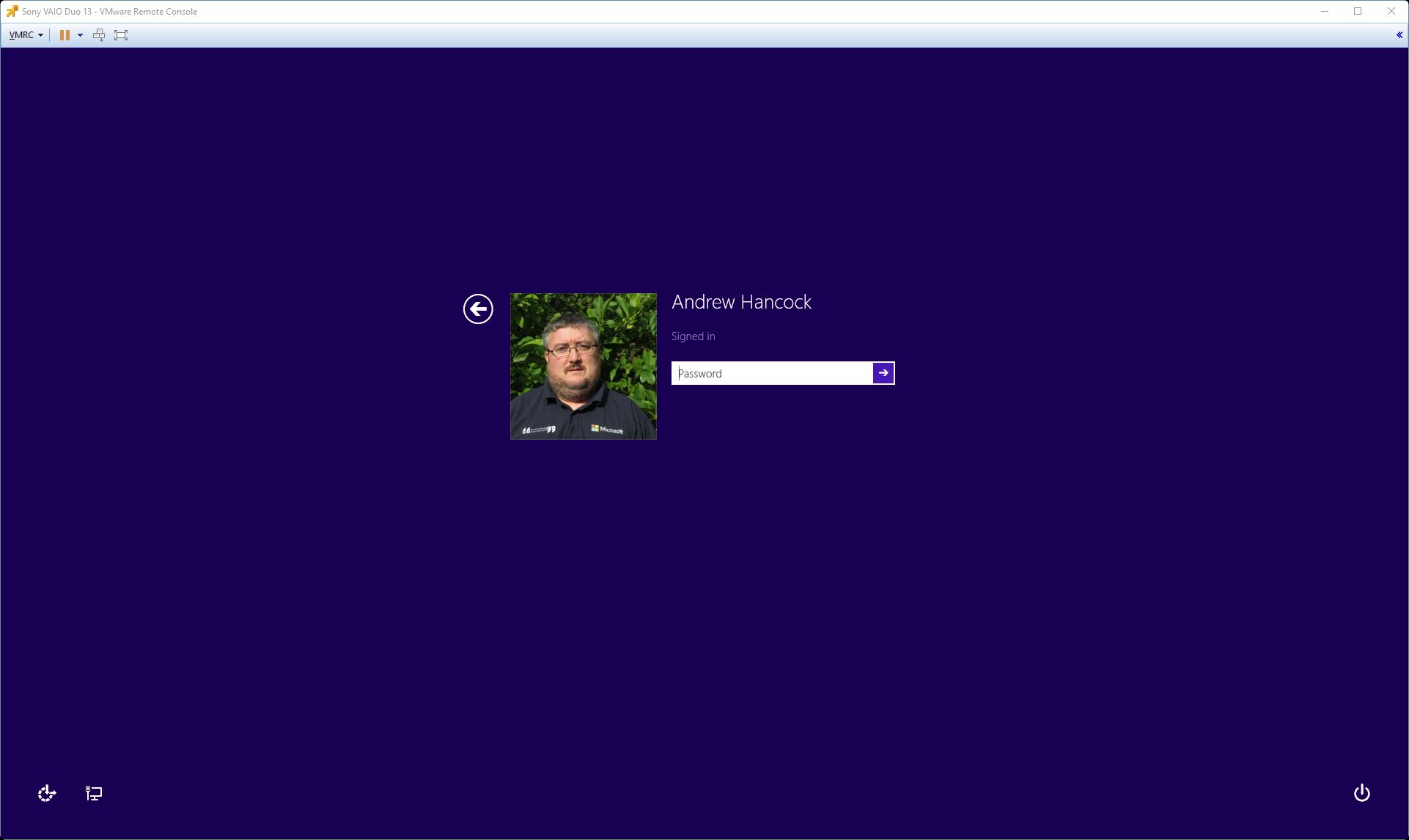 and a login screen.
Once the virtual machine has booted, you should login and install VMware Tools, if you do not know how you can refer to my EE Article here
Also performance P2V post tasks, e.g. change the E1000 network interface to VMXNET3 and remove hidden and phantom drivers. That information can be found in this article
Congratulations you have successfully Performed a Physical to Virtual (P2V) Conversion the easy way from a computer backup (image).
Basic VMware Articles Series:
These articles are also applicable to VMware vSphere Hypervisor ESXi 5.0, 5.5 and 6.0.