Find out what the Office 365 disclaimer function is, why you would use it and its limited ability to create Office 365 signatures.
Companies of all sizes are required by law to include a legal disclaimer in all outbound email, particularly in Europe, North America and Australasia. This has been the case since the very early days of email and are designed to reduce liability risks. A block of text appears on all outgoing emails stating information such as the company name, registered business address and company registration number. This will usually be accompanied by a confidentiality notice to protect against legal actions.

Learn more about email disclaimers
If all you're looking to add to your Office 365 emails is a plain-text notice with no further information, the Office 365 disclaimer function is perfectly adequate for your needs. It allows you manage your disclaimer from a central location and ensures it is applied to all emails that leave your organization.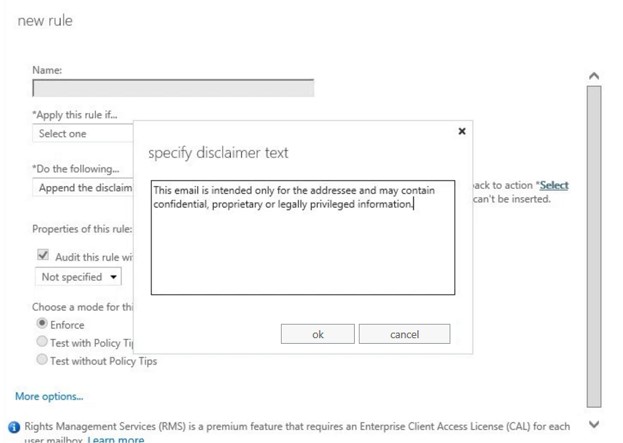 Create your own Office 365 disclaimer
However, if you, like many other organizations, want to add some of your corporate branding to this Office 365 disclaimer and turn into a proper HTML email signature, your options start to become more limited. You can copy-and-paste HTML code into the Office 365 disclaimer editor and include web-hosted images. However, you won't be able to preview how your signature looks, it will end up being added to the end of each message your users send, the images will probably get blocked by many email clients and it's likely the HTML won't behave in the way you want it to. HTML in email signatures is more of a vagary of HTML in websites., so what works in Outlook might not in Gmail or iOS.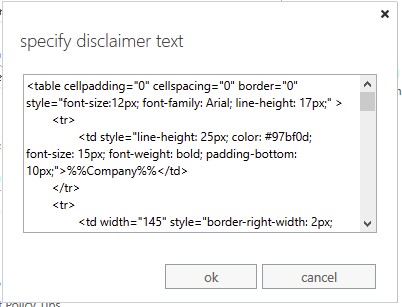 In essence, the Office 365 disclaimer function is not designed for high-quality HTML email signature design or management. Its main purpose is really to add the aforementioned legal text, so you end up missing out on all the opportunities that the email signature channel can offer your business. For many organizations, the native Office 365 disclaimer function is simply not good enough when it comes to email signature management.